On day one in office, Arkansas Gov. Asa Hutchinson began making phone calls to CEOs of businesses to convince them that Arkansas is the best place to call home.
He has not stopped making those calls since.
By doing so, Hutchinson elevated the profile of Arkansas as a destination for business. But he did more than that. He made it clear that his top priority is creating greater opportunities for Arkansans by generating more and higher-paying jobs throughout the state.
---
"We don't want just any jobs coming to Arkansas – we want jobs that pay higher-than-average wages. To become more efficient and attract those higher-paying jobs, we removed administrative and regulatory obstacles for our business leaders." 
---
In the following interview, the governor lays out his economic development philosophy, priorities and approach.
Since your first day in office, you have been known as a governor who regularly reaches out to CEOs and makes business development and recruitment calls. Why is economic development so high on your agenda?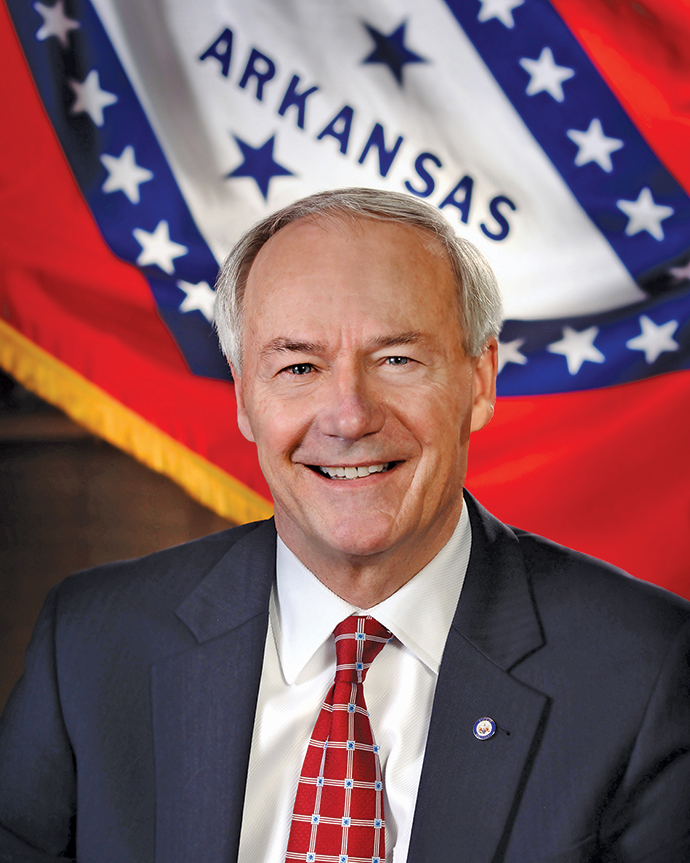 GOV. ASA HUTCHINSON: A healthy economy is essential to the well-being of citizens. For more than half a century, Arkansas' economy was based on manufacturing. Before that, it was agriculture. But agriculture and manufacturing jobs began to disappear and were being replaced by advanced manufacturing and tech jobs. Everything is symbiotic: we need to invest in education and economic development so that we can increase the per-capita personal income and GDP by state which will, in turn, create more educational and economic opportunities. We don't want just any jobs coming to Arkansas — we want jobs that pay higher-than-average wages. To become more efficient and attract those higher-paying jobs, we removed administrative and regulatory obstacles for our business leaders. In addition, we have implemented tax reductions for lower- and middle-class Arkansans and improved workforce training that meets specific identified needs of our state's businesses.
How have you been able to refashion the Arkansas business climate into one that is more conducive to the needs of industry?
HUTCHINSON: We talk to our state's business and industry leaders to learn what their needs are, and then we do whatever we can to meet those needs. We have established a single point of contact through the Arkansas Economic Development Commission that works with a statewide network of partners and targeted tax incentive programs. AEDC works with communities to make them stronger and more desirable for businesses, with existing business and industry to meet workforce needs through education and training programs, and with prospective businesses looking to relocate or expand. Arkansas' approach is to operate leaner, faster and more focused — just like a CEO operates a business.
Chinese companies have been moving to Arkansas and investing in job-creating projects in your state at an accelerated pace in recent years. Why is that the case?
HUTCHINSON: I think that Chinese companies are coming to Arkansas for the same reasons as other companies — our low costs of doing business and our talented, skilled workforce. Right now, China has the money and is looking for ways to invest it. They are looking to expand the Chinese middle class and increase urbanization. And, Chinese companies have been warmly welcomed in Arkansas. Our office in Shanghai has identified targeted industries, created promotional materials, presented at conferences, identified and visited with potential sister provinces, established relationships, arranged press briefings, and helped identify and qualify potential investment opportunities.
You have made entrepreneurship and innovation top priorities for your state. What successes has Arkansas accomplished in this area?
HUTCHINSON: Arkansas is creating an environment of opportunity for entrepreneurs and innovators. We have increased our incentives, programs, and services designed to help innovative entrepreneurs build and grow their own high-tech companies. We recently added two new incentives, the SBIR Matching Grant Program and the Arkansas Business and Technology Accelerator Grant Program. Both programs provide grant funds to help high-tech start-ups get off the ground.
Arkansas has active programs focused on increasing commercialization of university technology.
We provide a wide-range of demand-based services for technology and knowledge-based start-ups that are both pre-and post-revenue.
---
"Arkansas' approach is to operate leaner, faster and more focused – just like a CEO operates a business." 
---
Moreover, we are meeting the needs of start-ups that have grown here and are ready to scale by building a high-level, industry-based, mentor network and adding programs that invest in our entrepreneurs' professional development.
Arkansas has a well-rounded innovation ecosystem. Our tech-based startups have created more than 750 new jobs with average annual salaries of $65,000. They have generated more than $330 million in revenue with total investment reaching $325 million.
How is the Computer Science Initiative in the schools working?
HUTCHINSON: The program continues to expand. Arkansas was the first state to require all public high schools to teach computer science. In the 2017-2018 academic year, more than 6,000 public high school students completed computer science courses. I recently added an additional $300,000 to the initial $500,000 allocated last year to train elementary and middle school teachers to become Computer Science Lead teachers because there was such high interest and demand for CS teachers in our K-8 schools.
Most people know about Walmart's rise in your state, but few know about the rise of FinTech in Arkansas. What's happening in that field now?
HUTCHINSON: FinTech has been a critical core industry for central Arkansas going back the Great Depression. Stephens Inc. traces its roots back to the middle of the Great Depression when in 1933 Witt Stephens established the firm to trade Arkansas Highway bonds. Stephens Inc. is now one of the largest privately owned investment banks in the country with 31 offices worldwide and more than 1,200 employees. Little Rock has also served as the launching pad of global players in FinTech and Big Data. The list of companies founded in central Arkansas includes well-known names like Acxiom, ABC Financial, Arkansas Systems (now Euronet Worldwide), Mainstream Technologies, Systematics (now FIS) and others.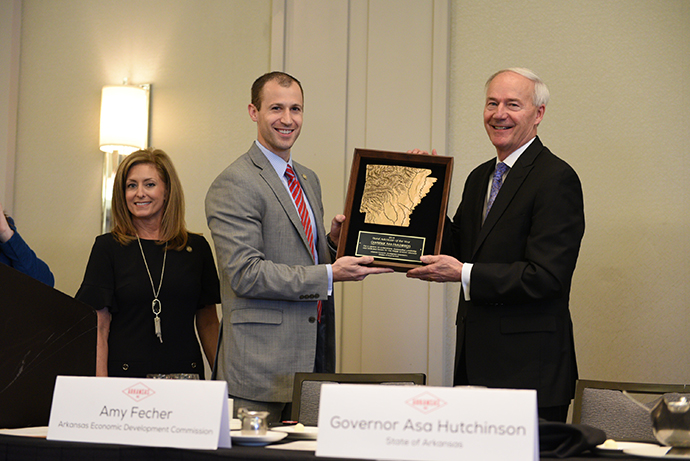 Film production is gaining ground in Arkansas. How have you been able to create a climate that attracts these operations?
HUTCHINSON: This is a true testament of our ability to facilitate meaningful public/private partnerships throughout the state. We have a core foundation of industry driven curriculum within our two-year colleges and university systems that produces an extremely knowledgeable and capable workforce. We are also blessed to have private investment in infrastructure such as state-of-the-art equipment and brick-and-mortar facilities. Next, add in the breathtaking beauty of our diverse topography and top it off with our unheralded hands-on customer service approach to all facets of production detail, and studios have discovered that Arkansas has created an ideal business climate for film production.
What is your message to corporate executives in the logistics sector, particularly as it applies to your state's attractiveness in that sector?
HUTCHINSON: If you want to get your product to market as quickly and cost-efficiently as possible, come to Arkansas. We are in the center of the U.S., with access to 100 million customers (about 40 percent of the U.S. population) within a 550-mile radius. The Arkansas trucking industry provides jobs to more than 85,000 Arkansans.
We are home to the headquarters of two transportation companies on the Fortune 1,000 (J.B. Hunt and ArcBest). Logistics companies making recent investments include J.B. Hunt, Walmart, ABF Freight and FedEx Ground.