When COVID-19 hit America in early 2020, Arkansas Gov. Asa Hutchinson did something that very few other governors across the country even contemplated. He decided to base all his pandemic response decisions on data.
Employing a team of scientists, public health experts and economic researchers, Hutchinson determined that the best course of action for his state moving forward would be to forego the widespread shutdowns and instead roll out case-by-case moves designed to maximize public health protection and ensure economic continuity.
The strategy worked, and it has worked exceedingly well ever since.
In a frank interview with this publication, the governor recently took time out to address this strategy and how it paid off for the people of his state.
A recent economic study reported that your response to the COVID-19 pandemic saved about 100,000 jobs in Arkansas. How were you able to do that?
Gov. Hutchinson: While COVID-19 has impacted the state of Arkansas, it also has awakened a resilient state that has put its best foot forward in the recovery process. We took a measured, data-driven approach to the pandemic and were able to save a lot of jobs as a result.
From the onset, my administration surrounded itself with experts in the field. I declared a public emergency and took temporary measures for select businesses that were most likely to spread the virus, but I never issued a shelter-in-place order.
In addition to allowing companies to stay in business, we supported them by administering many state and federally funded programs. And we never stopped our efforts to attract new businesses to the state, which have paid off — several companies have announced new projects to expand or invest in Arkansas this year. These measures have helped our economy and are a major reason our unemployment rate continues to be lower than the national average.
---
"From the onset, my administration surrounded itself with experts in the field. I declared a public emergency and took temporary measures for select businesses that were most likely to spread the virus, but I never issued a shelter-in-place order."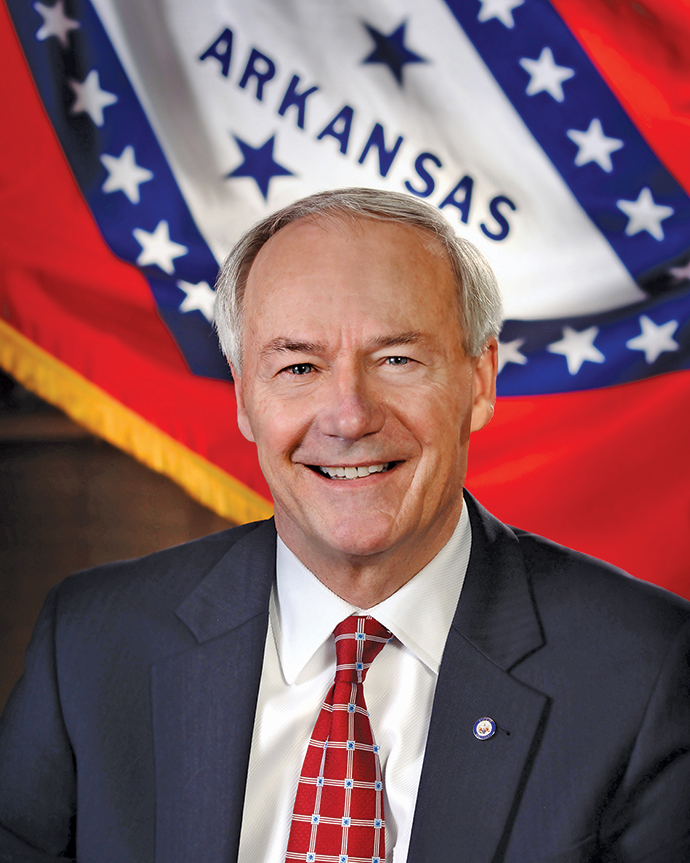 ---
What were the key pillars of your state's response to the pandemic and resulting recession?
Gov. Hutchinson: Our response strategy continues to be focused on consistent communication with the public and a strong partnership between the state government, the private sector and our communities. One of our biggest strengths is Arkansan's willingness to work together. Our state government strives to operate lean and efficiently, thereby giving us flexibility to make important decisions quickly in the dynamic environment of the COVID-19 pandemic. We acted promptly and carefully to utilize state and federal support to help businesses around the state. As a result, there are many examples of businesses that have remained open and kept employees on the payroll.
What will it take for your state to fully recover from the impacts of the pandemic?
Gov. Hutchinson: In Arkansas, we work together, and that will continue to be a critical element of our successful recovery. A strong partnership between the private and public sectors is of utmost importance to push the state forward. I established an Economic Recovery Task Force to examine the impact and recovery needs across a variety of businesses and industries, and to develop strategies and recommendations to restore our economy. I think this Task Force will be instrumental in helping the state recover from the pandemic. The Task Force is chaired by Steuart Walton, grandson of Walmart founder Sam Walton, and is made up of 35 industry and state leaders from the public and private sectors. The group works in conjunction with the Arkansas Department of Health and various subject-matter experts to provide guidance, resources, and recommendations on best practices for each sector of the economy on measures that will lead to our economic recovery.
What do you think have been some of your state's biggest economic development wins of 2020?
Gov. Hutchinson: Despite COVID-19, we have continued to attract and grow various industries across the state. For instance, Cynergy Cargo, an enclosed cargo trailer manufacturer headquartered in Douglas, Georgia, is building a new facility in Crossett, Arkansas. The company plans to hire 70 new full-time employees, including carpenters, welders and electricians, among others.
Gerber is an existing company that has grown through the pandemic. Gerber Products announced it will be adding a product line at its manufacturing facility in Fort Smith. This will result in 50 full-time jobs and a $30 million investment for new food manufacturing, food processing equipment, and machinery and infrastructure improvements.
We are also excited to see Amazon open its first fulfillment center in Little Rock. The new fulfillment center, which is expected to launch in 2021, will create over 1,000 new full-time jobs with industry-leading pay and comprehensive benefits. Amazon has announced four expansion projects in Arkansas since 2018.
In the past five years, Arkansas has announced projects worth over $10 billion in new capital investment and over 24,000 new jobs.
And then we have an Italian-based company, Fiocchi of America, which is establishing a new manufacturing facility in Little Rock, our capital city. Fiocchi is a global leader in small-caliber ammunition and will invest $15 million to establish a fully independent industrial platform in the U.S. The new plant will strengthen the company's focus on manufacturing premium products and improve its position in the premium segment of the market.
What are your top three priorities for your state heading into 2021?
Gov. Hutchinson: In 2021, we will continue to care for our existing businesses and ensure they have the resources necessary to navigate future challenges in the wake of this pandemic. We will continue to strengthen and capitalize on our recruiting efforts to attract businesses and grow our highly skilled workforce in the state. And we will continue to work with our education system and industry to strengthen our workforce development programs.
How has the brand identity of Arkansas changed over the last five years?
Gov. Hutchinson: The "Arkansas Inc." brand was born five years ago to communicate our story of a pro-business environment that operates leaner and faster and is more focused through a streamlined state government. My administration has worked very hard to place the private sector at the forefront of this narrative, letting businesses in Arkansas tell their success stories, and thus elevate our name as a brand. Since 2015, my administration has led the effort to cut more than $250 million in income tax for 1.3 million Arkansans. In addition to these tax cuts in 2015, 2017 and 2019, we've maintained a balanced budget and we are investing significantly in our infrastructure.
Companies are responding by placing their confidence and their capital in our state. In the past five years, we have announced projects worth over $10 billion in new capital investment and over 24,000 new jobs.
Since 2015, the Hutchinson administration has led the effort to cut more than $250 million in income tax for 1.3 million Arkansans.
What is your state's best-kept secret?
Gov. Hutchinson: Arkansas boasts a largely stable economy, thanks in part to the diversity of our industry. This diversity translates into a wide range of skills, workforce and people. I think you would be surprised at the number of high-caliber professionals in the state of Arkansas and the diversity of their expertise across fields that include engineering, technology, education, arts and film, among others.
As talented, knowledge workers flee bigger cities and look to work remotely in more rural locations, how can your state take advantage of that trend?
Gov. Hutchinson: The pandemic has opened the doors for a new way of doing things. Balancing work and home are becoming increasingly important as people work remotely. Why not strike that balance in a state that offers natural beauty and abundant outdoor recreational opportunities along with the amenities of any large city? In Arkansas, you can experience the best of both worlds — from the culinary and cultural arts to the outdoor enthusiasts. With the cost of living ranking third-lowest in the nation, some of the lowest commute times in the country, and the ease of doing business here, it's easy for entrepreneurs of all ages and backgrounds to call Arkansas home.
What are you doing to attract more foreign direct investment to Arkansas?
Gov. Hutchinson: The Arkansas Economic Development Commission houses three international offices that connect with companies across the globe that are looking for a safe place to invest. They want a location — geographically and logistically — that provides certainty and stability, and a place where they feel welcomed and supported through partnerships that lead to a strong workforce and excellent business connections. When travel restrictions allow, I frequently visit companies around the world to promote investments in Arkansas. In 2019, my team and I fostered international trade and investment by attending a total of 163 company meetings, trade shows, investment seminars, special events, trade missions and prospective company visits.
What are some emerging industry sectors in Arkansas that you wish people knew more about?
Gov. Hutchinson: Arkansas is a global leader in financial technology. The Venture Center, based in Little Rock, is a support organization for entrepreneurs that helps startups become viable; helps high-growth businesses by leveraging the expertise of world-class mentors; provides intensive programming; and generates connections to the investor community.
The Venture Center operates two leading FinTech programs: the FIS FinTech Accelerator in partnership with FIS, the world's largest global provider dedicated to banking and payments technologies; and the ICBA (Independent Community Bankers of America) ThinkTech Accelerator, the only community-bank-focused fintech accelerator in the world. These two programs lead promising and innovative FinTech businesses through rigorous, 12-week programs each year. Both programs are highly competitive, with hundreds of applicants from around the world vying for 10 spots per accelerator.