I
t may surprise some to learn that the ever-expanding world of financial technology has deep roots in Little Rock, Arkansas. There, a local businessman and University of Arkansas graduate named Walter Smiley discerned a need among medium-sized banks to integrate early data processing software into their daily operations. From that realization sprang Systematics, founded in Little Rock in 1968, and recognized today as an early pioneer in technology-driven finance.
Far from being a footnote, trivia question or mere aberration, Systematics — sold first to Alltel and later split off to banking giant Fidelity National Financial (FIS Global) — helped to establish a Little Rock legacy that flourishes today.
Begin with the fact that Jacksonville, Florida-based FIS Global now employs more than 1,000 finance-related specialists in central Arkansas. More strategically, FIS is a long-established partner of Little Rock's Venture Center, the serially recognized fintech accelerator founded in 2014 and named Best Fintech Accelerator/Incubator at the global Finovate Awards held in New York in 2020.
"When we talk about the Venture Center, when we talk about fintech and we talk about financial inclusion, people are thinking about Little Rock as a place that is happening," says Mimi San Pedro, the Venture Center's chief strategy officer. "People are coming here and investing."
Solution Centered
The Venture Center works to cultivate companies that can deliver rapid, impactful solutions to banks and their clients. Housed in what is now Little Rock Tech Park —in the same building where Systematics flourished — the center operates two nationally recognized fintech accelerator programs. Its FIS Accelerator is focused on identifying and fostering startup fintech firms with high-potential technologies and connecting them to the FIS network. The ICBA (Independent Community Bankers of America) ThinkTECH Accelerator is geared toward solutions for smaller banks and calls itself the only community bank-focused fintech accelerator in the world.
Now in its seventh year, the FIS Accelerator has an especially impressive success rate, having graduated more than 70 alumni, 90% of which are either still active or have been acquired. Array and Long Game, two graduates of the 12-week FIS program, each earned Finovate Best of Show honors in 2021. The accelerator's 2022 cohort, announced in August, comprises 10 startups whose fintech specializations include environmental impact banking, peer-to-peer payments, cryptocurrency management, cloud-based compliance and fraud transaction monitoring.
"If you're that company that's minimum viable product and you're looking to do your first proof of concept with a financial institution, we can help you do that here," says San Pedro. "If you're that company that already has $1 million worth of revenue, guess what, we're about to introduce you to 60 financial institutions and let you get up on stage at Demo Day and pitch it. So, we're working with everything from true startups to early stage."
The World Comes to Little Rock
In August, the Venture Center flexed its growing influence and drew hundreds of global business and finance leaders to Little Rock for the inaugural VenCent Summit. The three-day event, which served to showcase Arkansas as an increasingly relevant innovation hub, offered real-time looks into the very latest fintech applications, including live product demonstrations from dozens of the Venture Center's fintech accelerator alumni. Speakers at the summit included Federal Reserve Board Governor Michelle W. Bowman, FIS Chairman and CEO Gary Norcross and Arkansas Gov. Asa Hutchinson.
The VenCent Summit, said San Pedro — echoing the Venture Center's solutions-focused mission — "is not just about cool technology. It's about what problems do they need to solve," and "solutions that they can take back to their banks and they can deploy tomorrow.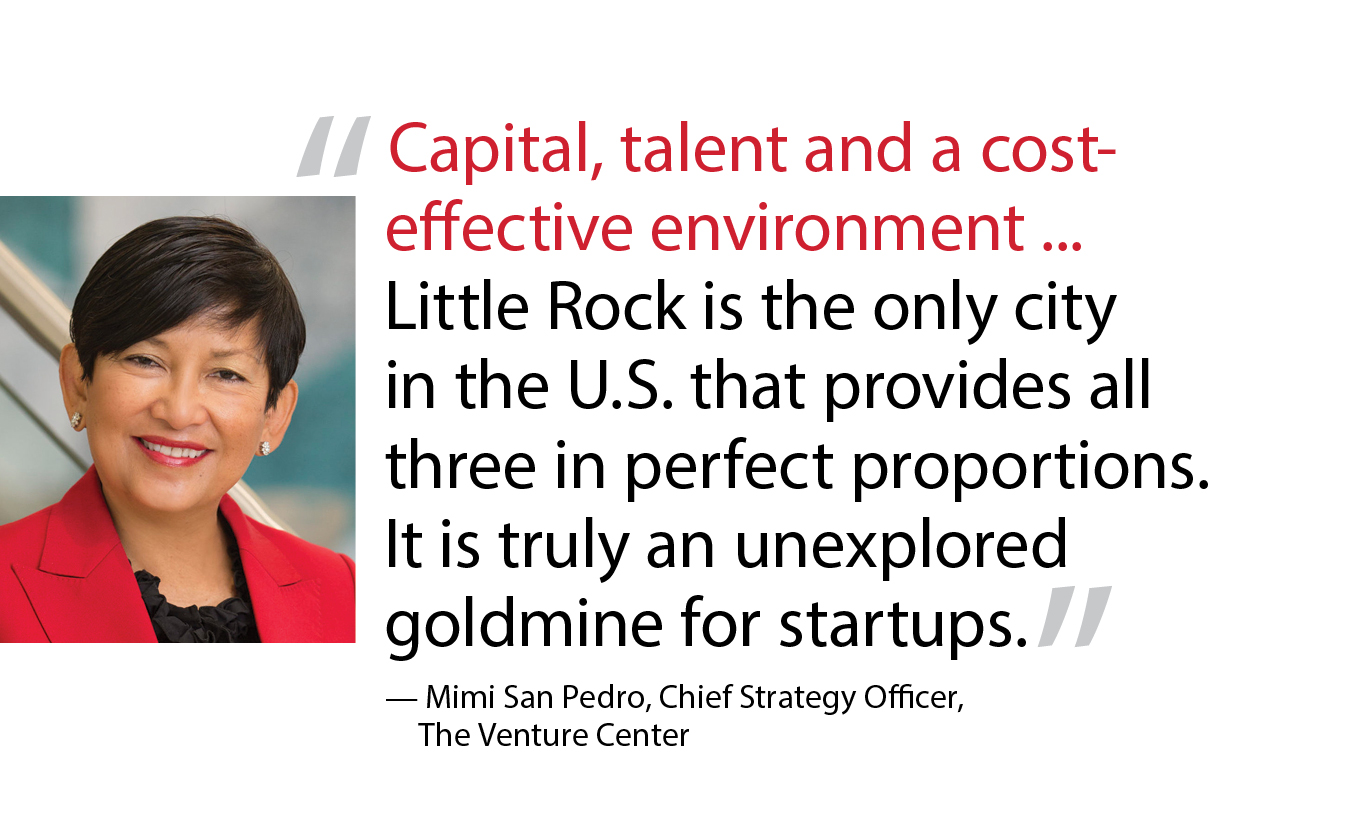 "We've learned," says San Pedro, "that our great value to banking is our capacity to source, identify and de-risk solutions for the financial technology industry and the banking industry that they can put to work tomorrow. It's critical to get those solutions into the hands of the bankers rapidly."
At the summit's conclusion, the Venture Center presented Miami-based Docfox with the first-ever "Finny" award for global fintech excellence. A member of the Venture Center's 2022 ICBA ThinkTECH Accelerator cohort, Docfox provides automated account opening software to more than 250 financial institutions globally. Accepting the award, Docfox CEO Ryan Canin paid thanks to those who provided mentorship through the ICBA accelerator.
"We've learned enormously from their experience and advice," Canin said. "We're thrilled to give back by helping community banks play to their strength in building phenomenal relationships with their clients."
Fintech's Fertile Field
Teslar Software, an Arkansas-based alumnus of the ICBA accelerator, and Little Rock's Smiley Technologies each were named to American Banker's 2022 list of Best Places to Work in Fintech, an award that recognizes the top 50 fintech companies on their workplace environments. For both, it was the second consecutive year. Among other accolades, Telsar — a fintech lending company that leverages software innovations — was named Best Solution for Lending at the 2021 FinXTech Awards. Smiley was named to the Forbes Next 1000 in 2021.
"As we continue to grow and add new employees, we must continue to be intentional on creating a people-first culture," said Elizabeth Glasbrenner, president and CEO of Smiley Technologies. "We take care of our employees just like our employees take care of our partner banks."
Of the favorable environment that has nurtured Smiley and Teslar, as well as other players in the fintech field such as Conway-based Acxiom, the Venture Center's San Pedro believes that Arkansas offers crucial cost advantages relative to competitors.
"If I raised $100,000," he says, "I'm going to burn it up twice as fast in San Francisco as I am in Arkansas. Every time I'm raising capital as a founder," he says, "I'm losing stock. I'm giving more of my company away."
Formerly based in New York, the AI-backed financial growth platform BOND.AI relocated to Little Rock in 2017, after graduating from the Venture Center's FIS Accelerator.
"Capital, talent and a cost-effective environment. A young company needs all these three things to grow," said CEO Uday Akkaraju. "You either get one or two of those things in cities like San Francisco and New York. I believe Little Rock is the only city in the U.S. that provides all three in perfect proportions. It is truly an unexplored goldmine for startups."