A
rkansas is the sixth most dependent state nationally on the firearms industry for economic stability, according to recent research from personal finance website WalletHub. The research uses three sets of criteria to rank the states — firearms industry, gun prevalence and gun politics. Among other factors, the firearms industry component considers such metrics as industry jobs per capita, firearms and ammunitions manufacturers per capita, industry output per capita and federal business taxes paid by the firearms industry per capita.
Arkansas ties with three other states for first in the total amount of taxes paid by the firearms industry, indicating a thriving sector relative to comparably populated states. Other WalletHub findings: The Natural State also ranks first in firearms industry jobs per capita and output per capita. The National Shooting Sports Foundation ranks Arkansas fourth in the latter criterion.
More than 3,100 people are employed in the state's firearms and ammunition industry at such companies as Walther Arms in Fort Smith, GAMO Daisy in Rogers, Sig Sauer in Jacksonville and American Marksman in Searcy.
Fiocchi of America, the U.S. subsidiary of Italy-based Fiocchi Group, is based in Missouri. But it selected Little Rock in July 2020 for the location of a new, $15 million manufacturing facility where it will makes shotshell, centerfire and rimfire ammunition. Fiocchi's General Manager, Jared Smith, said at the time, "Fiocchi identified Arkansas as a primary target for its expansion based on the skilled labor of the state, business climate and geographic location."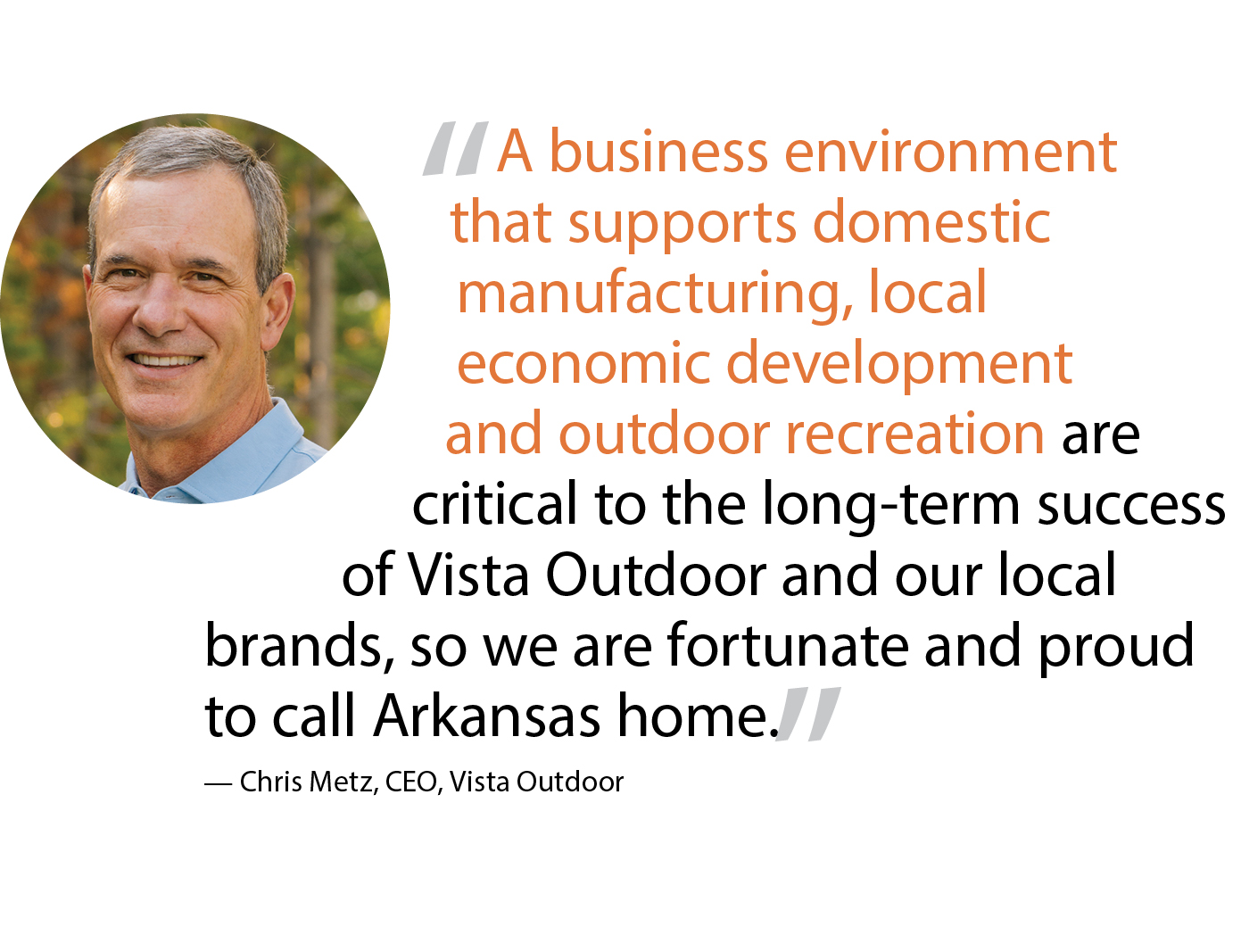 In October 2020, Vista Outdoors, a manufacturer of outdoor sports and recreation gear, acquired certain assets related to Remington Outdoor Company's ammunition and accessories businesses. Besides the Remington brand and trademarks, these include Remington's nearly 1-million-sq.-ft. ammunitions manufacturing facility on 1,200 acres in Lonoke, east of Little Rock. In October 2021, Governor Asa Hutchinson and Arkansas Secretary of Commerce Mike Preston joined Vista Outdoor CEO Chris Metz and CFO Sudhanshu Priyadarshi for a tour of the Lonoke facility.
'Positive Experience' Spurs More Investment
"The revival of the Remington facility has been a total team effort, with our employees, local suppliers and state officials doing their part to support the return of 'Big Green.' We have added hundreds of jobs and utilized local contractors and businesses as we scale up production at the plant," said Metz in remarks at the event. "This positive experience has spurred further investment in the Natural State. We recently opened a distribution center in Bryant [southwest of Little Rock] that will support our Camp Chef and QuietKat brands. Camp Chef is the leader in backcountry and backyard cooking, while QuietKat leads the rugged, overlanding e-Bike category. This new facility will help us reach more consumers across the country as demand for Camp Chef and QuietKat continues to grow."
Gov. Hutchinson: "With one of the highest rates of hunters and recreational shooters in the country, Arkansas recognizes the role that the ammunition industry serves in growing our economy. Our workforce has the specific skills needed to manufacture these products, and I am pleased that Vista Outdoor has partnered with us to continue ammunition production here in our state."
"A business environment that supports domestic manufacturing, local economic development and outdoor recreation," noted Metz. "Are critical to the long-term success of Vista Outdoor and our local brands, so we are fortunate and proud to call Arkansas home."