W
hat is it about Arkansas that makes The Natural State such a prime breeding ground for Fortune 500 companies?
After all, the state boasts the largest company in the world — Walmart — founded in 1962 in Rogers, just south of their current Bentonville headquarters.
With revenues of more than $559 billion in 2021, Walmart ranks No. 1 on the Fortune 500 list — a spot it has occupied since 2002. It employs over 2.3 million people worldwide. And it's the retailing giant that drives consumer spending.
In addition to the Bentonville-based Walmart, Arkansas serves as home base for Fortune No. 81 Tyson Foods in Springdale; Fortune No. 240 Murphy USA in El Dorado; Fortune No. 311 J.B. Hunt Transport Services in Lowell; and Fortune No. 488 Dillard's in Little Rock.
"We are proud of the five Arkansas-based companies that made this year's Fortune 500 list," said Arkansas Secretary of Commerce Mike Preston. "Companies like Walmart, Tyson Foods, Murphy USA, J.B. Hunt and Dillard's are industry leaders, and they are making a global impact from Arkansas. These companies, all founded in Arkansas, demonstrate the vibrant business environment of The Natural State, which has created many successful businesses and continues to do so."
One person who's had a front-row seat to such entrepreneurism is Annemarie Dillard Jazic, vice president of online experience and digital marketing for Dillard's. A third-generation executive with the Little Rock-based fashion retailer, Jazic credits Arkansas with providing just the right mix of ingredients to stir up sustained success.

When we asked Jazic to explain the remarkable track record of such a small state in incubating and growing several of the world's largest retail companies, she said, "I believe a key factor to Arkansas' retail success stories is the entrepreneurial mindset and a 'can do' attitude of the people that live here. That attitude, combined with a determined work ethic and a humble willingness to be open-minded to new ideas while at the same time displaying great pragmatism and thoughtfulness, have proven to be an effective recipe for success."
She should know. Jazic grew up in a family business that started from scratch in 1938 in the tiny town of Mineral Springs, Arkansas. Founded by William T. Dillard, the retail empire has since grown to 282 stores in 29 states, generating retail sales in excess of $6.2 billion a year.
Chris Johnson, senior vice president and principal financial officer of Dillard's, adds that there are several reasons why it makes sense for Dillard's — and other top-performing companies — to call Arkansas home.
"We were founded here almost 85 years ago," says Johnson. "Little Rock is accessible from most parts of the country either by direct flight or two stops. Being here keeps us closely connected to our customers, the majority of whom live in the South and Southeast."
Johnson credits state leaders with creating an environment that allows upstart firms to grow. "Arkansas is a very business-friendly state," he notes. "We are a homegrown Fortune 500 company, and our state leadership partners with us to make Arkansas a very compelling place in which to live and work. This helps us tremendously with our recruiting efforts to attract the best available talent to Dillard's."
Dillard's moved its headquarters to Little Rock in 1964. In 1990, the company moved into its current corporate building before expanding it a few years later. Today, about 1,000 Dillard's employees work at the corporate headquarters facility.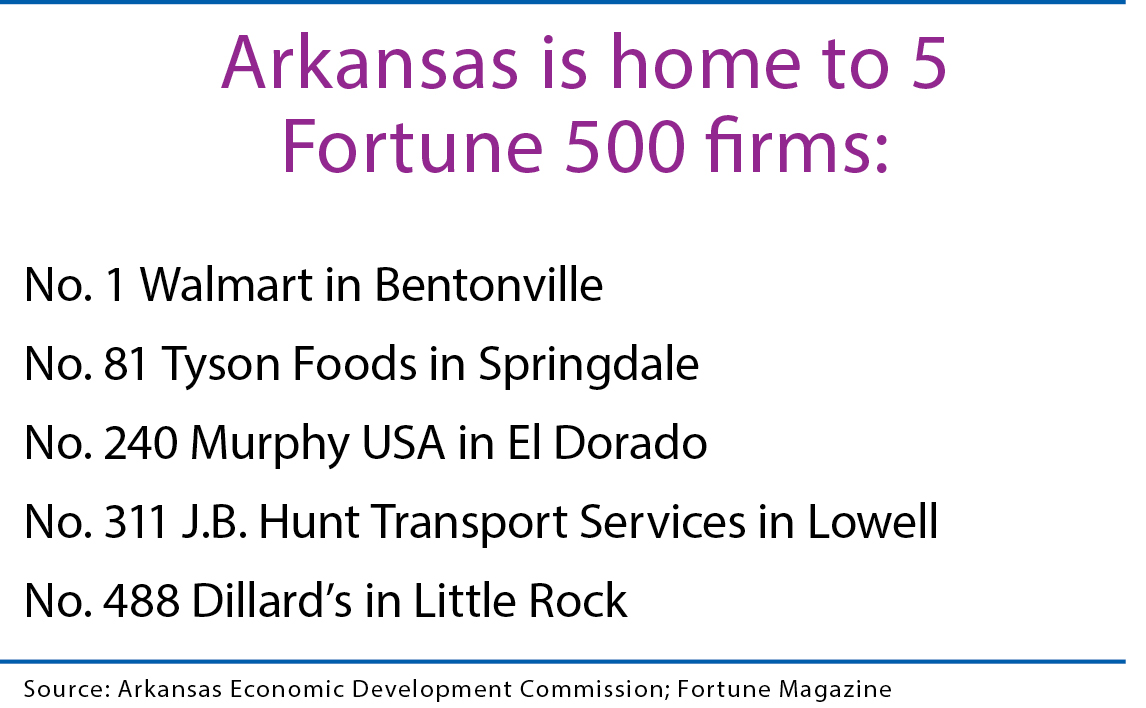 The company also operates a large distribution center in Mabelvale just outside of Little Rock.
In recent years, Dillard's made a sizable investment into its Internet Fulfillment Center in Maumelle, just a few miles from Little Rock. Dillard's completely renovated the old Target distribution center and created about 600 new logistics jobs there.
Johnson says that the state's best-kept secret is its natural beauty. "With all the outdoor activities right at our fingertips, combined with a wealth of opportunity, Arkansas provides the perfect setting for a great work-life balance."