"I
 want our local communities to own these events, not me," says Andy Chasteen, the energetic, forthright shepherd on our journey through two events taking northwest Arkansas by storm. Here's the tried-and-true recipe that makes his competitions cultural smashes.
Step 1: Have Fun
On September 21st, 2022, so began the first day of this year's Horseshoe Hell. It's a rock-climbing festival that also boasts a pancake breakfast, free tattoos, whiskey slip-n-slide, live music, Halloween costumes, and 24 hours of nonstop ascents in Horseshoe Canyon in a competition that National Graphic once deemed 'masochistic.' Yes, 24 hours of minimal sleep and maximum rock climbing. It was capped at just under 800 competitors this year, with a waitlist. "Arkansas has always been a bit of a hidden gem when it comes to outdoor recreation, but it's fast becoming more of just a gem," says Andy Chasteen, founder of 24 Hours of Horseshoe Hell (24HHH), as well as its multi-terrain cycling counterpart Rule of Three.
Chesteen grew up in southern Missouri, right across Arkansas' state line, and has always been a rough-and-tumble outdoorsman. Affectionately dubbed "caveman" by his wife, he's a self-professed raconteur and lover of shenanigans along with being a professional photographer and business strategist. He became obsessed with Arkansas' near infinite climbing landscape more than 17 years ago and has since taken to exploring Horseshoe Canyon Ranch in the northwest corner of the state near Jasper. The idea to host a 24-hour climbing event came to him while he was at the ranch with friends, and he took it upon himself to reach out to the owner, who agreed it was a great idea.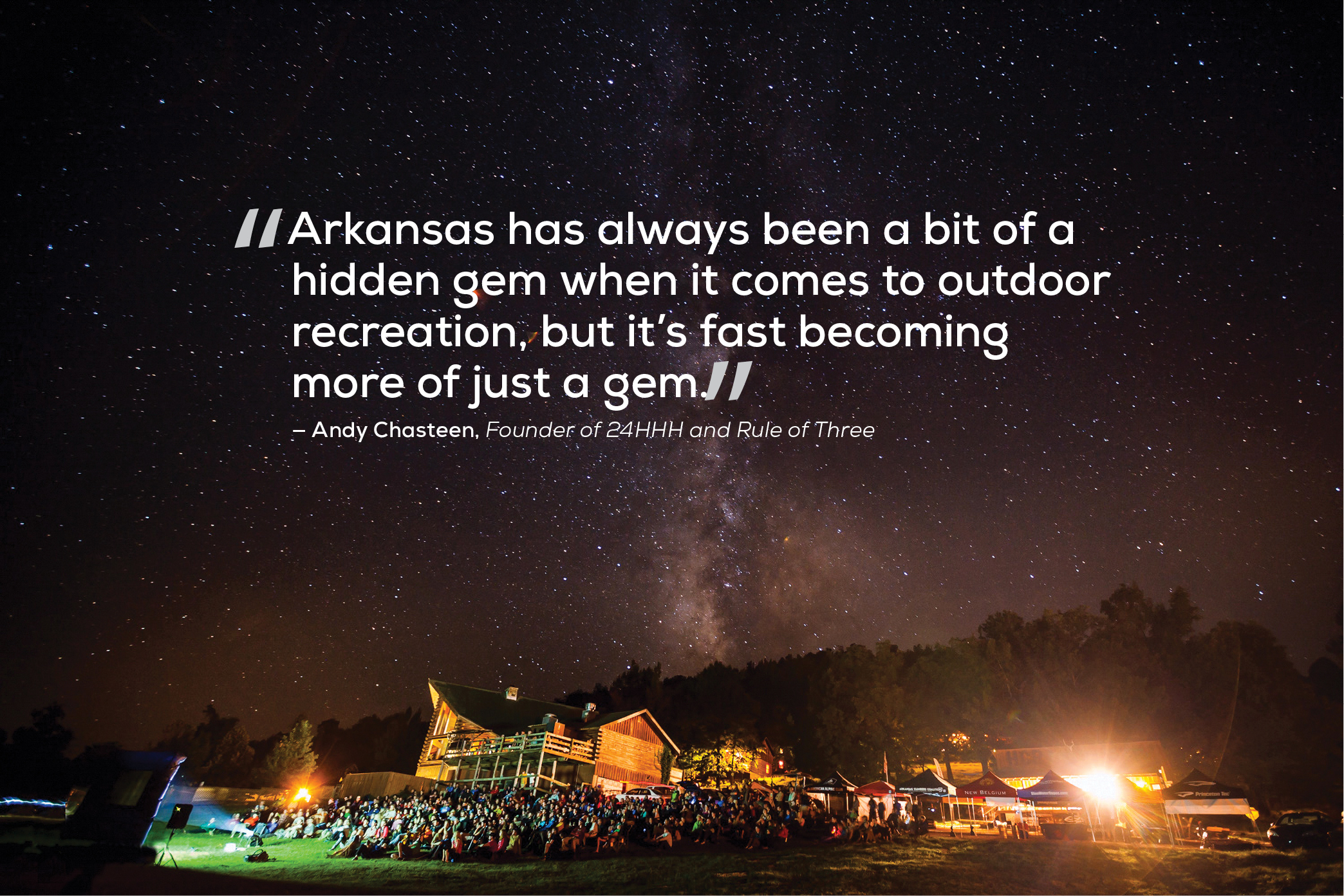 Before the first run in 2006, Chasteen expected 40 people and ended up with 120. Now the numbers have increased sixfold, and it has become one of the largest climbing competitions in the world. "We actually have a gigantic variation of participants from all over the world for 24HHH." He corrects himself, "Well, we probably do have a thicker majority from Missouri, Oklahoma, Arkansas, Texas, and other closer states. We get participants from almost every state in the United States every year. And most years will have a healthy contingent from overseas as well."
In 2014 the event saw press as Alex Honnold of the documentary "Free Solo" competed in the men's elite category. This was met with mixed reviews from the 24HHH community since Honnold is understandably an industry star, but the goal of the events was to make the sports more accessible — think wacky fun over hyper competition. "While I believe it's cool to have pros show up to your events, they are certainly not the ones who sustain and make for the best bike events, or rock-climbing events for that matter," said Chasteen. Honnold is perhaps too big time for the grass roots competition where competitors climb in KISS style face paint, Viking costumes and Superman underwear.
Step 2: Get Sponsors Involved
The Natural State boasts countless opportunities for outdoor recreation. With 52 state parks, rock climbing and cycling share only portions of public interest alongside recreational angling, motocross, canoeing, horseback riding, golf, and hiking. In 2020 the Bureau of Economic Analysis reported that outdoor recreation accounted for 2.2% of the state's GDP at $2.9 billion and accounted for nearly 40,000 jobs.
These particular events are popular because they're, well, eccentric. But due credit goes to the accessibility of cost and the way partners and sponsors function within the events. "I know it sounds cliché," Chasteen says, "But it is an event for the people and by the people. We have always kept the registration cost low, never charged sponsors cash for being a part of the event and included our 24HHH family in almost every decision that gets made."
The competitions-turned-festivals are explosive and rowdy, and brands jump on the opportunity to be represented there. Each event features a battalion of local and national sponsors for food, drinks, gear and clothing, some related to the sports and some simply interested. To hold true to the origins of the events, Chasteen doesn't take cash sponsorships and the competitions run largely on the backs of volunteers. Instead, he invites companies to keep their money and use it to add value to the events through creative and engaging activities.
"It levels the playing field. A small company with a small budget could get creative and make a bigger splash at our events than could a large company, and I think that is the coolest thing ever. We ask our sponsors to have as much fun at the event as do our participants."
24HHH has been sponsored since 2008 by Patagonia, which now is joined by many other local organizations and retailers. Horseshoe Canyon Climbing, Skratch Labs, Little Rock Climbing Center, SCARPA and Lively Beerworks are just a few of these sponsors. Chasteen believes his sponsorship model makes the events sustainable, and the best it can possibly be.
The same model supports Rule of Three, which is partnered with well-known cycling companies like Specialized Bicycles and Progressive Trail Design, alongside local organizations like the Ozark Outdoor Foundation, or Thaden Field, a flight school and testing center nearby. A plethora of smaller cycling companies partner with Rule of Three too, feeding into the local-yet-megahit atmosphere. 2022 was only the second year Rule of Three was held, and Chasteen reported 1,500 cyclists took to the grueling terrain to race.
"Bike races have historically been serious events," and Arkansas is filled with those races too, catering to every level and interest. "But there is a huge group of people that ride bikes who don't want to be serious about bike racing." Chasteen's work the past 17 years has opened up a field of possibilities for what outdoor recreation can be, who it's accessible to, and its purpose. In many ways these events get back to the heart of the industry that can easily be clouded. Arkansas companies and participants alike share a common passion and community, profits aside, although there are plenty to be found.