T
rade schools, universities, and community colleges are entrenched in the atmosphere and workforce of a community. The professors are your neighbors, community leaders, business owners and advisors. Students are your current workforce, and future workforce alongside diligent researchers and inventors. The proximity to a school is not lost on any small business, restaurant, corporation or neighborhood nearby.
"We have an incredible physical geographic footprint across the state," says Dr. Maria Markham, "With 22 public two-year colleges and 10 public universities all with multiple campus locations, 14 private colleges, and 100s of private career education providers, access to higher education in Arkansas is readily available."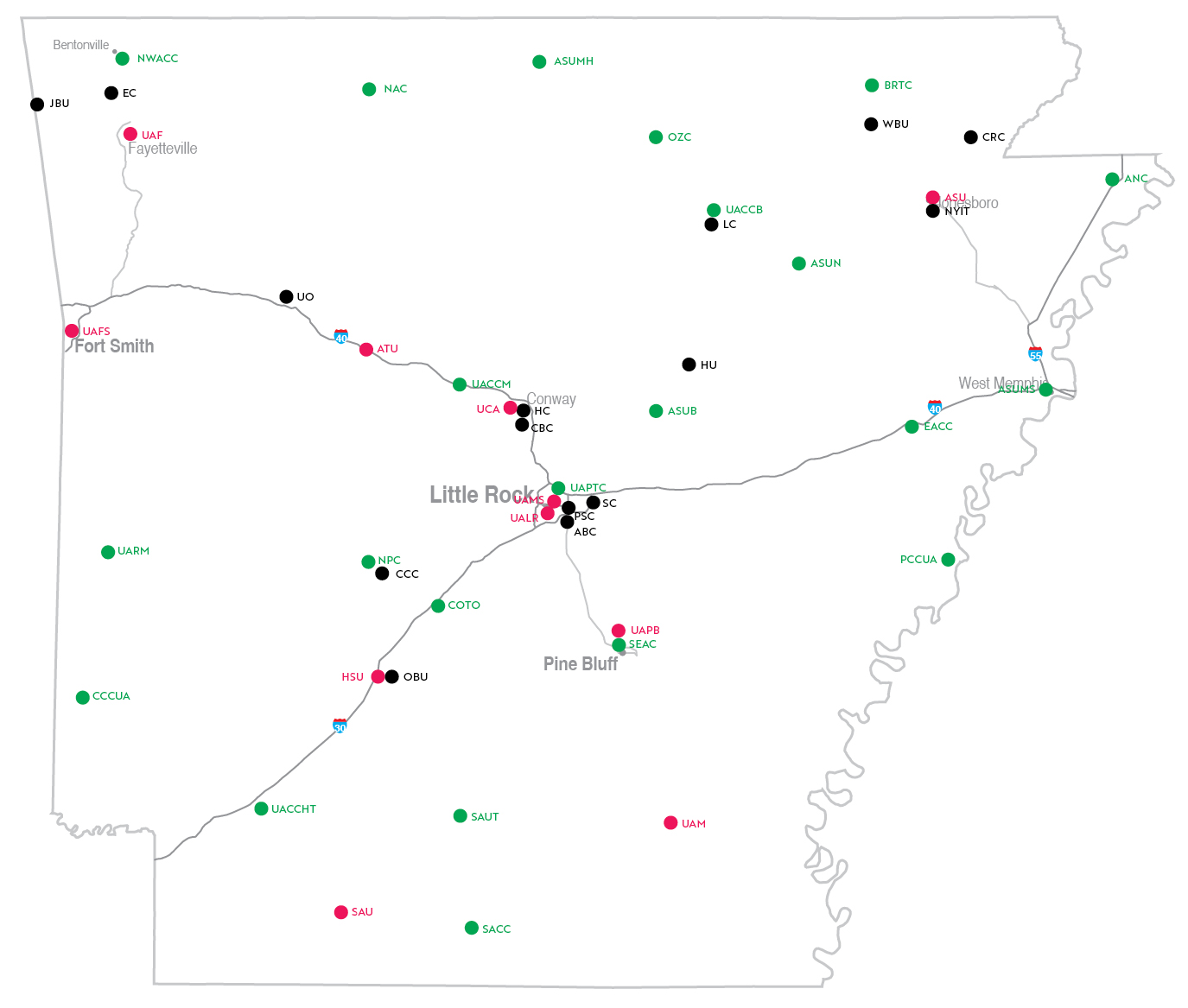 Dr. Markham is the director of the Arkansas Division of Higher Education. Before that she was the Vice Chancellor at the University of Arkansas Cossatot. She's a self-proclaimed student advocate and problem solver, alongside a savvy marketer. Her words catch my attention as I make a mental map of how spread-out Arkansas schools must be. Readily available is an understatement. Ninety-five percent of all Arkansans live within a 30-mile radius of a higher education institution, many of which are ranked top schools in the south.
"Our institutions are spread in a very strategic way. Each of our communities, rural and urban, have either a university or community college presence to serve the workforce of their local industries," she continues.
The target industries of Arkansas are near exhaustive and serve almost every college major a willing freshman could dream of. It makes for a well-rounded workforce and pads a few of those hard-to-fill positions.
"There are several industries that rely heavily on our graduate production," she says, "Just to name a few, the major retailers benefit from our strong Supply Chain and Logistics programs. Many industries tap into our growing pool of graduates from Data Analytics and Cyber Security programs." In 2022 U.S. News ranked the University of Arkansas Supply Chain Management program 10th in the nation, tied with the Georgia Institute for Technology. The Sam M. Walton College of Business was ranked 39th best in the country for undergraduate business degrees and is still fueled by the Walton family, who have donated nearly $200 million to the school's innovation efforts over the past two years. This is not to mention the many schools that serve the advanced agriculture industry through their graduates and research programs.
Strong In the Face of Adversity
Across declining college enrollment nationwide, the University of Arkansas saw its highest enrollment numbers ever in fall 2022, and Arkansas State University was 35 students shy of breaking its own record. The U of A has six campuses plus an "eVersity," with over 30,000 enrollments across its programs, an 8.3% rise from 2021. Arkansas State University's main campus is the next largest school, enrolling over 14,000 students in fall 2022. U of A set records four years in a row for graduation rates and first-year retention. As a land grant university, the school has worked diligently to add more than $6 million in scholarships since 2019 and increase accessibility for in-state students by funding community outreach and nixing test score requirements.
"Not only is this the largest ever freshman enrollment for the school, the freshman class will have the highest incoming GPA in our history" said Charles Robinson, current interim chancellor at the University of Arkansas, "These students are prepared to succeed. This is all good news for our campus and for our state."
In the past year Arkansas schools have been sought after to lead several innovative projects pertaining to agriculture, technology and biosciences. In August a team of researchers at Arkansas State University secured a $2 million grant from the National Science Foundation for the study of disease ecology, invasion biology, and data science. Initiatives includes scientific literacy improvement in northeast Arkansas, educational outreach, new Ph.D. positions, data science bootcamps, professional development and research pods.
In September, the U.S. Department of Defense awarded $750,000 to a research team led by U of A psychology professor Tim Cavell to develop new technology to assist children of military families who move to new schools frequently. The Walton Family Charitable Support Foundation also awarded the school over $400,000 to study and develop smart mobility in the state, on top of a $194.7 million grant from 2020 to build the Institute for Integrate and Innovative Research.
Starting Them Young
A high GPA isn't all that this generation's high schoolers have. In the past year, Arkansas has gone to great lengths to improve the preparedness and competitiveness of high school students for higher education or directly entering the work force.
"There has been a lot of energy behind providing Arkansans with viable and practical options to reach their post-secondary goals," says Dr. Markham. "From the governor, to legislators, to institutions, we have had great collaborative efforts to point students down pathways that will get them to a career that works for them." New partnerships and curriculum make all the difference to young people discovering what industries interest them, and the opportunity to look outside standard high school classes is unfolding.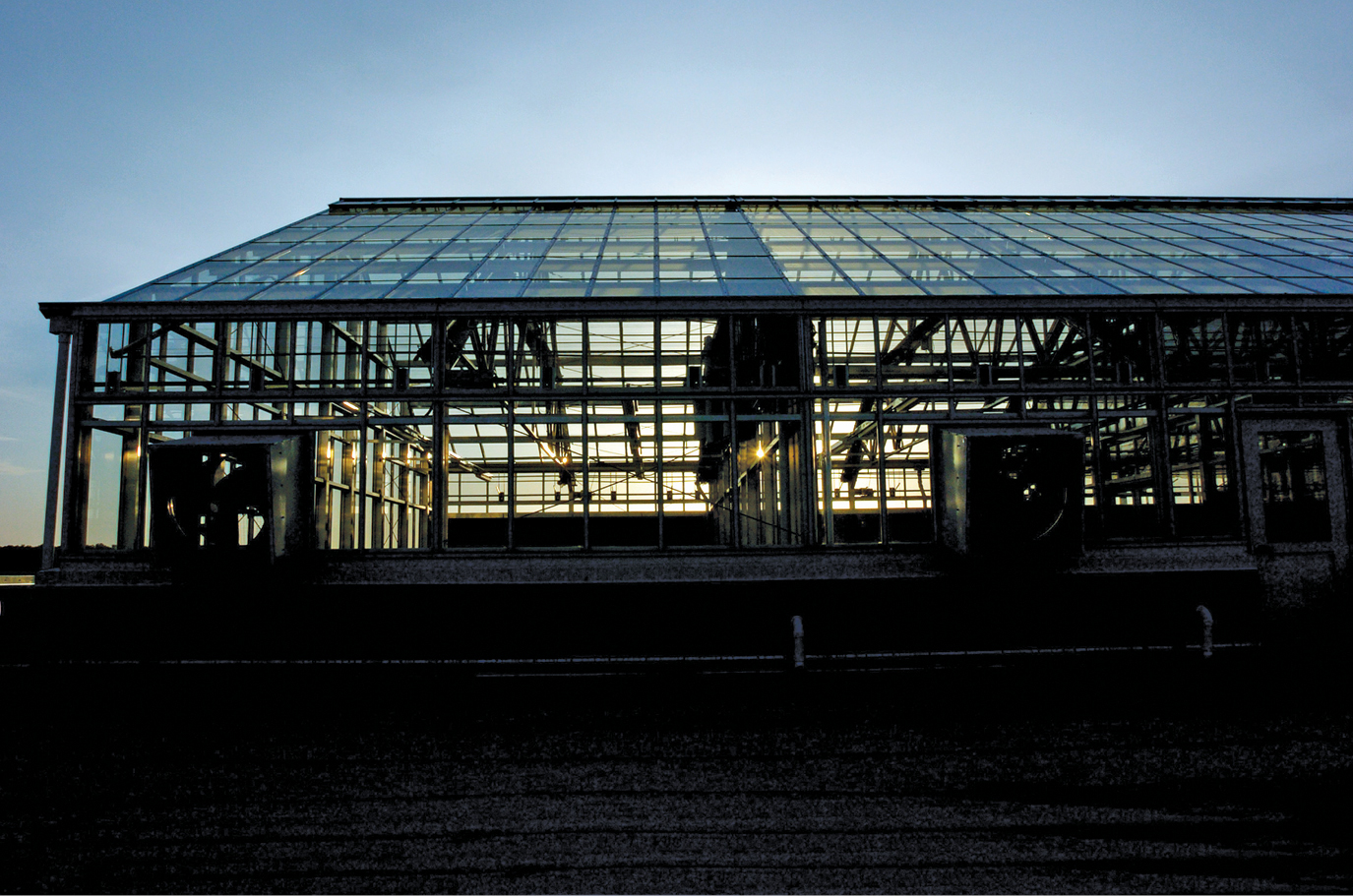 Pictured is Arkansas State University's Bioscience Institute, focused on expanding agricultural and medical research initiatives. The facility is almost 90,000 sq. ft. and includes a roof top greenhouse.
Courtesy of Arkansas State University
In a brag-worthy statewide change, high school students are now required to take a computer science class before graduation, and every public high school must have a computer science teacher. This is part of a push to offer more specialized STEM classes in high schools, including robotics classes as well. Cyrus Sigari of the state's Future Mobility Council looks at these initiatives through a workforce building lens, "Gov. Hutchinson's number one initiative in his chairmanship of the National Governor's Association was around really pushing STEM education deeper into primary and secondary schooling. It doesn't get any more STEM-y than flying cars, drones, rockets. So how do we build that into the culture of schooling in Arkansas, getting robotics classes in every high school?"
The governor has largely addressed STEM careers as recession proof, both good for workers own stability and the state economy. By making higher paid careers more accessible to younger students, it improves the livelihood of Arkansas as well as small communities.
In August of 2022 the Academies of Central Arkansas announced the establishment of the Baptist Health Academy of Medical Sciences located at Little Rock Southwest Magnet High School. The academy would expose high school students to different careers in the medical field, offer courses for college credit, and invigorate the interest of the student body. The district superintendent Dr. Jermall Wright believes the academy will aid in engagement, graduation rates, and career readiness. These requirements and partnerships are planting seeds of change that may take a decade or two to be fully realized, but undoubtedly students of all ages have better access to resources and better STEM literacy than ever before.