N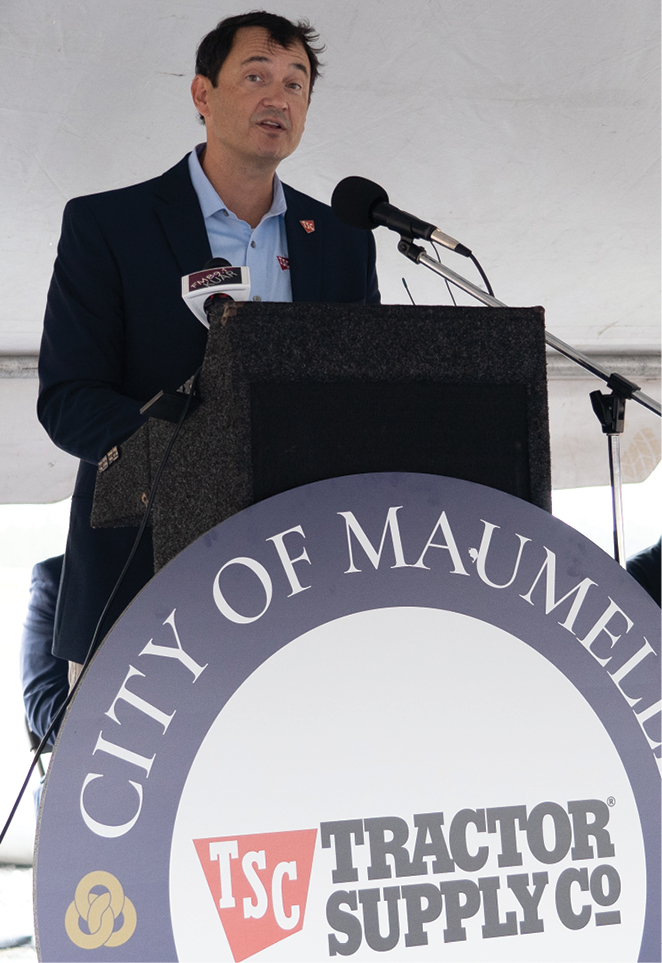 obody knows the South quite like Tractor Supply Company. The Brentwood, Tennessee–based farm goods retailer built an empire selling supplies to farmers, ranchers and other lovers of the great outdoors for 84 years.
That's why the company's recent decision to place a 1.2-million-sq.-ft. distribution center in Maumelle, just northwest of Little Rock in Central Arkansas, is so significant. When the firm broke ground August 23 on the $120 million project, it was a ringing endorsement of a business environment that has been engineered to enable companies to thrive.
"This distribution center will be a vital link in our supply-chain strategy to better serve our existing stores and future growth in Arkansas, Texas, Oklahoma and surrounding states," said Hal Lawton, president and CEO of Tractor Supply, which is creating 500 jobs at the new plant. "Tractor Supply is committed to a more sustainable future, and our investments in Maumelle support a positive impact on the environment. We are grateful for the strong support for this project at the local and state level and look forward to being a great community partner."
Tom Guschke, director of logistics engineering at Tractor Supply, says his firm used multiple criteria when conducting its search for a distribution location in the Southern region – a search that considered more than 20 sites in four states: Arkansas, Louisiana, Mississippi and Alabama.
"State and local officials were very helpful in identifying and detailing site-specific and local amenities, services and infrastructure, incentives programs, utilities and infrastructure information, and community demographics."
— Tom Guschke, Director, Logistics Engineering, Tractor Supply Company
Arkansas won the project, he notes, because it performed the best overall on these factors: labor availability, cost and quality; access to transportation corridors; site suitability for the intended use; site and local infrastructure; state and local incentives; training programs and community support; and local community amenities for TSC team members and families, including housing, cost of living, health care and education.
"Short-listed were sites in Louisiana, Mississippi, Alabama and two locations in Arkansas," says Guschke, whose company operates 2,016 stores in 49 states and employs nearly 48,000 people. In the final analysis, Arkansas came out on top.
Where Companies Go to Grow
Guschke credits state and local officials with being "very helpful in identifying and detailing site-specific and local amenities, services and infrastructure, incentives programs, utilities and infrastructure information, and community demographics."
He adds, "Tractor Supply is a growth company with plans to add 70 to 80 new retail stores per year, growing the omnichannel business, and achieving increased sales volumes at existing stores. Regional distribution centers keep Tractor Supply agile by supporting the logistics network for store replenishment and adding the additional capacity needed across the U.S. as growth continues."
In short, Tractor Supply chose Arkansas for many of the same reasons other companies do. An Arkansas location gives them the best chance to grow and thrive.
This is a trend that's been ongoing for years, and it shows no signs of slowing down anytime soon. Case in point: Trex Company, a deck and outdoor living company, announced a year ago that it would place its third U.S. production site in Little Rock. Greenville, South Carolina-based Global Location Strategies assisted Trex in the site search.
"We had a great experience working with the state and local team for the Trex project," says Sarah S. White, principal and vice president of site selection with GLS. "The team was well organized and attentive throughout the whole project. If we ever ran into a hurdle, they were great at pivoting to find a solution. There was also great coordination directly with the governor, which further exemplified the teamwork at all levels."
Trex plans to invest $400 million over five years at the 300-acre site. Over time, the firm expects to hire 500 workers in the Little Rock area.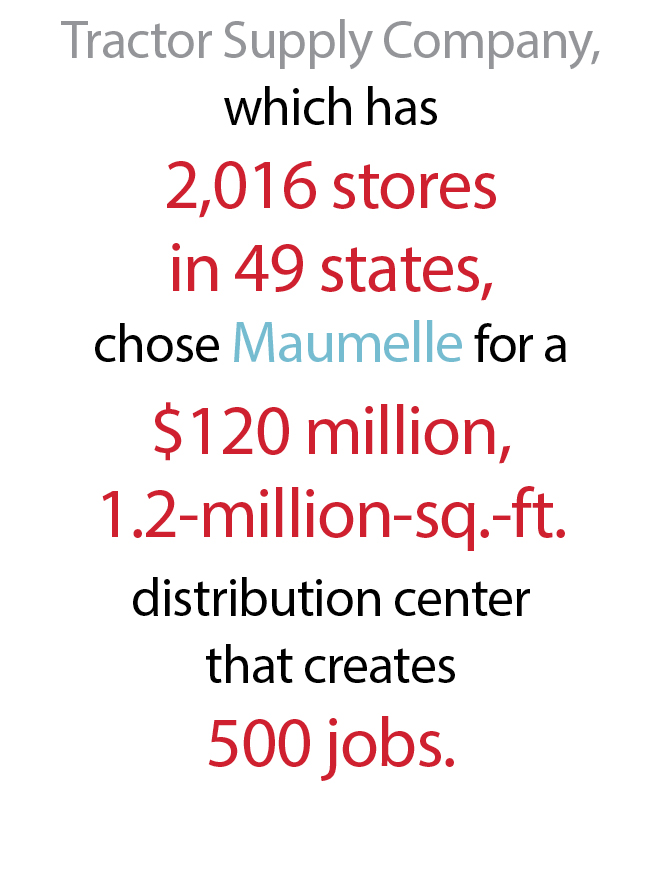 Diverse Industries Find Success
Other companies making big commitments recently to expand in Arkansas include Hytrol Conveyor Company, Lockheed Martin, Frito-Lay and Ozark Integrated Circuits. Hytrol selected Fort Smith last year for the home of its second manufacturing facility. The $20 million project is expected to create 250 jobs within five years.
A global leader in the design and manufacturing of material handling systems, Hytrol currently has more than 700,000 sq. ft. of production space and 48,000 sq. ft. of R&D space in two facilities in Jonesboro. Together, they employ over 1,200 Arkansans.
The firm looked at sites in 13 states before choosing Fort Smith for the new plant. Hytrol originally relocated from Wisconsin to Jonesboro, Arkansas, in 1962. "We are not leaving Jonesboro," Hytrol Director of Site Operations Phillip Poston said.
Global food processing company Frito-Lay has been expanding in Arkansas since 1996. In 2015, the company embarked on another expansion, adding 30 jobs and 80,000 sq. ft. in Jonesboro. Today, 790 Frito-Lay workers produce more than 707 million bags of snacks annually there.
Lockheed Martin announced that it would spend $142 million in Camden to increase production at its Missiles and Fire Control complex in Highland Park. Today, the firm employs 790 people there and contributes $300 million in supplier commitments to the state. As a result of the latest expansion, Lockheed Martin will grow its Arkansas workforce to 976 by 2024.
Fayetteville-based Ozark Integrated Circuits, meanwhile, has acquired more than 10 Small Business Innovation Research grants totaling more than $2 million. The company received grants from the U.S. Air Force, Department of Energy and NASA. According to the Global Rugged IC Market 2018-2022 report, Ozark Integrated Circuits is a leader in the integrated circuits industry.
The semiconductor company is based at the Arkansas Research and Technology Park and was spun out of research conducted at the University of Arkansas. Their work has placed microcontrollers on the International Space Station.