W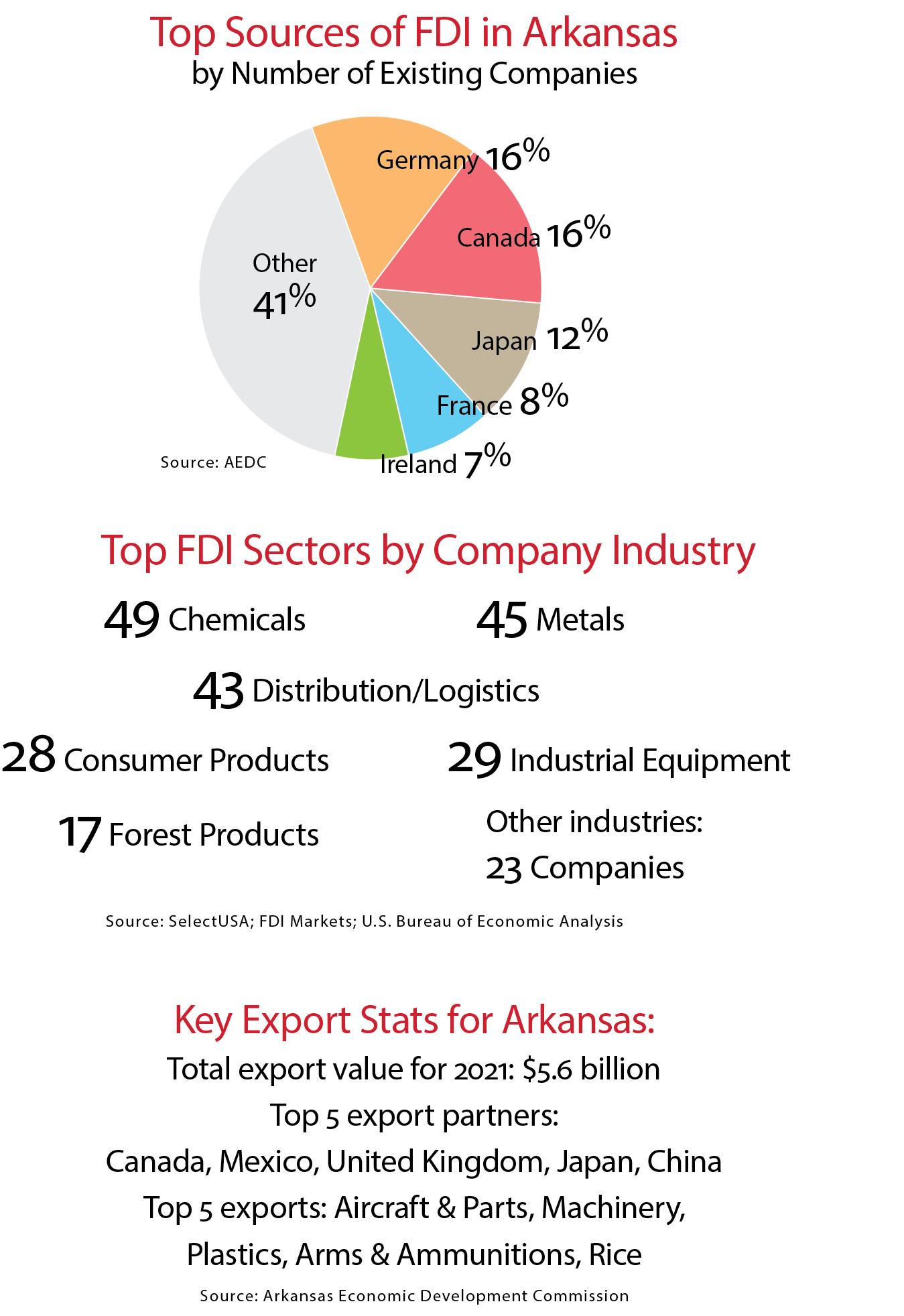 hen you ask Sébastien Deltheil of French aerospace company Dassault Falcon Jet to describe his experience of running a foreign-owned firm in Arkansas, he has only positive things to say.
The senior vice president and general manager of the company's Little Rock Completion Center cites talented workers, low cost of doing business and a business-friendly environment in Arkansas. He also mentions the scenic beauty of the Natural State as a key asset for his company.
Most of all, he says, it's "the people who are the key to our success." Dassault Falcon Jet has been operating successfully in Arkansas for years and is expanding both its footprint and its workforce in Little Rock.
It is but one of 187 international companies that maintain a physical presence and employ workers in Arkansas. Many of them, like Dassault, are in growth mode.
Swiss-owned Nestlé recently announced a $100 million expansion of its frozen food production plant in Jonesboro, adding 100 workers. In March Synthesia Technology, headquartered in Spain, signed a deal for 15 acres to build a new facility in Little Rock, which will be their first in the U.S. The investment will be $29 million.
Near the end of 2021, Drax Group announced it had begun construction on the second of three satellite pellet plants in Arkansas. The facility will convert sawmill waste from nearby Arkansas sawmills into 120,000 metric tons of sustainable biomass pellets per year. The UK-based biomass production company invested $40 million into the state and expects its commercial operations to begin in 2022.
Foreign direct investment is a recurring theme statewide. From 2010 to 2018, the Arkansas FDI workforce grew by 65%, or almost double the national average, according to Statista. Nearly two-thirds of the 48,000 FDI jobs in the state are in manufacturing; and FDI jobs make up 4.6% of total employment statewide.
Often, foreign investors seek to locate near other firms from the same nation. This tends to create clusters of FDI business in Arkansas. For example, Mississippi County in northeast Arkansas is home to Japanese-owned Nucor Steel and Kagome Foods. Also in the county are Canada's Atlas Tube and Luxembourg's Tenaris.
Clint O'Neal, deputy director of the Arkansas Economic Development Commission, says the state is on a roll when it comes to recruiting foreign firms. "We have three fairly significant FDI projects in the pipeline that could announce very soon," he said recently. "We took a trip to Europe in June with the governor and met with several companies. Three of these companies are close to closing a deal with us."
Bentonville-based Walmart, the world's largest retailer with over $517 billion in annual revenue, acts like a global magnet for business.
"We have had good collaboration with Walmart," says O'Neal. "They were very generous in hosting a virtual meeting for us with companies in India. We talked with them about production and assembly in the U.S. and in Arkansas in particular. We also partnered with Walmart in their Open Call event about their Made in the USA initiative. Small businesses had an opportunity to meet with them to support more production in the USA."