A
s a font of industry and innovation, Arkansas is anything but a one-trick pony, having staked claims to leadership in sectors that sustain the global economy and drive it into the future. Here are sketches of Arkansas' prowess in six growth industries.
Metals
When you're selected by United States Steel Corporation for its "steel mill of the future," it surely says something. In January 2022, U.S. Steel named Osceola, Arkansas as the site for a 6.3-million-ton mega-mill with 3 million tons of annual steelmaking capacity. At $3 billion, the investment is the largest in Arkansas history across all industry sectors. The project is set to employ several thousand workers during construction and create about 900 permanent jobs upon completion.
"We had numerous competitive site options, but Osceola offers our customers incomparable advantages."
— David Burritt, President and CEO, United States Steel Corp.
"We had numerous competitive site options," said company President and CEO David Burritt, "but Osceola offers our customers incomparable advantages."
Followed up in May by the opening of Atlas Tube's $150 million steel mill in Blytheville, U.S. Steel's blockbuster announcement is but one of many recent wins for Northeast Arkansas' thriving steel industry, which employs more than 5,000 workers. Having broken ground already, U.S. Steel will join Atlas Tube, Nucor and Big River Steel among a robust roster of steelmakers in Mississippi County, the second-most prolific steel-producing county in the nation.
Eager to leverage the U.S. Steel project, Arkansas Gov. Asa Hutchinson sees the potential to parlay the historic investment into something potentially larger.
"This puts us in a better position to say to the automobile industry, 'Locate in Arkansas. Put your next manufacturing facility here,'" Hutchinson says.
Technology
Named Best Fintech Accelerator/Incubator at the global Finovate Awards in 2020, the Venture Center has served to solidify Little Rock as an under-the-radar hub for financial technology.
"When we talk about the Venture Center, when we talk about fintech and we talk about financial inclusion, people are thinking about Little Rock as a place that is happening," says Mimi San Pedro, Chief Strategy Officer for the Venture Center. "People are coming here and investing."
Formerly based in New York, the AI-backed financial growth platform BOND.AI relocated to Little Rock in 2017, after graduating from the Venture Center's FIS Accelerator.
"Capital, talent and a cost-effective environment. A young company needs all these three things to grow," said CEO Uday Akkaraju. "I believe Little Rock is the only city in the U.S. that provides all three in perfect proportions."
In August 2022, the Venture Center flexed its growing influence and drew hundreds of global business and finance leaders to Little Rock for the inaugural VenCent Summit. The three-day event, which featured addresses by Federal Reserve Board Governor Michelle W. Bowman, FIS Chairman and CEO Gary Norcross and Arkansas Gov. Asa Hutchinson, served to showcase Arkansas as an increasingly relevant innovation hub.
Aerospace and Defense
Aerospace and defense is Arkansas' leading export sector. The billion-plus dollars in goods and services projected across the globe annually represents about one-fifth of the state's overseas sales. With a history that dates to the 1870s through the issuance of a patent for a "flying machine," the sector now employs nearly 7,000 workers. Arkansas' 15 four-year universities and 22 two-year colleges prepare for aerospace careers through programs that include aviation airframe and powerplant maintenance, general aviation maintenance, computer technology, engineering, cybersecurity and data management.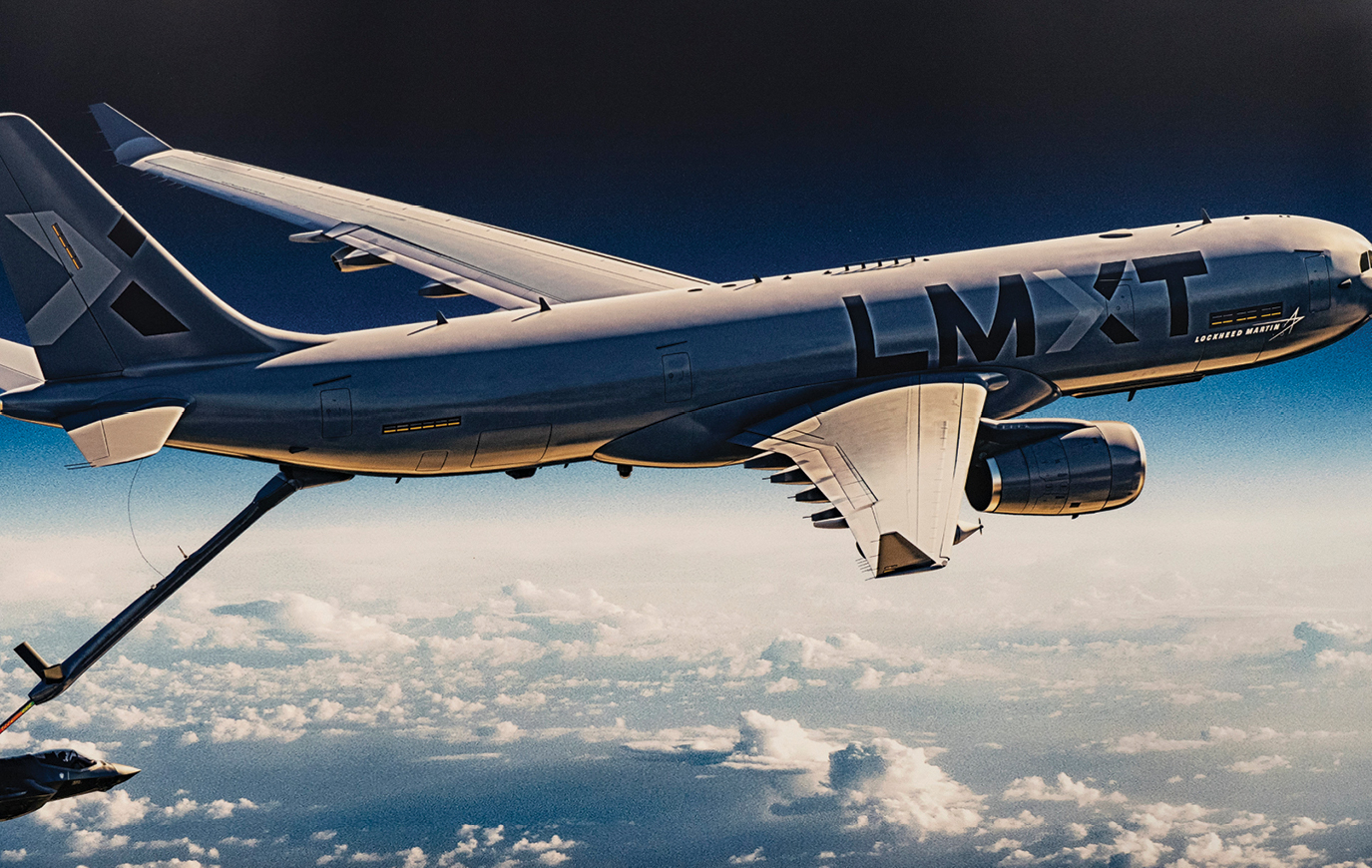 Lockheed Martin has announced that the aerial boom for the LMXT strategic tanker is set to be built in Arkansas.
Courtesy of Lockheed Martin
In addition to graduates of the state's system of higher education, Arkansas' aerospace and defense workforce is bolstered by the presence of five military installations. The biggest, Little Rock Air Force Base, delivers an annual economic impact of more than a billion dollars.
Components of the Javelin anti-tank missile defense system, critical to Ukraine's rollback of Russian invasion forces in late summer 2022, are manufactured in Camden, a town of just over 10,000 people about 100 miles south of Little Rock. East Camden's Highland Industrial Park is an epicenter of aerospace defense and manufacturing that includes as partners such industry leaders as Raytheon, General Dynamics and Lockheed Martin, which announced plans in 2022 to produce an aerial refueling boom for the LMXT strategic tanker aircraft in Arkansas. Dassault Falcon Jet maintains its largest facility in the world in Little Rock — Dassault Aircraft Services.
Forestry and Timber
Arkansas is graced by a canopy of 19 million acres of forestland, more than the total area of 10 U.S. states. Timber and forest products accounted for more than $6 billion in economic impact in 2021, thus accounting for 5% of the state's GDP. Of the over 25,000 people directly employed in the timber industry, the average salary tops $53,000, according to the Arkansas Economic Development Commission.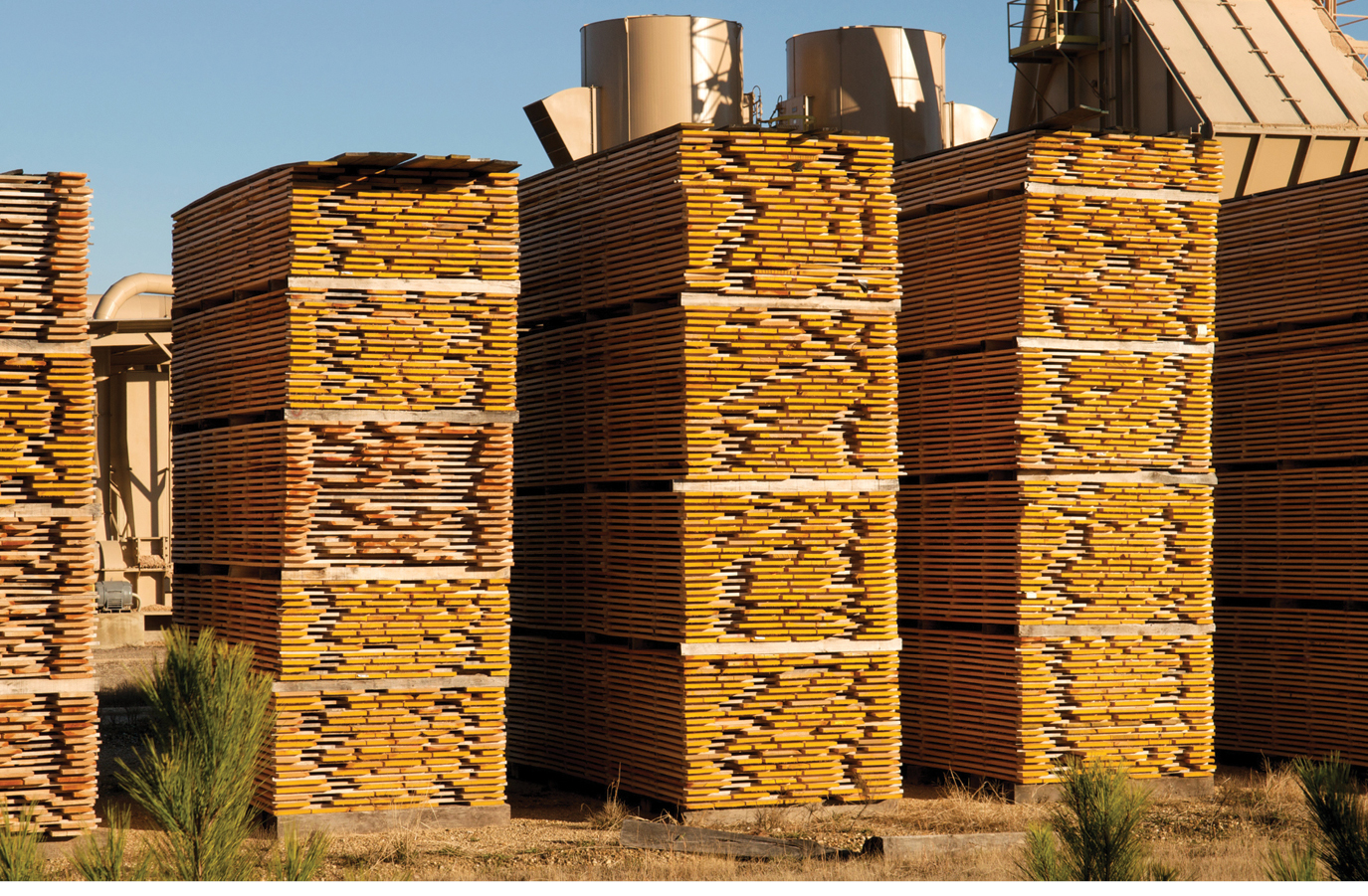 Timber and forest products accounted for more than $6 billion in statewide economic impact in 2021.
Photo: Getty Images
Arkansas' "wall of wood" includes 7.62 million acres of oak hickory, 2.7 million acres of bottomland hardwood, 1.87 million acres of oak pine and 6.1 million acres of softwood pine. At a time when the demand for building materials is surging, the state harvests 23 million tons of timber each year, but plants more trees than it cuts.
The University of Arkansas at Monticello, 50 miles south of Pine Bluff, has established itself as a fertile source of forestry talent and research. The university's newly established Center for Forest Business provides technical assistance and market-based solutions to forest resource challenges and offers programs for degree and post-baccalaureate education.
Firearms and Ammunition
Rooted in the Northeast since the time of the Revolutionary War, a number of the nation's gun manufacturers are now seeking more firearms-friendly environs in the South. With that in mind, it's worth noting that Forbes, in 2021, identified Arkansas as the country's second-most gun friendly state. That ranking was based on registered guns per capita, manufacturing volume and local and state statutes. During its past six sessions, the state legislature has passed 35 pro-gun bills into law.
More than 3,100 people are employed in Arkansas' firearms and ammunition industry at such companies as Walther Arms in Fort Smith, GAMO Daisy in Rogers, Sig Sauer in Jacksonville and American Marksman in Searcy. Fiocchi of America, the U.S. subsidiary of Italy-based Fiocchi Group, picked Little Rock in July 2020 as the site of a $15 million manufacturing facility where it will make shotshell, centerfire and rimfire ammunition.
"Fiocchi identified Arkansas as a primary target for its expansion based on the skilled labor of the state, business climate and geographic location," said general manager Jared Smith. "This investment is a unique opportunity for Fiocchi."
Food and Beverage
There's a very good chance that the rice that appears on any American plate comes from Arkansas. In 2021, Arkansas rice producers harvested 1.9 million acres, accounting for 47.5% of total U.S. rice production. Grown in 40 of the state's 75 counties, rice ranks as one of the top three crop commodities for Arkansas farmers.
Agriculture, the state's largest industry, helps to propel a food and beverage sector led by global leaders such as Arkansas-based Tyson Foods, PepsiCo, Nestlé, JBS USA and Kraft Heinz. A serial investor in facilities throughout the state, Tyson cut the ribbon in 2022 on a $75 million poultry feed mill in Fulton, just northeast of Texarkana. Not surprisingly, Arkansas ranks No. 2 in the nation for production of broilers.
Hostess Brands, through an investment of up to $140 million, is converting a 330,000-sq.-ft. former metals manufacturing plant in Arkadelphia into a "bakery of the future." Expected to open in 2023, the bakery is to create at least 150 jobs over three years.
"We are grateful," said Chief Growth Officer Daniel O'Leary, "to have made this investment in conjunction with the support of our state and local partners in Arkansas."