W
hen you're ready to find an inflation-busting home for yourself and your business, the good folks of Arkansas would like to have a word with you.
"With both workers and families, we have experienced a lot of success in recruiting people to Arkansas because of our high quality of life and low cost of living," says Clint O'Neal, deputy director of the Arkansas Economic Development Commission. "Because of our low cost of living, you can own a home and land in Arkansas. We have seen an influx of people and companies moving to Arkansas since the beginning of the pandemic, and we aren't done yet."
As inflation has soared to heights not seen nationally in over four decades, businesses and the workers they employ are seeking shelter from the rising tide of runaway costs for everything from food and gasoline to electricity and housing. Increasingly, these companies are finding relief from inflation in Arkansas.
"We have the third lowest cost of living and fourth lowest cost of doing business in the country," says O'Neal. "And from a business standpoint, we've taken steps to make Arkansas even more affordable and profitable for business."
"Our state's best-kept secret —our people's ability to collaborate with one another."
— Clint O'Neal, Deputy Director, Arkansas Economic Development Commission
In December 2021, the governor signed into law the largest tax cut in Arkansas history. The legislation incrementally reduced the top individual income tax rate from 5.9% to 4.9% and the corporate income tax rate from 5.7% to 5.3% by 2025. These tax cuts were accelerated with the passage of a tax relief package in August 2022.
"In this current state of inflation, measures like these, coupled with our already low operating costs, play in our favor," says O'Neal.
In January 2022, Arkansas announced the largest economic development investment project in the state's history, with U.S. Steel pledging to invest $3 billion to construct a state-of-the-art steel mill in Osceola in Mississippi County.
In 2021, the AEDC worked with 29 companies on projects that will create 4,386 jobs and result in a total capital investment of more than $1.6 billion. Recent investments include a new warehouse by Amazon in Lowell; a new factory by Compass Cold in Heber Springs; a new headquarters and manufacturing plant by Envirotech Vehicles in Osceola; and a new warehouse by Dollar General in North Little Rock.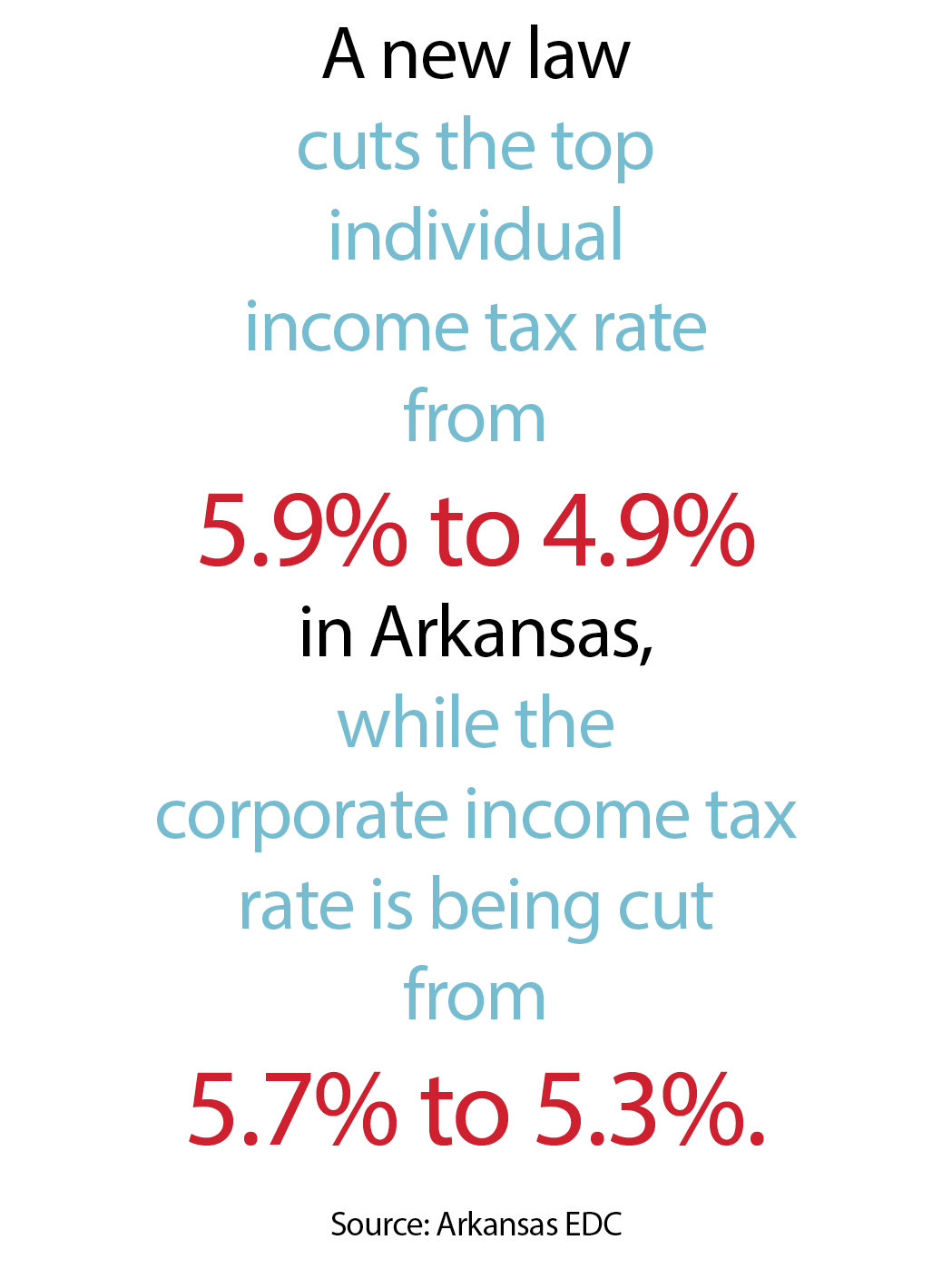 When you analyze the site selection criteria used by these and other firms, several location factors rise to the top. Arkansas' Interstate system, railroad network and navigable waterways are critical factors impacting the logistics of every manufacturer in the state. Together, these infrastructure assets form one of the most competitive foundations in the country.
Site selectors also seek financial stability, especially in uncertain times. The state has a $1.5 billion reserve fund to go along with a projected $1.6 billion surplus.
As a result of these and other investments, Arkansas is winning competitive deals and garnering accolades from industry observers. WalletHub named Arkansas the second-most pandemic-proof state in America for small business. Business Facilities named Arkansas the No. 3 state for food processing and No. 10 for manufacturing employment in 2021 and 2022.
Evidence that state policies are working can be seen in the employment numbers. There are 151,300 more Arkansans employed today than there were 10 years ago.
The state's not done, says O'Neal. "Our state's best-kept secret is our people's ability to collaborate with one another," he says. "There has always been a strong spirit of entrepreneurism here. When J.B. Hunt was a truck driver, he got out of his truck one day and started talking to some rice farmers along the side of the road. That led to J.B. Hunt and Tyson Foods becoming Fortune 500 companies."
With a stacked pipeline heading into 2023, O'Neal says the state is primed for more. "Our economic development team has always been hungry to produce results," he adds. "We have pragmatic governors who get things done."