C
orporate executives who haven't considered investing in California for a long time suddenly have new reasons to do so.
Fresh off four years of painstakingly adjusting public policy to make California more business-friendly, Gov. Jerry Brown is now rolling out the welcome mat to expanding companies with a new set of tools in his recruitment arsenal.
Armed with new tax credits, more funding for economic development, balanced budgets and improved credit ratings, California now competes for jobs and industry without the burden of financial shackles - and the results speak for themselves:
After years of stagnation, the California economy is growing faster than the national average. The state's economy grew by 2 percent in 2013, better than the US average of 1.8 percent. And after a slow start to 2014, the state's economy grew by 4 percent in the second quarter of the year.
California accounted for 14.2 percent of the country's net employment gain in the second quarter of 2014, as state businesses added 109,800 new jobs.
Nearly 700 California companies made the annual Inc. Magazine ranking of the 5,000 fastest-growing firms in the country - by far the most of any state. California boasts the No. 1 company on the list - Fuhu, the El Segundo firm that makes large tablet computers for kids - and four of the top 10.
California boasts the two highest ranking US metro areas in per-capita GDP: San Jose-Sunnyvale-Santa Clara ($100,115) and San Francisco-Oakland-Hayward ($78,844).
California added 35,600 construction jobs from Aug. 2013 to Aug. 2014 - the second highest amount in the country. The jump increased construction employment in the state by 5.6 percent.
Existing home sales in California rose by 6.9 percent during the second quarter of 2014.
These performance benchmarks have been set even as Brown, the one-time mayor of Oakland and now three-term governor, continues to remake the California business climate. The capstone of this makeover is the governor's $750-million annual plan to attract and retain business.
After years of experimenting without much success with community development programs, California scrapped them and replaced them with new business tax incentives. The new programs include a tax exemption for R&D in manufacturing and biotech; a job tax credit for increasing the number of full-time workers; and a California Competes tax credit given to companies that relocate or expand in the state.
But that's not all Brown is doing. In a very busy September, he signed legislation increasing the state's Film and Television Tax Credit Program to $330 million a year for five years; signed electric vehicle legislation to encourage the growth of electric cars and trucks on California roads and highways.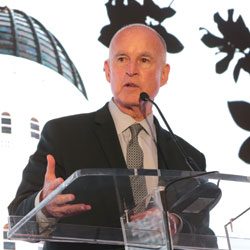 Following eight years of relative inactivity on the economic development front, Gov. Brown's term since 2010 stands out as one of the most activist in the country. As a result, companies are voting with their pocketbooks.
Leading the way is China Zhongwang Holdings Ltd., which is investing $1.5 billion to build a new plant for aluminum extruded products in Barstow. Trinchero Family Estates is spending $300 million to expand its wine-making operation in Lodi; CaliCheese is investing $250 million to build a new cheese plant in Tulare.
Projects like these helped California achieve yet another milestone. By July 2014, California had overtaken Russia and Italy to become the eighth-largest economy in the world, at just over $2.2 trillion in GDP.
And Stephen Levy, director of the Center for Continuing Study of the California Economy in Palo Alto, says the state could gain on No. 6 United Kingdom and No. 5 France in the next ranking.
The bottom line, say state officials, is that all this economic growth means more jobs for Californians.