C
alifornia's leadership position in innovation is well documented. What most people outside California don't understand is that the state's penchant to invent and create extends well beyond Silicon Valley.
While Stanford rightly garners the lion's share of attention for its proven track record of producing world-changing entrepreneurs, other entities in California regularly churn out innovators as well.
One of those entities is We See Dragons, a Los Angeles-based team of entrepreneurs who design software to help large companies start up entirely new lines of digital business.
Co-founder Zack Zalon, who 14 years ago helped launch Virgin Digital, says that "we are based out of Los Angeles because this is the creative center of the world in so many ways. We have great access to technology talent here in Los Angeles."
Formerly known as the Wilshire Media Group, We See Dragons has generated approximately $2 billion in incremental value for its clients, which include CBS, Sony and Experian.
"We set up a public-private partnership to build out a coalition of 25 senior innovative leaders across LA," says Zalon. "Our purpose was to look at what we felt was LA's emerging role in the innovation economy in the digital services industry. LA is undergoing a renaissance in so many ways."
A $20-million innovation fund put together by Zalon and his partner provided the seed capital for the effort. "We are basically a technology-oriented digital agency," Zalon says. "Once we achieved a critical mass of success, we wanted to research what was going on here and quantify it."
In a recent presentation to the Los Angeles County Economic Development Corporation's board of governors, Zalon put the LA region's innovation capacity into perspective.
" New businesses are emerging out of the shared economy, which was largely created right here in California."
- Brook Taylor, deputy director of the California Governor's Office of Business and Economic Development
"What most people don't know is that there are over a million people presently gainfully employed in the creative spaces here in LA," he told the organization. "That's a huge number - if you actually think about it, that's a staggering number just focused on creativity."
Where the Internet Began
He also pointed to LA's long history of innovation. "Most people don't know this," he said, "but the first ever Internet node was not at Stanford or San Francisco, it was not at MIT in Boston - it was here at UCLA in 1969."
He also cited such as LA-born inventions as the Aeron chair, the aerospace industry, the electric guitar, the Frisbee, the pushup bra and the Cobb salad.
"It was pretty stunning to us when we learned that Los Angeles educates and graduates more engineers than any other city in America - software engineers and otherwise," Zalon added. "More than Boston, more than San Francisco, more than anywhere else. We have all the talent that we need to grow a huge future of innovation right here in our backyard."
What will ultimately put LA over the top, he said, is its unparalleled access to capital. "We have more millionaires - almost 270,000 millionaires when you take out real estate value - than anywhere else in America," he said. "We are the richest city in America."
Other rankings support Zalon's argument. "LA County is number three in startups in the nation and number one in clean-tech startups," says Lawren Markle, director of public relations and marketing for the Los Angeles County Economic Development Corp. (LAEDC). "Blackstone just made a multi-million-dollar investment in Blackstone LaunchPad SoCal, which funds entrepreneur membership at three universities in the LA region."
Markle adds that "we have a great 3D design economy, including 22 automotive design studios for the major brands. Robotics at UCLA and Caltech are setting a foundation for a new generation of prosthetic limbs. And our computer science workforce is huge, with continuing investment."
Investments like these are a big reason why Southern California is forecasted to grow the fastest of all regions in the state over the next six years. According to Beacon Economics, the Riverside-San Bernardino-Ontario MSA is expected to grow the fastest, at 4.2 percent, through 2020. Bakersfield-Delano, at 4.1 percent, will grow the second fastest.
In all regions of the state, universities are credited with contributing the greatest impact on economic development in California.
With the University of California system on Sept. 18 creating UC Ventures - an independent fund of $250 million for investments in UC research-driven enterprises - that economic impact is expected to grow substantially.
"In addition to any financial benefits, we see this fund as a potential vehicle for providing resources to support the basic research and talent - among both faculty and students - required to develop innovations that can benefit California and the world," said UC President Janet Napolitano in a statement.
The 10 campuses of UC support 10 incubators and accelerators, five medical centers and three affiliated national laboratories. Over the past two years, this system has produced Aragon, which was acquired by Johnson & Johnson in August 2013; Kite Pharma, which filed for an IPO in June 2014; and Seragon, which was acquired by Genentech in July 2014.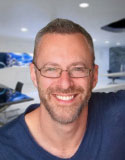 Rankings Back California
UC is a big reason why California scores highly in many innovation rankings. According to the Information Technology and Innovation Foundation's 2014 State New Economy Index, California ranks third on an array of indicators designed to project its ability to complete globally. California jumped from fourth in 2012 and seventh in 2010.
California ranks third in both innovation capacity and economic dynamism in the index. According to the ITIF, California is home to more than 25 percent of the nation's IPOs and is home to 254 of the nation's 924 fastest-growing companies.
California also accounts for 53 percent of all venture capital investments in the US, ranks fourth in number of patents and fifth in high-tech employment.
The State Entrepreneurship Index produced by the University of Nebraska ranks California second only to North Dakota - and no institution regularly produces more entrepreneurs than Stanford University in Palo Alto.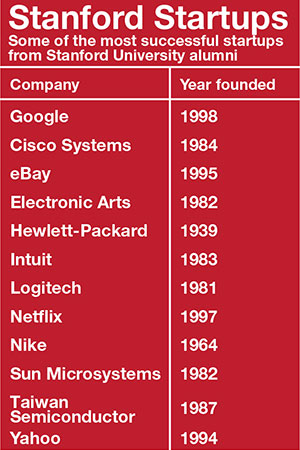 Lisa Lapin, associate vice president of university communications at Stanford, says, "Stanford is a campus that prides itself on innovation, an entrepreneurial spirit, and partnerships that help speed discoveries and transfer them to public and commercial use. Innovation is encouraged at all levels - among faculty and students. We are the leading university in the country in terms of entrepreneurship programs and in terms of the number of inventions and companies that have emerged from the Stanford ecosystem."
Among the most successful startups launched from Stanford are Google, Cisco Systems, eBay, Electronic Arts, Hewlett-Packard, Intuit, Logitech, Netflix, Nike, Sun Microsystems, Taiwan Semiconductor and Yahoo.
More recently, innovations sprung from Stanford alumni have led to the creation of Tesla Motors, LinkedIn, Orbitz and VMware.
Stanford Research Park counts more than 150 tenant companies employing more than 23,000 people in electronics, software, biotechnology and other fields.
In a recent ranking of the top graduate programs for entrepreneurship, the Princeton Review ranked Stanford fifth in the country and USC 21st.
Brook Taylor, deputy director of the California Governor's Office of Business and Economic Development, says California not only creates more new companies than any other state, it creates entire industries.
"New businesses are emerging out of the shared economy, which was largely created right here in California," Taylor says. "Now we have Uber, a $17-billion company, based in San Francisco, and many other share economy companies being grown right here out of California."