The Golden State lays claim to hosting scores of top-notch aerospace, defense, homeland security and cyber- device installations from Eureka to Escondido and nearly every city in between.
In southern Santa Barbara County lies the city of Goleta, home to Raytheon, Northrop Grumman and FLIR Commercial Vision Systems. Helping fuel the growth of these firms and welcome others to the neighborhood is GEM, the Goleta Entrepreneurial Magnet, a collaboration of the City of Goleta, Goleta Valley Chamber of Commerce, and University of California, Santa Barbara (UCSB). Providing resources to support science and technology startup businesses, GEM works to enable entrepreneur teams to develop business-related skills to help their startups soar.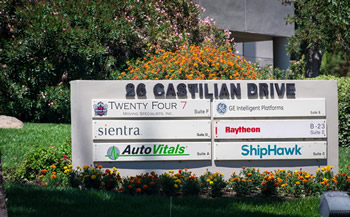 In August 2015, Dave Adornetto, the director of UC Santa Barbara's Technology Management Program, was appointed as the new GEM executive director, demonstrating the larger role UC Santa Barbara is taking in GEM.
"Our objective at GEM is to leverage the relationship with UCSB and capitalize on the many synergies that exist in terms of developing educational content and a mentorship network for GEM start-ups," said Adornetto in a GEM publication. Overall, GEM's goals sparkle: Keep start-ups local, garnishing the rich talent within the UC system.
Warp Speed Acceleration
In August 2015, Starburst Accelerator, a European aerospace innovation organization, opened its doors in El Segundo, joining such world-renowned aerospace heavy hitters as Northrop Grumman Corp., Boeing Co., Aerospace Corp., and Lockheed Martin.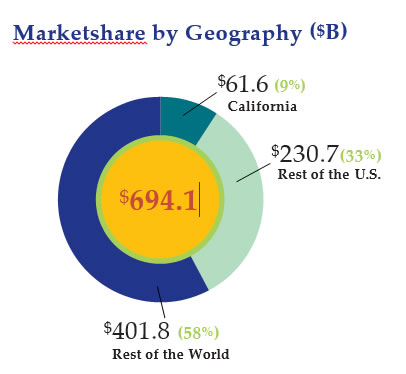 Aerospace market includes:
SPACE INDUSTRY
Launch services
Satellite manufacturing
Ground equipment
Engineering services
Satellite services
AIR CRAFT INDUSTRY
Aircraft
Engine and parts
SDNGN Instruments1
MRO2
How does the company describe itself? "Starburst provides seed funding from the top business angels and venture capitalist firms dedicated to aerospace, defense and security as well as access to the largest aerospace group stakeholders to get your first $1-million contract," they say. That's no joking matter.
When asked, "Why LA?" Starburst co-founders Francois Chopard and Van Espahbodi said in a company release, "What we love about L.A. is its strong aerospace background; the perfect blend of legacy industry and academia co-located with an emerging startup scene and new aerospace players. The El Segundo aerospace cluster is the perfect environment for launching our unique program, offering startups a wide variety of aerospace markets to grow into with immediate access to industry leaders and venture capital."
Return of the Titan(s)
In other news, after purchasing Titan Aerospace in April 2014, Google finished construction of a $15-million building at the Moriarty Municipal Airport in New Mexico in 2015. However, Google is now taking the entire operation, and nearly 40 employees, to the Bay Area. Titan's solar- powered drones are considered an inexpensive replacement for communications satellites. They fly to about 65,000 feet and can remain airborne for up to five years. California's local university talent, entrepreneurial spirit and lush labor pool are hard to beat.
Google's Titan Aerospace is certainly not the only new company sold on CA. In San Bernardino County, Exquadrum Inc. is launching rocket science to new heights. Based in Adelanto, Exquadrum is considered one of the leading innovators in space launch vehicle design, liquid engine technology development and satellite thruster technology.
With 23 employees at Adelanto and nearby Victorville, Exquadrum is outgrowing its space and is in need of a 40-acre parcel for expansion, notes Eric Schmidt, president of Exquadrum.
"We have unique siting needs," Schmidt says. "We do work for NASA and the Department of Defense primarily. We also do work for large firms in the private aerospace industry — companies like Boeing, Raytheon and Lockheed Martin. California has always had a strong location stance in the aerospace industry, and in particular in this part of the Mojave Desert. A myriad of aerospace firsts have occurred here. Many of them have come out of Edwards Air Force Base, Palmdale-Lancaster and Antelope Valley."
When asked why he selected Adelanto to be the home of Exquadrum, Schmidt replies that "we looked for locations with elements of open space but also very business-friendly permitting and regulatory environments. Plus, it was cost-effective with reasonably sized parcels of land. The amenities that any technology business needs — cost-effective land and buildings, along with all required infrastructure such as water, electricity and natural gas — are all here."
Safe and Sound in Southern Cali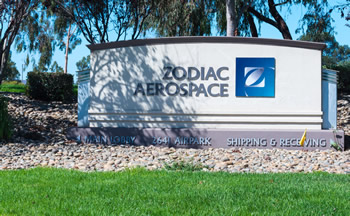 In other powerhouse areas, the Department of Homeland Security (DHS) Science and Technology Directorate, in August 2015, granted a $2.2-million cybersecurity Mobile Technology Security research and development award to Malibu's HRL Laboratories, LLC, to work on mobile security research in mobile device instrumentation.
Cyber Security Division Program Manager Vincent Sritapan commented in a DHS release, "With performers like HRL Labs, we can build innovative secure technologies that leverage sensors on the device, use breakthrough low power technologies, and provide new forms of mobile access control that defend against adversaries."