C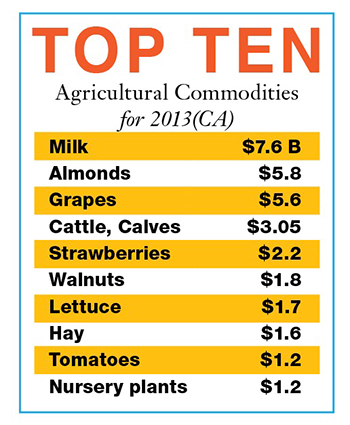 alifornia capitalizes on natural assets — geographic size coupled with a near-perfect growing climate — to develop an enviable agribusiness and food production industry. Home to more than 77,000 farms, the state grows half the nation's supply of fruit, vegetables and nuts. And despite being in the grip of an historic five-year drought, California remains the top food production state in the US. In 2013, agricultural exports in California totaled $21.24 billion, a 15-percent increase over the previous year.
The state's Central Valley region is a 450-mile swath of some of the world's most fertile soil and much of the state's crop agriculture. More than 230 crop varieties are grown there —from lettuce to grapes, from tomatoes to almonds. California farmers raise more than 1.7 million dairy cows. In 2014, the state produced 42.3 billion pounds of milk and $7.6 billion in annual retail milk sales.
Growing More Than Food
In addition to crops and livestock, agriculture grows jobs. Statistics from the state's Employment Development Department show that, on average, California farms employed 417,000 workers in 2014. Almond growing alone creates 104,000 jobs — direct and indirect — statewide, 97,000 of them in the Central Valley alone, according to a 2014 study from the University of California Agricultural Issues Center (AIC). When factoring in the food process manufacturing side of the equation, the numbers rise even higher.
The agriculture value chain accounts for nearly 2.5 million jobs in California.
A 2011 report issued through the California Community Colleges' Centers of Excellence for Economic and Workforce Development found that the "agriculture value chain accounts for nearly 2.5 million jobs in California." The agriculture support sector is the largest component of the value chain, with almost 1.5 million jobs statewide. Agriculture processing and production are much smaller clusters in the value chain — combined, these clusters account for less than 18 percent of the agriculture jobs statewide.
Food Production Stability

Over the past year, California has watched the food processing sector continue to flourish. Fresh Select, a produce refrigeration and distribution company in Dinuba, is investing $6 million in new equipment and a four-year plan which will expand operations. The company received a $500,000 California Competes tax credit and intends to increase employment from 250 to 350 jobs by 2018.
Shinmei Foods USA opened the company's $10-million, 28,000-sq.-ft. US headquarters and food-production facility in West Sacramento in August 2015. The facility, which produces gluten-free rice buns with rice sourced from local farmers, is expected to eventually employ up to 500 workers.
California is home to more organic farmers than any other state in the US. In early 2015, Eden Foods, an organic foods producer, renovated a 45,000-sq.-ft. distribution warehouse to include state-of-the-art, green technology efficiencies like internal and external LED lighting, as well as an energy-efficient white roofing system that will substantially reduce costs. The new site in Fremont offers easier Interstate access for trucks moving product.
Likewise, in October 2014, Goya Foods, the largest Hispanic-owned food company in the United States, expanded the company's West Coast headquarters with a new facility and distribution center in Southern California. The 250,000-sq.-ft. facility strengthens Goya's distribution capabilities and serves as the company's West Coast hub. The centers features a warehouse management system, increased capacity for packing, freezing, and railroad transportation running through the West Coast, linking to Goya's facility in Houston, Texas.
Robert A. Unanue, who spearheaded the expansion of Goya California and whose great grandfather Don Prudencio founded Goya Foods in 1936, called it an "opportune time to expand in California." He continued, "The new California facility will allow us to accelerate our reach and secure our position in one of the top regions of the United States while simultaneously allowing us to focus on the expansion of our healthy product lines."
Drink Up
California also boasts a thriving craft beer industry, ranking first in the nation with more than 430 breweries. Craft brewers produce more than 4.3 million barrels of beer each year with a $6.8-million economic impact. Alesmith Brewing in San Diego is expanding to a 105,600-sq.-ft. building in Miramar. The company which announced expansion plans in 2014, built a new tasting room and will add up to 25 new jobs throughout the company. The production facility was expected to open by the end of summer 2015.
Also in Miramar, Ballast Point Brewing opened a new 107,000-sq.-ft. production facility which included a stunning 78 tap tasting room and restaurant. Demand for Sacramento-based Track 7 beers grew so much that in early 2015, the company opened a new 35,000-sq.-ft. production brewery and tasting room. The new facility allows the company to produce up to 8,000 barrels a year, up from 1,300 barrels in 2013.
Offsetting the beer production expansions, in 2014 Philz Coffee, a popular Bay Area coffee chain, announced it would expand into a 48,000-sq.-ft. coffee roasting plant. The company's retail stores feature individually-blended cups of coffee and plans to take the concept nationwide after securing $15 million in funding in early 2015.