Of the 158 corporate facility investments tracked by Site Selection magazine's Conway Analytics database in 2019, more than 20% of them had a logistics and distribution component. In addition, many manufacturing or headquarters projects were pursued by logistics-affiliated companies, such as e-commerce firm Goodr's new HQ in Ingleside and Bombardier's investment in rolling stock rail manufacturing in the Bay Area community of Pittsburg.
Pandemic or not, however, there's no logistics market like the Inland Empire, where industrial vacancy nears a record low and the industrial development pipeline "remains robust as 20 million-plus square feet is underway," reported Marcus & Millichap in fall 2020. Among other highlights: The region's industrial stock expanded by 21 million sq. ft. over the 12 months ending in June 2020. From April to June, 4.1 million sq. ft. of industrial space was absorbed in Riverside- San Bernardino, supporting a 50-basis-point drop in quarterly vacancy. And at 4.1%, the region's vacancy rate is 140 basis points below the national average, yet average marketed rental rates dipped by 0.2% during Q2 2020 to $9.01 per sq. ft.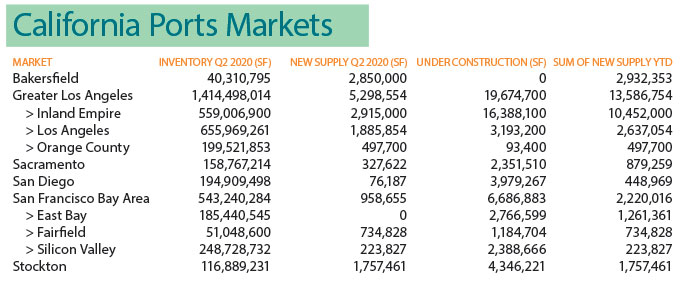 "The volume of warehouses that sold above the metro's average price point during the second quarter indicates investors remain confident in the long-term performance of properties near freeway intersections and Ontario International Airport," the report concluded.
Market analysis from Colliers International corroborates the momentum, finding the Inland Empire was No. 2 in the nation in overall net industrial space absorption through half of 2020, at 11.5 million sq. ft. Site Selection magazine's Ron Starner corroborated it too, in a piece for the magazine's September 2020 issue. The Inland Empire, he wrote, "has experienced 43 consecutive quarters of growth and positive absorption in industrial real estate. That's more than a decade of nonstop expansion."
Why? Because it's arguably the e-commerce fulfillment center capital of North America. And why is that? Because of proximity to major cargo airports and to the San Pedro Bay port complex encompassing the Port of Long Beach and the Port of Los Angeles. Those ports' operations and commerce facilitate one in nine jobs across the counties of Los Angeles, Orange, Riverside, San Bernardino and Ventura. The Port of Los Angeles alone facilitated $276 billion in trade during 2019. The Port of Long Beach handles trade valued at $170 billion annually and supports 2.6 million jobs across the nation, more than 575,000 in Southern California, and more than 50,000 jobs — or one in five — in Long Beach.
Rising Projects Answer Rising Demand
CapRock Partners, one of the most active developers of large-scale Class A industrial warehouse facilities across the western U.S., has acquired, developed, entitled or provided asset management services on more than 20 million sq. ft. of industrial properties valued at nearly $2.4 billion at full build, and is currently involved in multiple 1-million-sq.-ft., Class A industrial projects under construction, including Colony Commerce Center in Ontario, California, on behalf of Ivanhoe Cambridge.
"The demand for industrial and logistics facilities in the Los Angeles and Long Beach port markets has reached almost unprecedented levels in the past six months," says Nicholas Ilagan, senior vice president, asset management at CapRock Partners. "Through COVID-19, industrial has solidified its reputation as the darling of commercial real estate, benefiting from a pandemic-driven e-commerce surge which has incentivized many companies to bolster their inventory and consider nearshoring and onshoring to mitigate future shocks to their supply chain. We've seen a huge uptick in terms of leasing velocity throughout Southern California, notably the Inland Empire, which has benefited the most. But it also seems that large population centers such as Orange County, San Diego and Los Angeles have all benefited as well. Demand is coming in from a wide range of businesses, including e-commerce tenants, manufacturers, retailers and third-party logistics providers."
---
The Inland Empire was No. 2 in the nation in overall net industrial space absorption through half of 2020, at 11.5 million sq. ft.
---
In September 2020, CapRock sold its Old Grove in the Scripps Ranch area of San Diego, currently fully leased by Manscaped, which creates products for men's grooming needs. "Old Grove is a shining example of how a well-executed, value-add business plan can deliver a much-needed institutional-quality industrial product to an infill market where demand is outpacing supply," Ilagan said. "We feel extremely privileged to support the region's needs during a time when a pandemic-fueled e-commerce surge is creating nearly unprecedented demand and reshaping industrial real estate for decades to come."
Corporate end users know the value of proximity: Last year, longtime Japanese foodservice supplier Mutual Trading Company leased nearly 300,000 sq. ft. at Goodman Logistics Center in El Monte, less than 1 mile from the I-10, 4 miles west of the I-605, and 24 miles from the Port of Los Angeles/Long Beach. The move allows the company to upgrade and consolidate five previous locations in order to improve supply chain efficiency and expand to a bigger and more tech-enabled facility to support its U.S. growth. Goodman also is developing a new 1.5-million-sq.-ft. logistics campus in Fullerton, in Orange County.
More industrial development is on the way from longtime L.A. industrial developer Dedeaux Properties, which just acquired with Stockbridge Capital Group a vacant distribution property in Santa Clarita on 11 acres that are part of the 1,100-acre master planned Valencia Industrial Center. Dedeaux manages more than 6 million sq. ft. of warehouse, trucking and logistics space, primarily in the Inland Empire and Los Angeles County. In another recent transaction, on behalf of one of its managed institutional partnerships, Dedeaux acquired a vacant 1-million-sq.-ft.-plus warehouse and distribution center in Riverside and immediately signed Cardinal Health to a long-term lease for the entire building. 
As in every other part of the country, Amazon is a major player in the region. Between 2012 and 2018 the e-commerce giant went from one fulfillment center to 10 in the Inland Empire (along with six more in other parts of California). The company most recently announced a new Amazon Air Regional Hub at San Bernardino International Airport that will feature 26 daily flights and employ 3,800. The airport, which also serves UPS and FedEx operations, has been the fastest-growing air cargo airport in the nation for four years straight. The Amazon Air hub is a 1-million-sq.-ft. lease just off the airport about a quarter mile from the end of the runway. "When Amazon Air opens up in the first quarter of 2021, we will have the potential to double the industrial space for end-users at this airport," John Magness, senior vice president and market leader for the U.S. West Coast Region for Hillwood, told Site Selection. "There is 14 million sq. ft. of space around the airport now."
---
"The demand for industrial and logistics facilities in the Los Angeles and Long Beach port markets has reached almost unprecedented levels in the past six months."
---
Surging air freight shipments continued to drive commercial activity at Ontario International Airport too. Through the first four months of the year, ONT handled more than 261,000 tons of freight, up 16.5% increase over the same period in 2019. 
Greg Healy, senior vice president of supply chain solutions and workforce analytics for Colliers International, summed up the role of the region and of its major e-commerce players in his conversation with Site Selection's Ron Starner: "Amazon took down 21 million sq. ft. of industrial space nationwide in the second quarter of 2020. That's roughly one-fifth of all new absorption in the country. Beyond Amazon, we're seeing interest in new space from Home Depot and Lowe's. These companies are gambling on the bet that we have shifted our consumer habits… The trend toward e-commerce is not going to turn around. This is a transformational change in the way we do business."
A change that even — or especially — in hard times is transforming the California economy for the better.