Even where there's hardly ever a cloud in the sky, everyone wants the cloud.
It doesn't get much prettier — or much more California rural — than the territory of Sierra Telephone, including the Central California Sierra foothill and mountain communities of Eastern Madera and Mariposa counties. Sierra Tel, founded in 1895, provides communications products including telephone, internet and security systems — including recent support to firefighting crews — to customers who live and work near destinations such as Yosemite National Park, Bass Lake, the Sierra National Forest and Historic State Highway 49.
One of those customers is CKC Laboratories, after the initials of founder and technology testing pioneer Chris Kendall, which performs electromagnetic compliance (EMC) testing on electronic devices. For that type of business, it helps to have as little signal noise as possible, which is why Mariposa-based CKC originally had all of its locations in rural areas. Today, most testing is done in CKC's offices in Seattle or Fremont, California. But it still needs open-air test sites, which means the company was supporting an extremely expensive wide-area network from its home office where about 50 people work just ouside Mariposa, the last small town you go through before you get to Yosemite National Park at the north gate.
"The big push is for cloud environments," says William Brandle, IT manager for CKC. "We were wanting to adopt that early on, because we have multiple locations up and down the coast."
But limited bandwidth precluded the company from doing so.
"We basically ran into a brick wall," Brandle says. The company was looking at a major expenditure to install its own wireless system. Then Sierra Tel stepped in and got fiber to the office, located in a residential area called Lush Meadows, where the closest other business is the Triangle Market gas station and country store 3 miles away. "It opened up a huge window and a lot of possibilities," says Brandle. "Once that was in, we started migrating all of our infrastructure to the cloud. All offices now access the same server. We're not disenfranchised. It brought us together as one company even though we're in different locations."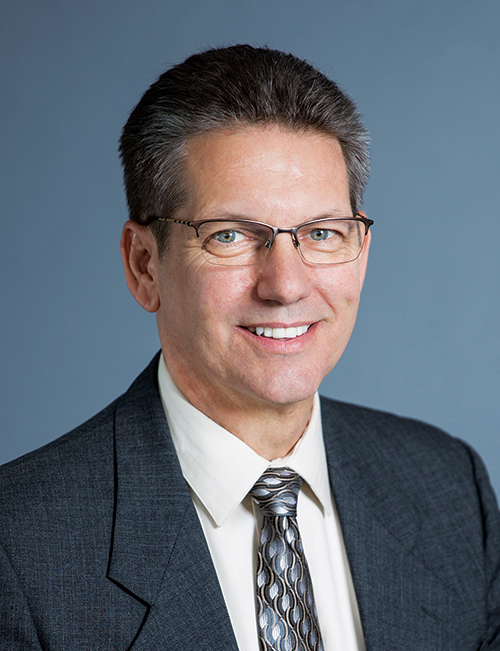 Broadband, in short, enabled CKC to sustain economic development and important jobs in a rural area.
"Until we got that broadband, it was not looking good," Brandle says. "Without the broadband, they were looking at moving our office to Reno at one point, because we couldn't grow."
Instead, the company has grown even more since the fiber arrived. "None of that would have been possible without that broadband connection," says Brandle. "We're a niche business. There are a lot of people who work for the company with native knowledge who don't want to move. To replace them would be very difficult."
Some of those talented individuals, like him, are moving to get broadband into their homes now, whether to support the new remote work world, or to please temporary guests wanting to get work done from their vacation rentals.
"There are a lot of companies that could move to rural areas that don't really need a storefront," he continues, noting that a lot of folks in the area aren't even aware of the large companies located nearby such as space and aeronautics manufacturer Tavis Corporation, and another that makes election software. "It seems from my perspective that business grows where broadband is. It just does. It provides jobs for those local areas."
Digital Cliff? Build Bridges.
Unlocking the digital potential for rural small businesses across the country could add $47 billion to the U.S. GDP per year. For California, it could add more than $1.2 billion to the state GDP per year, according to a new study by the U.S. Chamber of Commerce and Amazon. Here is what that report says has been the economic impact of digital tools on rural small businesses in California in the past three years:
878.1 million in annual sales
494.1 million in annual value added
3,451 jobs
199.5 million in annual wages
According to the report and FCC figures, as of 2016 only 63.6% of the rural population in California had access to broadband, significantly lower than its fellow West Coast states' rates of 79.8% in Oregon and 92.2% in Washington. At the same time, according to the report's survey respondents, the business impacts of online tools and technology on sales growth of small businesses in rural areas totaled 19.7% in the past three years, and was No. 2 in the nation at 49.6% when projecting potential sales growth over the next three years.
Closing the state's digital divide — urban and rural — is the mission of the California Emerging Technology Fund (CETF), which aims to do so by accelerating the deployment and adoption of broadband and other advanced communications services to unserved and underserved communities. The California Economic Summit, co-convened by California Forward and the California Stewardship Network, elevated broadband to a top priority in 2018 to support all economic prosperity strategies.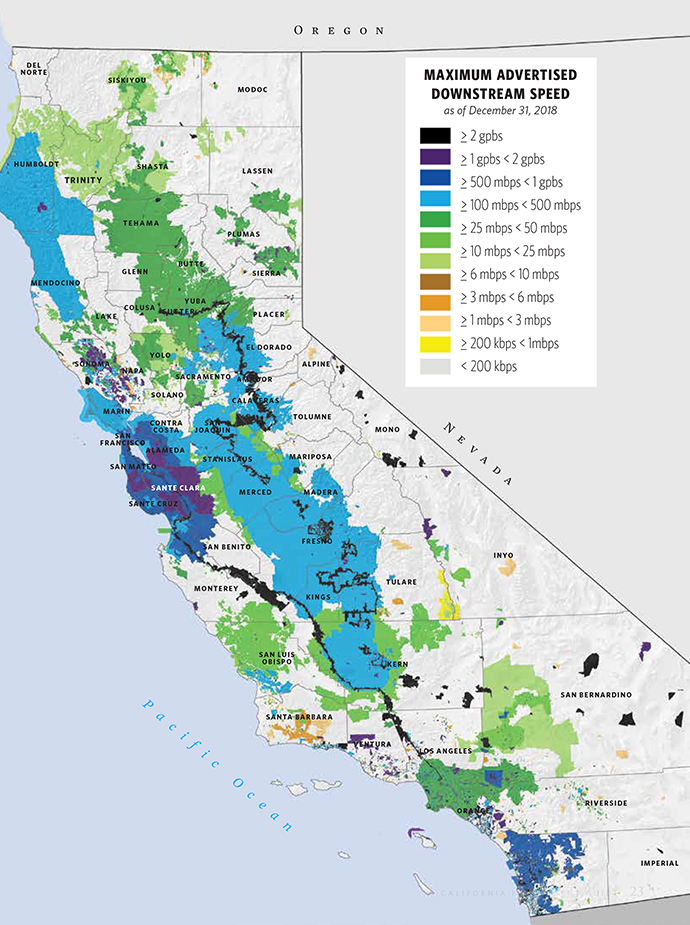 In 2019, CETF and California Forward partnered in cooperation with the California Broadband Council to convene state agencies, regional consortia, internet service providers (ISPs) and other stakeholders to advance commitments to promote digital inclusion. Their efforts culminated in Governor Gavin Newsom announcing his Broadband For All initiative at the California Economic Summit in November 2019 and including it in the State Budget for FY20-21.
The CETF is led by President and CEO Sunne Wright McPeak, who grew up on a small dairy farm in the San Joaquin Valley, served the Bay Area Council regional economic prosperity organization as president and CEO and served for three years as Secretary of the California Business, Transportation and Housing Agency under Gov. Arnold Schwarzenegger. To say she's concerned is putting it lightly.
"The pandemic reveals not just the digital divide, but the digital cliff," she tells me, "with families and households falling into deeper poverty and great isolation." She says it's underscored a sense that a higher level of investment is needed almost immediately, even though significant progress on middle-mile deployment has occurred since the CETF's creation, connecting between 400,000 and 450,000 rural homes and establishments in the 13 years since its creation. The CETF sponsored the Internet For All Now Act of 2017 to add $330 million to the California Advanced Services Fund (CASF), and set the official state goal of at least 98% of all residential households in each region having access to high-speed internet infrastructure by 2022. Connecting 6.2 million K-12 students and 7 million people working from home has a way of ratcheting up the urgency even more.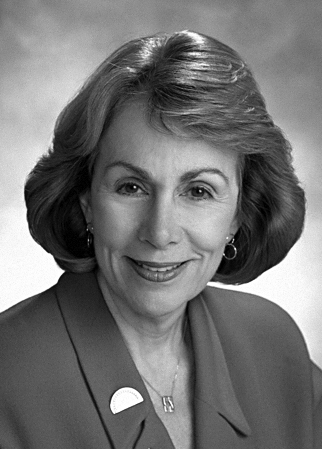 But even when the sky's on fire, economic development visions tying lit fiber to productive land loom in areas such as Fresno County (with its ag-tech and water expertise and CSU-Fresno) and Yolo County, home of UC-Davis.
A recent study backed by CETF, the two universities, economic development group Valley Vision and private companies evaluated the effect of broadband in helping use sensors to manage resource application in the growing of tomatoes, almonds and rice and found that broadband had a 10% to 20% impact on resource management and crop productivity, and it also aided access to remote markets outside the region. Federal Communications Commission Chairman Ajit Pai toured farms in Yolo County on a visit hosted by Valley Vision and the Sacramento Metro Chamber of Commerce last year to be briefed on the beneficial uses of broadband for ag-tech.
"That is rural economic development," Wright McPeaks says. "Ag should have broadband."
And broadband is a green strategy in more ways than just helping grow produce. Wright McPeak says her organization is just now receiving grant money it applied for two years ago from CalTrans to showcase air quality effects of broadband deployment by showing a reducation in miles traveled on highways. The pandemic essentially did her team's work for them.
"It demonstrated overnight how to clear out the highways — the 10, the 710, the 99," she says. "Air quality just went up a ton. I told our partners to go take photo of the 405, the 710 and the 10. That is going to be our report. This is the picture of broadband as a green strategy."