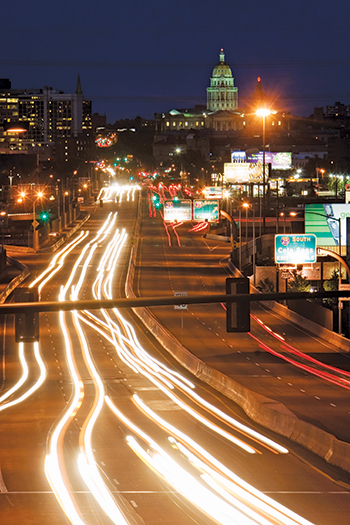 Colorado Gov. John Hickenlooper has made a career out of turning adversity into achievement. From the time he was laid off as a geologist working for the Colorado oil industry to launching the Wynkoop Brewing Company brewpub in Denver, he's had a knack for bouncing back.
As first Mayor of Denver and now Governor of Colorado, he's done it again by leading his state to the enviable position of being the talent-rich capital of the New West. By almost any measurement available, Colorado boasts an environment that attracts highly educated and highly skilled millennial talent at a rate that no other state can match.
And it's all happened under the leadership of Hickenlooper, the 42nd Governor of Colorado. In a recent interview with Colorado: Business Comes to Life, the Governor shared his thoughts on his economic development strategy for the state.
Since you were elected Governor of Colorado, what are some things that your administration has done to improve the overall business climate of your state?
GOV. HICKENLOOPER: Beginning on day one of our administration, we have been relentlessly focused on the Colorado economy. We traveled throughout the state and met with folks in every region to create our economic development plan, "The Colorado Blueprint." This plan is the statewide strategy to spur Colorado's economy, help businesses grow and attract new jobs to the state.
Our priority is the creation and retention of jobs and the expansion of companies throughout Colorado. This was developed through a bottom-up process. The Blueprint has given Colorado a framework to build a comprehensive economic development plan that aligns existing efforts and identifies opportunities for growth and focused investments. We have now moved onto Blueprint 2.0 initiatives as a way to examine how best to serve our rural communities and identify opportunities to leverage our resources.
Additionally, we created programs to support the creation of businesses and community-focused initiatives through programs such as:
The Rural Economic Development Initiative (REDI), which helps rural communities develop plans and undertake projects to create jobs, drive capital investment, and increase wages to help grow and create resiliency and diversity in the local economy.
The Advanced Industries (AI) Accelerator Programs, which promote growth and sustainability in Colorado's seven advanced industries by helping drive innovation, accelerate commercialization, encourage public-private partnerships, increase access to early-stage capital and create a strong ecosystem that increases the state's global competitiveness. 
Pits & Peeves, which served as an opportunity for businesses to speak up-close and personally with the state to talk specifics about their experiences involving red tape around business issues, and how we could fix these.
Finally, we ensured that we had the right leaders in place that had the business acumen and expertise to ensure Colorado remained a business-friendly state.
From a state tax standpoint, how competitive is Colorado right now with other Western states?
HICKENLOOPER: Colorado maintains a low 4.63-percent corporate income tax rate. Beyond taxes, we have provided a predictable political climate that creates stability for businesses that are making or are considering significant investments in Colorado.
What lessons did you learn as mayor of Denver that you have been able to apply as Governor of Colorado?
HICKENLOOPER: When I was mayor, we built our economic development strategy on relationships, which has translated directly into my role as Governor. We proactively engage with Colorado employers to understand the issues facing our state and areas where we could improve. We have grown those relationships to see investments from companies such as Arrow Electronics, DaVita, Charles Schwab and more. 
When I was mayor of Denver, we relied on regional partnerships to secure major projects that benefited the whole. As a state, we cannot do it alone. We rely on partnerships to bring about transformational projects that create jobs, invest in communities, and promote the state. A recent example of this is through a recent partnership we established between Costilla County and the State of Colorado — we were able to secure a major sawmill project that will create up to 400 jobs over the next five years. That came about through thoughtful partnership, communication and a thorough execution.
How personally involved do you get in the retention and recruitment of companies for your state?
HICKENLOOPER: We continually meet with businesses, industry organizations and economic developers to thoroughly understand the ecosystem in Colorado. Through the Colorado Office of Economic Development and International Trade [OEDIT], we are kept up-to-date with the state's pipeline of recruitment opportunities, as well as existing Colorado companies looking to expand in our state. 
In 2014, when Osprey knew their distribution had to move to Utah, we met with their CEO in a small room in the Durango Discovery Museum before a community meeting to make certain that we could retain and grow the headquarters. This was an important opportunity to retain a major employer in Cortez, Colorado — a globally recognized outdoor brand — and secure the company's future growth. Through meetings and strategic engagement, we were able to ensure Osprey had the support from the state to grow for years to come. Today, Osprey has broken ground and is expanding their headquarters in Cortez. 
Focusing on recruitment, every other year we visit other US markets, such as Silicon Valley. These visits are important because we are visiting California companies that have major footprints in Colorado. Building these relationships from my early days as governor has resulted in the recruitment and expansions from companies like Charles Schwab, Intel, Avago and others. It also further solidifies that Colorado's economy can handle and grow Silicon Valley companies. This has been apparent in recruitment deals with Gusto (formerly ZenPayroll — 1,750 jobs), FiveStars (242 jobs) and Sunrun (800 jobs).
What is the most important message about Colorado that you would like to share with business leaders?
HICKENLOOPER: Talent is one of the most important priorities for Colorado. We do not just lead with incentives or sunshine — we lead with a competitive and highly skilled workforce. Our workforce has supported the entrepreneurial spirit and scaled Fortune 500 companies. Today, we are making investments to further develop this workforce to stay competitive with the economy's ever-changing demands.
What is the current brand identity of Colorado? What would you like it to be?
HICKENLOOPER: Colorado is electric. We are a state with endless business and lifestyle opportunities, along with the world's best talent to get right to work. And we serve as the nation's best outdoor recreation industry laboratory for many companies. Companies can manufacture a new ski and then try it out on the slopes in their backyards.
Beyond the obvious quality-of-life attributes of the state, we want to let people know that Colorado is about collaboration and partnership, because when that happens, the most innovative and exciting ideas come to fruition. And we are chock-full of them.