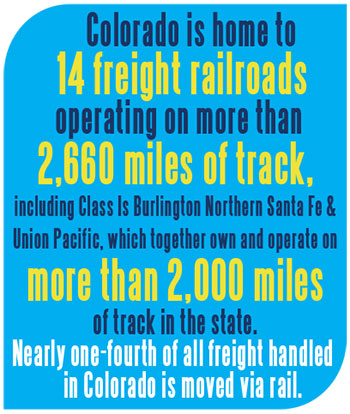 It's true on the micro and macro levels: Colorado's logistics network moves more than product. It's making life easier, healthier and more prosperous for humans too.
At the smallest vehicle level, two of the top six US cities by percentage of people biking to work are Boulder (No. 2) and Fort Collins (No. 6). At the largest, Denver International Airport is the nation's fifth busiest, with nonstop international service growing every day, most recently with a new flight to Montreal and a restored flight to Munich. DIA had its busiest March in the airport's history in 2016 with about 4.7 million passengers, led in part by 5-percent growth in international passengers. It was the seventh consecutive month of record-setting passenger traffic.
Colorado's robust system of 76 public use airports — including Denver International Airport — generates $36.7 billion in economic output annually. The network includes smaller complexes such as Grand Junction Regional Airport out west, where West Star Aviation, operator of a major aircraft maintenance and repair operation (MRO), just completed a $9.5-million paint hangar that added 38 jobs, bringing its total payroll on site to 400. The facility services private and corporate aircraft from around the world, and just received approval from the Civil Aviation Administration of China allowing overhaul and repair work on aircraft from that country. West Star's national network also includes Colorado maintenance operations in Aspen, and at Centennial Airport in Englewood, also known as the headquarters of national air ambulance company Air Methods.
Those airports are among 13 in the state that are part of the Colorado Office of Economic Development and International Trade's Aviation Development Zone program, which allows MRO and aircraft manufacturing companies investing in the zone to receive a state income tax credit of $1,200 per net new employee hired.
Another Spoke in the Wheel
Want to get from your bike to a flight? Then board the latest jewel in Greater Denver's growing transit system, the University of Colorado A Line, ferrying passengers along the 23 miles between the airport and vibrant downtown Denver. It's just the latest in transit-oriented innovation from the area's Regional Transportation District system.
The A Line — whose university moniker is the first instance of the RTD's new corporate sponsorship program — includes a eight stations connecting millions of travelers each year with communities along the I-70 corridor and with future developments both on and off airport property.
"Denver is now one of fewer than 20 cities in the United States that can claim direct rail connection from downtown to the airport, and there is not an easier link from a rail station to an airport terminal in America," said Kim Day, CEO of DIA, at the grand opening. "Our geographic location mid-country, coupled with our stunning new Westin hotel and our open-air plaza, further DEN's reputation as one of the world's premier international hubs. The opening of the University of Colorado A Line only adds to our global appeal and economic prowess."
"This game-changing rail line is now a reality," said Denver Mayor Michael B. Hancock, "and setting the stage to transform our smart, progressive region into a truly interconnected, multimodal powerhouse on a global level." One of that network's nodes is rising at RTD's 61st and Peña station, where a 400-acre transit-oriented development will be anchored by Panasonic Enterprise Solutions' solar systems, battery storage technology and audio-video solutions business. With an estimated economic impact of $82 million annually, Panasonic also is working with private developer L.C. Fulenwider to create a sustainable smart town design for the surrounding property.