I
t's hard to describe the Colorado economy without looking at a map. Each major region of the state boasts its own unique strengths. Collectively, they form the 16th largest economy in America by GDP at $422 billion. The following is an overview of the largest economic centers of the state.
Colorado Springs
Located about 70 miles south of Denver, Colorado Springs is the second largest economy in Colorado. In 2022, the Milken Institute ranked Colorado Springs No. 9 on its annual list of Best-Performing Large U.S. Cities. The report cited factors such as the city's broadband connectivity, space research, talented workforce, and vast array of defense companies and bases. Similarly, WalletHub named Colorado Springs No. 9 on its list of Best Large Cities to Start a Business.
But what makes Colorado Springs tick? Pro-business leaders who believe in collaboration play a vital role in building this local economy. This was evident last year when Entegris Inc., a global supplier of advanced materials for the semiconductor sector, selected the city for a $600 million capital investment (see p. 36). The firm cited the region's talented workers, business-friendly environment, and company's existing partnerships with state and local governments. The project brings almost 600 new jobs to the community.
Defense and aerospace companies keep investing in Colorado Springs too. Delta Solutions & Strategies won a $187 million contract in 2022 to assist the U.S. Space Command with intelligence, logistics, communications and war-games training exercises. This 5-year project creates 300-plus jobs. In September 2022, the Aerospace Corp. opened its new 90,000-sq.-ft. Space Warfighting Center in Peak Innovation Park.
Other key investments in Colorado Springs last year came from Caliola Engineering and Zivaro. Caliola is adding 370 jobs in the defense contracting business, while Zivaro is adding 300 new jobs in information technology to serve the Space and Command Control Programs.
Economic developers in Colorado Springs say their project pipeline is packed for 2023. As a result, they say, there will be no economic development slowdown in the area anytime soon.
Greeley
Greeley, located along the front range of the northern Colorado Rockies, is a thriving community whose western edge lies just five miles off Interstate 25. Greeley is known for its positive business climate and its welcome mat for new residents. About 50,000 workers ply their trade in some 20 different industry sectors in Greeley.
The website SmartAsset.com ranks Greeley as the No. 5 Top Boomtown in America. The ranking considered such factors as population change; unemployment; change in unemployment; GDP growth rate; business growth; housing growth; and change in household income. The study looked at data on 500 of the largest cities in the country and found that Greeley's population was increasing at a rate more than double the national average.
That makes Greeley the fastest growing city in Colorado. The metro area population is expected to exceed 260,000 by 2065. It is currently the state's 11th largest city with over 110,000 residents, recently surpassing Boulder. From 2010 to 2022, Greeley grew by over 30% in population. During that same period, Colorado grew by 15% and the U.S. grew by 6%.
Among the leading industries in Greeley is agriculture. The ag and food sector in town is expected to grow to $123.2 million in direct wages annually by 2030. Ag and food are projected to add 1,631 jobs annually in the Greeley area by 2030 while adding $576 million annually in total sales and output. Other sectors growing rapidly in Greeley are healthcare, professional services, energy, construction and education.
Denver
With 3 million people, Denver is by far the biggest metro area in Colorado. By a variety of measures, it is also one of the smartest in the country, with various agencies ranking Denver the No. 2 talent base in the country and the nation's second-most educated. The nine-county MSA represents two-thirds of the state's population and three-quarters of the state's GDP. 
It is no surprise, then, that technology firms continue to flock to the Mile High City. HNA Live, a data analytics company, recently selected Denver for its new headquarters. The firm said it would create 36 jobs at an average annual wage of $100,000. Another tech firm, Slack Technologies based in San Francisco, recently opened an office in Denver after it was acquired by Salesforce for $27.7 billion. The firm expects to hire 100 highly paid tech personnel in Denver, a location that could grow into the company's second headquarters.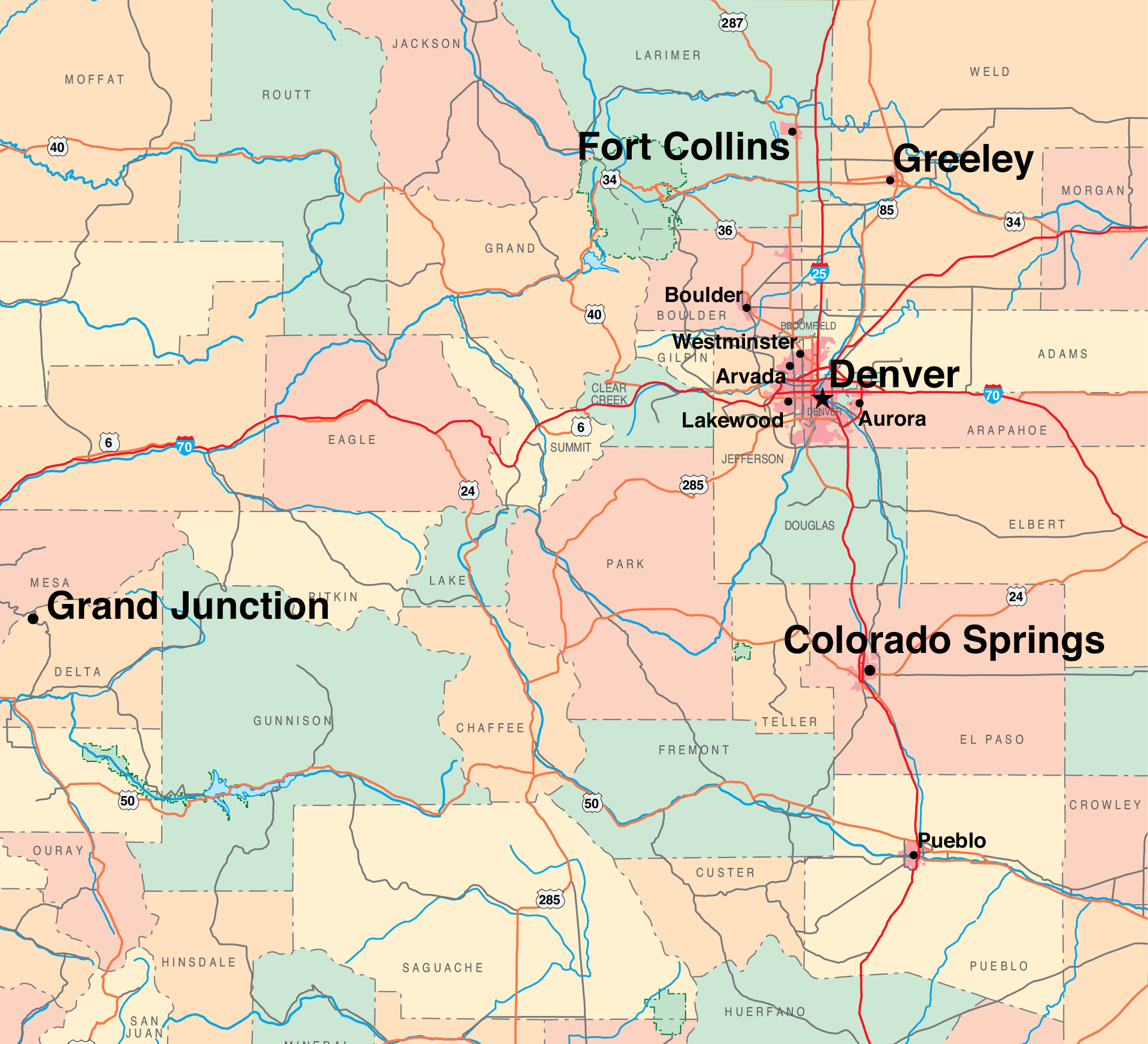 Karman+, a company working to enable the mining of near-earth asteroids for mineral resources that are carbon neutral and sustainable, recently announced that it's moving to metro Denver. The company said the decision was influenced by many factors. Karman+ needs to hire astronomers, astrophysicists, data engineers, data scientists and other high-tech personnel who have decades of experience in this complex field. The firm said it found those people in Denver.
Higher education assets were one of the biggest draws for Karman+. Nearly 48% of all adults in metro Denver are college graduates. In metro Denver, employers will find 11 four-year public and private colleges and universities serving a total enrollment of 285,143 students. These schools offer world-class research capabilities and many of the top-ranked graduate and professional programs in the country. In addition, metro Denver offers six 2-year public community colleges and 300-plus private occupational and technical schools.
Grand Junction
Located between the Rockies and the Moab Desert, Grand Junction is a place where people embrace both the Western work ethic and new-age innovation. Grand Junction has seen its workforce grow by 29% over the past decade, and yet it still boasts a lower cost of living than most metro areas. For example, you can buy an average home here for just $270,000.
More than a third of all residents have a college degree, and Grand Junction's own Colorado Mesa University ranks as the fifth fastest-growing university in the country. This talent base is a big reason so many companies are choosing to invest in Grand Junction.
Spares in Motion, a Netherlands-based company, received a Rural Jump-Start Tax Credit on Jan. 10 to expand in Grand Junction. The firm is the largest international e-business platform for the wind turbine market ranging from spare parts and repair capabilities to wind turbine service and new and used turbines. The Grand Junction operation will supply components and repair work for wind turbines in the U.S., Canada and Mexico.
"Grand Junction has been my home for over 10 years," said Justin Canup, director of business development for Spares in Motion. "When Spares in Motion was looking for a North American location, I suggested Grand Junction because it's centrally located and right off a main highway, making it easy to access support for wind farms across North America."
He added that "being approved for the Rural Jump-Start Program is a great benefit, which will help us get started and work with Colorado Mesa University on projects and internships. The Grand Junction Economic Partnership has been a great support, helping us get settled and providing us with the needed resources. We're excited to grow in Mesa County and contribute to the community's stability."
Fort Collins
The business center of Northern Colorado, Fort Collins is a college town stocked with a diverse array of talent in multiple disciplines. With an economy built around manufacturing, high-tech and higher education, Fort Collins is an anchor community for research and development.
Among the leading manufacturers in the community are Advanced Energy, Aleph Objects, Anheuser-Busch, In-Situ, Noosa, Otter Products, Tolmar, Vestas, Walker Manufacturing, Water Pik and Woodward. Fort Collins also boasts a plethora of semiconductor companies. Located in town are facilities for HP-E, Intel, Broadcom and Advanced Energy Industries.
Fort Collins is a leader in geospatial work, water technology, clean energy and bioscience. As home to the flagship campus of Colorado State University, Fort Collins fosters an environment that spurs innovation, entrepreneurship and business startups. CSU ranks as one of the leading research institutions in the country in vector-borne infectious disease, veterinary medicine, atmospheric science, clean energy technologies and environmental science. More than $300 million in research funding flows through the school each year. With 32,000 students and 7,000 faculty members, CSU is both the largest employer in the community and its biggest generator of economic impact.