N
amed America's fourth best state for business by CNBC in 2022, Colorado has been implementing measures in recent years that should keep it near the top of that ranking and others in the future. These include ensuring that city governments and state agencies are effective and transparent, labor laws are pro-business and pro-worker, and energy supplies are abundant, diverse and resilient.
The State Measurement for Accountable, Responsive, and Transparent (SMART) Government Act, reenacted in 2013, set forth new requirements for budgeting by state departments and implemented a new role in state budgeting for legislative committees of reference. For example, it requires state agencies to annually submit a performance plan and regulatory agenda to committees of reference. Departments are also annually required to submit their budgets for the upcoming fiscal year to the Joint Budget Committee.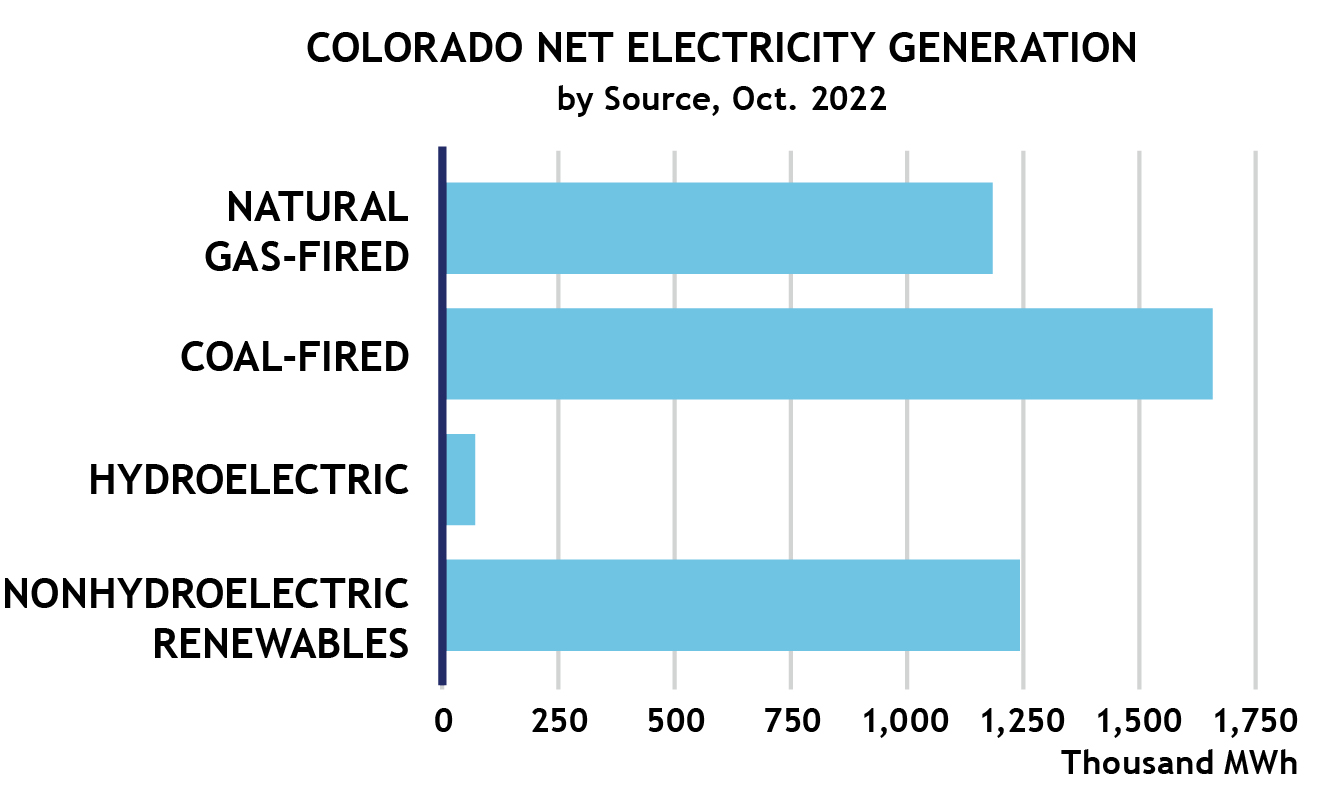 Source: Energy Information Administration, Electric Power Monthly
Colorado's cities, too, have standards for what constitutes smart governance. The Colorado Smart Cities Alliance says "the Internet of Things (IoT), applications, and data should not define Smart Cities. The process by which they solve problems should." Smart Cities are innovative problem solvers, collaborative partners, and technology enthusiasts, in that order. The Alliance identifies eight elements of smarter government and elaborates on them at coloradosmart.city. They are Governance, Data & Outcomes, Partnership, Funding & Procurement, Capacity (staff), Values, Culture and Community Engagement.
Right to Work STATUS
Location evaluators may require that a state under consideration have right-to-work laws on the books. These are laws that prohibit companies from requiring employees to join a labor union as a condition of employment. Twenty-seven states are right-to-work. Colorado is not one of them. However, it has a hybrid employment policy worth factoring into site selectors' analysis. 
FindLaw.com, a leading source of free legal information and resources, explains: "Colorado does not have a right to work law, at least one that is similar to those of other states, despite efforts to pass one (a ballot initiative failed in 2012). However, the state operates a kind of hybrid policy under its Labor Peace Act (PDF). Under this act, employees at most workplaces are not required to join a union or pay dues, even though they enjoy the same compensation and benefits as union members. By not joining the union, however, workers are not covered by union protections (including legal representation in employment disputes).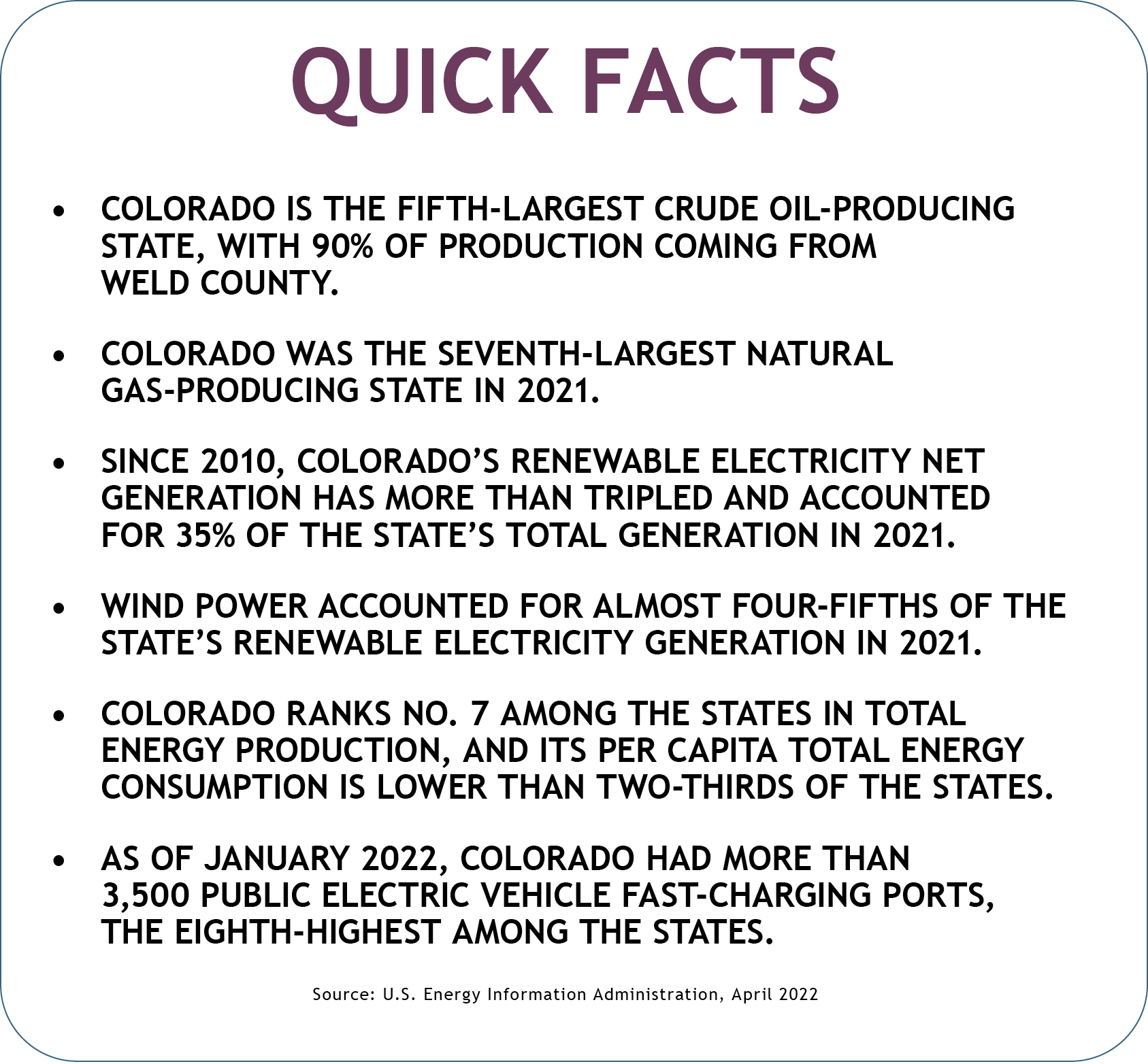 "But Colorado also allows workers to override right to work provisions by becoming an 'all-union' shop. This is achieved by a 75% approval vote by employees, a process that is overseen by the Colorado Department of Labor."
Clean Energy Tax Credits
On January 17th, Governor Jared Polis delivered his State of the State address in which he stressed the importance of diverse, sustainable and dependable energy production and consumption.
"We have already secured more than 80% renewable energy by 2030," he pointed out. "By the time Colorado is 150 years old [in 2026], we look forward to having a clear path to 100% renewable energy by 2040. And from there, we will work to make progress towards our statewide climate goals. Our work around housing and more sustainable development is a critically important part of this progress.
"But we also remain focused on investing in clean transportation, accelerating the use of renewables, reducing oil and gas emissions, and holding polluters accountable," he added. "And I'm proud to propose $120 million annually in new, clean energy tax credits. With this tax relief and incentives, we can improve our air quality, accelerate innovation, and make more rapid progress towards our goals, while saving people money at the pump and on their utility bills, and increasing access to clean, low-cost transportation options."
The governor said he is championing hydrogen and geothermal energy production, the latter through Colorado's Heat Beneath Our Feet Initiative.
"I'm excited that my budget request provides funding for Colorado Mesa University [located in Grand Junction in western Colorado] to expand campus-wide geothermal systems," he said, "with a goal to become the first university in America to be fully powered by geothermal."
Microgrids and Resiliency
Meanwhile, Colorado enacted in 2022 HB22-1249, concerning creation of a microgrid roadmap for improving electric grids in the state. It must "include guidance on how microgrids may be used to harden the grid, improve grid resilience and reliability, deliver electricity where extending distribution infrastructure may not be practicable, and operate autonomously and independent of the grid, when necessary," according to a summary of the bill.
Similarly, HB22-1013 requires the Colorado Division of Local Affairs to develop an application process for the Microgrids for Community Resilience Grant Program that will award planning and implementation/construction grants. The MCR grants will be awarded to cooperative electric associations and municipally owned utilities to establish microgrid resources for rural communities. The Division of Local Affairs manages the Colorado Resiliency Office (CRO) that supports and helps empower Colorado communities in building stronger, safer and more resilient in the face of natural disasters and other major challenges.