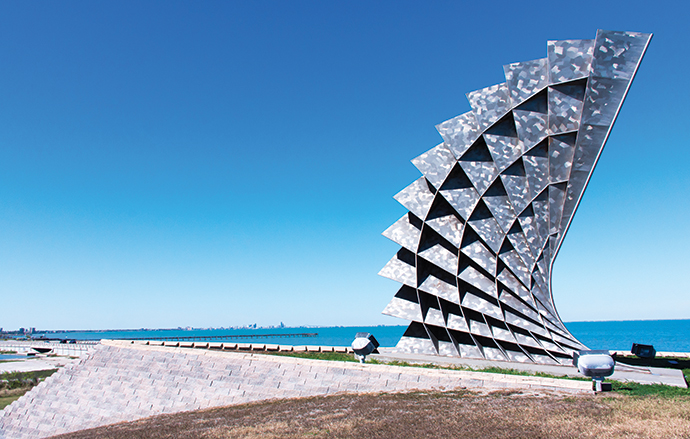 Dr. Flavius C. Killebrew had made it his mission in life to see Texas A&M University-Corpus Christi become a world-class institution.
Soon, the school's outgoing president will hand over the reins to Interim President Dr. Kelly Quintanilla. But one thing is certain: a smooth transition in leadership is guaranteed.
Quintanilla joined A&M-Corpus Christi as an assistant professor in 1994, so she is no stranger to the institution and its campus. She is also the first woman to take the helm as president.
"I have experienced first-hand the enormous transformation and continued growth that this university has undergone from its early days as a comprehensive university to master's granting, research doctoral granting, and now, as we are well on our way to achieving Emerging Research University status," said Quintanilla, who officially takes over on January 1, 2017.
She inherits a school that has been in good hands for more than a decade.
As the 10th president of the school, Killebrew guided the university to new heights since he assumed his leadership post in January 2005. Under his administration, TAMUCC registered record enrollments, expanded its doctoral program offerings, and in December 2013 earned the Federal Aviation Administration designation as one of six test sites for the integration of unmanned aircraft systems in the national air space.
"Our alumni contribute to society in many ways. They have become educators, board members, city council leaders, superintendents of schools, and even the publisher of the local newspaper here."
– Dr. Flavius C. Killebrew, Outgoing President of Texas A&M University-Corpus Christi
Recently, Dr. Killebrew outlined his vision for the university and discussed how TAMUCC impacts economic development in the Coastal Bend region and beyond.
How does Texas A&M-Corpus Christi support economic development in Texas?
PRESIDENT KILLEBREW: Part of the mission of the university is to support regional economic development. We do this through the use of capital and human resources in our state. We have a $771-million economic impact on Texas and create some 11,600 jobs. We also enhance the human capital available throughout the state. One study showed that we contribute $1.1 billion in additional lifetime earnings to our graduates.
How does your university support innovation and entrepreneurship?
KILLEBREW: We established the Coastal Bend Innovation Center. It is essentially a business incubator. More than 130 new business startups have been launched from the CBIC. It fosters entrepreneurial development in South Texas and helps local innovators turn their ideas into a sustainable business. We also do this through the Lone Star UAS Center of Excellence & Innovation. This is one of six FAA-approved sites for the testing of drones. We also help convert faculty inventions into commercial products.
What role does your university play in workforce development?
KILLEBREW: The biggest is that we teach and equip 11,700 students. We are the primary source of supply of the educated workforce in this region of the state. The university helps by working closely with our business community. We train engineers and other professionals in the oil and gas and banking industries. We host regular career fairs and match workforce needs with talent. We also work with the Corpus Christi Regional EDC and provide data on the needs of employers in the region.
Is your university expanding to meet the changing needs of your students?
KILLEBREW: Yes. We commissioned a group to do an analysis of what programmatic needs we were not meeting. This showed us that we needed to develop more engineering programs. This led in turn to our designation as a drone test site for Texas. We also launched a new program in atmospheric sciences. In addition, we expanded by creating flexible programs for students, innovative nursing programs that utilize military veterans, and an online MBA program that is now ranked as one of the best in the nation.
What are some notable accomplishments of your graduates?
KILLEBREW: Our alumni contribute to society in many ways. They have become educators, board members, city council leaders, superintendents of schools, and even the publisher of the local newspaper here. One of our graduates, Larry Wyche, has risen to the rank of three-star general in the US Army. He is a graduate of our ROTC program, and today he presides over a huge command. Our graduates are making a real difference in a variety of fields.