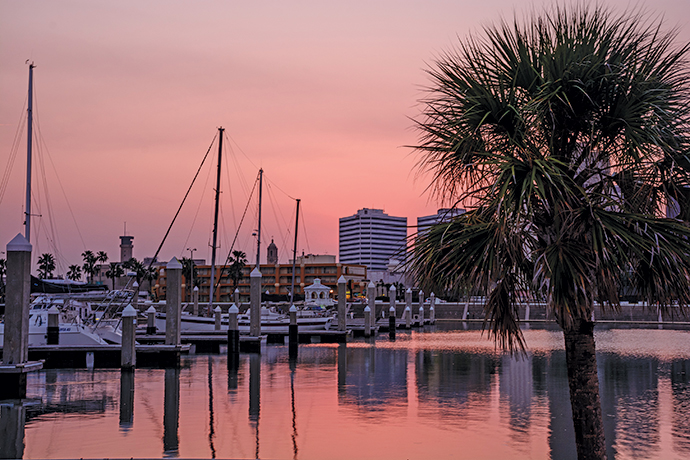 If you want to have fun in Corpus Christi, bring your sunglasses and leave your jacket in the closet. With an average 223 sunny days per year and a January high temperature of 66.9 degrees, this city of 316,381 people is all about the outdoors — especially water, as nearly two-thirds of the city's 452.2 square miles consists of water.
Whether you're into surfing, sailing, sunbathing, fishing, jet-skiing, kite-boarding or windsurfing (aided by an average wind speed of 18 mph), you'll want to stake your claim along the curve of Texas land that hugs the Gulf of Mexico — where Corpus Christi is one of the top three population centers — known as the Coastal Bend. The other two cities are Brownsville and Houston.
The city has been variously dubbed The Real Windy City, Sparkling City By The Sea and the Texas Riviera, but referring to Corpus Christi as a "city" is to miss its small-town attributes. The average commute is 19 minutes, and many of Corpus Christi's key sites and activities are easily accessible from the city center — including McGee Beach on Shoreline Boulevard in the heart of downtown.
Joggers, cyclists and hikers can access many notable destinations along the nine-mile Corpus Christi Bay Trail, including the Bayfront Plaza Convention Center, the Art Museum of South Texas, the Museum of Science and History, and the Texas A&M University campus. Views of the Corpus Christi Marina are stunning, particularly at night from atop the Harbor Bridge, where the popular Sunday Bridge Walk invites locals and tourists alike to take a three-mile stroll along the iconic 1950s structure.
A $900-million project to replace the bridge, expected to be completed in 2021, will accommodate six traffic lanes and pedestrian and bike paths and make it the largest cable-stayed bridge in the U.S.
Outgoing Mayor Nelda Martinez says, "What differentiates us from other Coastal Bend cities is that you can be on a ranch, go birding, or watch ships go by from Port Corpus Christi just minutes from downtown. The diversity of our natural assets and the synergistic connection between business and the environment is unique."
A key Corpus Christi asset is Padre Island National Seashore, the world's longest undeveloped barrier island. It is 65.5 miles of pristine nature that is home to the world's most endangered sea turtle, the Kemps ridley sea turtle. Led by nationally recognized sea turtle researcher, conservationist and author Dr. Donna Shaver, Chief of the Division of Sea Turtle Science and Recovery, turtle patrols protect the nests and then release the hatchlings en masse, a video-worthy ecological spectacle.
The Seashore's serene Malaquite Beach recently made MSN's list of the top 10 best beaches in America. A bit north is Mustang Island, where families can chill out at the new Schlitterbahn Water Park, or visit Port Aransas, known for its funky vibe. When hunger pangs hit, a plethora of homegrown restaurants boasts seafood specialties such as red or black drum in Veracruz sauce, and Mexican cuisine that is as authentic as you'd get in Veracruz itself.
Food isn't the only thing with a south-of-the-border flavor. Some 60 percent of the residents are Hispanic, and it's easy to find a fiesta or mercado that preserves Mexican and Latin American traditions in food, dance and music. The city has memorialized best-selling singer Selena Quintanilla-Pérez, who lived in Corpus Christi and was known as the Queen of Tejano music — a popular Tex/Mex genre — with a life-sized bronze statue, a museum and an annual two-day "Fiesta de la Flor" to celebrate her life.
A Healthy Environment
In fact, Corpus Christi might as well be called the celebration city. The jam-packed cultural and recreational calendar stays full year-round with musical events, street festivals, art walks, fun runs and sailing regattas.
Besides your bathing suit and fishing pole (Bob Hall Pier on San Padre Island is a favorite fishing locale), you may want to bring binoculars. For 10 years in a row, Corpus Christi was named America's Birdiest City. Spring and Fall migrations plus many native species are drawn to the area's salt marshes, bays, woods, grasslands and mesquite trees for their nesting grounds and rich food supply.
Binoculars aren't necessary at three of the most popular Corpus Christi Bay attractions. At the Texas State Aquarium, you can marvel up-close at sharks, stingrays and exotic marine life. In May 2017, visitors will be able to experience a "Caribbean Journey" when a $55-million aquarium expansion is completed. Nearby, baseball fans can grab a front-row
seat at Whataburger Field for as little as $6 to watch the Corpus Christi Hooks, the double-A affiliate of the Houston Astros. And even non-history buffs enjoy boarding the USS Lexington, a WWII aircraft carrier, to explore its massive deck spaces and naval aviation museum.
With an average home price of $175,000 (per Househunt.com in 2016) and recent residential revitalization projects underway, Corpus Christi is in a growth mode that is welcoming to retirees, younger families and entrepreneurs who appreciate its laid-back ambience. The city council just approved a citywide mobility plan, which will unite otherwise disparate nodes of the city's compass and connect the north and south ends with bicycle paths, hiking trails, bus routes and other transportation infrastructure.
Says Martinez, "We believe that business and environment can co-exist, and we've figured that out. There is unprecedented investment in beach homes and cottages in North Beach, for instance, which has been compared to Coney Island. It all goes together with a healthy built environment. We are changing the way we are designing our city."
No matter what nickname attracts visitors to the city, says Martinez, "The hardest thing about coming to Corpus Christi is leaving it."