Nothing demonstrates the resilience of the Georgia business environment more than the economic development performance registered by the state over the last three months.
At the height of the global COVID-19 pandemic and corresponding recession, the Peach State put up record-setting business expansion numbers. Let that sink in for a minute: record-setting — as in best all time.
Gov. Brian P. Kemp announced it on Oct. 1. "We're incredibly proud to have announced this unprecedented number of jobs for hardworking Georgians over the past three months," he said. "As the Top State for Business for seven consecutive years, we continue to shatter our previous numbers, and most importantly, create opportunities in every region of the Peach State."
The 10,012 new jobs announced in the first quarter of fiscal year 2021 represent a 48% increase from the same period a year ago, while the total capital investment of $3.71 billion represents an 85% increase from Q1 of FY2020.
Scott McMurray, deputy commissioner of Global Commerce for the Georgia Department of Economic Development, says that this performance in the first quarter "puts Georgia on a record-setting pace. We are off to a great start in this new fiscal year, and we may be in for another record year in terms of total jobs."
How does performance like that happen during a global pandemic and an unprecedented economic slowdown? McMurray says there are many factors behind the recent surge. "Pent-up demand was absolutely a factor," he notes. "We did have a lot of decisions in the pipeline that were waiting until we came out of the initial crisis."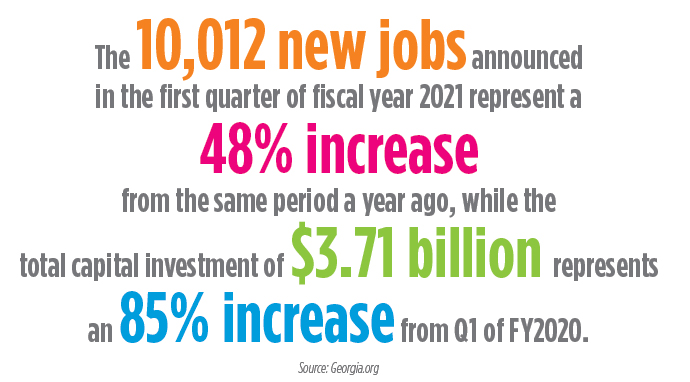 After a six-week shutdown to much of the national economy back in March and April, the project activity level began to pick up again in Georgia in May, says McMurray. "A lot of companies contacted us and said that they wanted to move forward with their projects. Since then, we have really not slowed down at all."
When Site Selection Magazine recently interviewed business executives and site consultants who read the publication, the respondents listed several reasons why they voted Georgia the nation's No. 1 business climate for a record 8 years in a row:
Ease of doing business.
Competitive operating costs.
Favorable tax rates and incentives.
Labor skills in plentiful supply in virtually every major industry.
World-class transportation network.
A growing market.
Labor-management relations that are stable and good.
The votes of these business leaders coupled with actual project performance propelled Georgia to its record-setting eighth consecutive win in the annual Site Selection Business Climate rankings. At the same time, another publication, Area Development, was naming Georgia its Top State for Doing Business for a record seventh consecutive year.
Nick Masino, president and CEO of the Gwinnett Chamber and Partnership Gwinnett, says there are also intangible reasons why Georgia performs so consistently at such a high level. "It's really the story of Metro Atlanta and all of Georgia," he says. "Newcomers can not only come here; they thrive here. Almost everyone in Atlanta is from someplace else. We are all used to being new. That is a cool thing. That makes us unique. That is part of the secret sauce of how we all work together. It makes this place a very rich place to do business. It is just so welcoming. It is a pretty amazing place."
Another factor, Masino adds, is the aftercare businesses receive. "We don't go away once the company expands here," he notes. "By moving to Georgia, they know they are going to be taken care of. Our work just begins once the company opens its business here. We will go out of our way to make sure that business succeeds in Georgia."
---
"We don't go away once the company expands here. By moving to Georgia, they know they are going to be taken care of."
---
These factors are a big reason why 18 Fortune 500 companies choose to maintain their global headquarters in Georgia; and why more such companies are pondering that move.
In fiscal year 2020, companies from all over America and the world made the decision to invest big in Georgia. They included household names like Amazon, Kroger and Mars Wrigley. They also included companies like Stitch Fix and SK Innovation, a Korean battery company that is investing more than $2 billion in its Jackson County plant to produce batteries for electric vehicles.
McMurray says it is all about providing great, high-paying jobs to Georgians and their families. "Success breeds success," he says, "and Georgia is currently in the middle of its most successful run ever."