Governor Brian Kemp has been Georgia's chief executive since January 2019. A small business owner, he has championed the cause of small businesses throughout the state and is committed to bringing economic growth and opportunity to communities large and small in all the Peach State's 159 counties. It's working, according to capital investment figures for the past year. From July 1, 2020, to June 30, 2021, new investments totaled $10.97 billion, and 33,439 jobs were created through 379 projects supported by the Department of Economic Development's Global Commerce division. In the following interview, Governor Kemp expands on these and other factors behind Georgia's winning business climate.
In August, you and the Department of Economic Development reported on capital investment growth in fiscal year 2021. What were the highlights?
Governor Kemp: Fiscal year 2021 was a huge year for us with a 46% increase in the amount of investment and over 30,000 new jobs. I think a lot of the companies that are coming to Georgia will go even further. The totals now are on the conservative end, and we'll see more expansions and additional production lines. Companies and their suppliers are doing a lot in the electric vehicle market, which is just now getting started. It will only grow, so I'm very optimistic about that. Seventy-four percent of the projects were outside the metro Atlanta area, so we're seeing projects go literally all over the state including places where we haven't seen projects announced by the state recently. The year we had with our existing businesses was incredible, too. We kept everybody open and they're doing a lot of business, which helped our state revenues.
---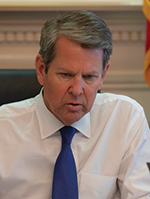 "Seventy-four percent of the projects were outside the metro Atlanta area, so we're seeing projects go literally all over the state, including places where we haven't seen projects announced in a long time."
---
States around the country are investing in increased access to broadband outside their major metros. How is Georgia working on this?
Governor Kemp: We had a banner year with broadband, which helped us businesswise, but it will help in other ways too – quality of life, health care, education. Last year, we announced that almost 300,000 rural Georgians, will have access to high-speed fiber in the next two to three years. It's mainly the Georgia [electric membership cooperatives] doing partnerships in rural Georgia. People are very excited about that, private-sector companies and the EMCs are investing a lot of money in programs, the state is working with them. This is largely due to legislation we passed in 2019 – SB2. 
How are your plans for bringing prosperity to rural Georgia progressing?
Governor Kemp: My commitment to strengthen rural Georgia remains with the Rural Strike Team we put together and money we put in the budget last year for a rural innovation fund. It's additional money outside of what the Department of Economic Development and the Department of Community Affairs does now for EDGE grants, Equity Awards and other things. It will help us to continue growing jobs in rural Georgia. There is a wholistic approach we're using – it's not just throwing money there. It's about quality of life so people will stay, which is where the rural broadband comes in, which helps with health care and education. We've made a lot of progress in this area. We've had a lot of big projects recently in Atlanta, but in places like Sparks, in rural south central Georgia, where a science-driven ag project is expanding, we are generating jobs and opportunity for people too.
Rural Georgia is home to mainly small businesses. Describe your recently announced Small Business Outreach initiative.
Governor Kemp: Our Small Business Outreach goes back to my promise to make Georgia the number one state in the country for small businesses, which is tied together with our focus on rural Georgia. I've been a small business owner for over 35 years, and know how small businesses are so important to our economy. They're what make our state run. The new role of Small Business Coordinator came from a recommendation by the Georgians First Commission, which I established to review state regulations, policies, and procedures to streamline government, remove inefficiencies, and secure Georgia's place as the top state for small business in the country. And we have done other things to make access to minority-owned businesses easier so they can compete better for state business. We're doing everything we can to make that environment better. 
CATO has recognized Georgia as having the best regulatory environment in the country. 
Is there more to be done in that area?
Governor Kemp: One reason we're so strong in the regulatory environment was the pandemic and having emergency powers for a long time. I used those very judiciously and sparingly, but we made them count when we did to cut red tape and got people into the workforce. We also improved things like speed of permitting and issued executive orders to allow engineers and architects and other properly trained professionals that had liability exposure to be able to sign off on plans and so forth. We ended up codifying many of these plans into longer-term policies. I'd like for us to continue to figure out ways to help our military veterans and spouses to get licensing and doing reciprocity with other states, which we've done with health care professionals. Measures like that have helped as well.
What is the significance of the new, 2,200-acre mega site in Southeast Georgia?
Governor Kemp: We have not had a marketable mega site on this scale that was ready to go. Georgia Department of Economic Development Commissioner Pat Wilson and I have been working on a site in Pooler where we sold the property to Amazon and used the proceeds from the sale towards the purchase of the new site. Matched by a four-county partnership in Bryan County, we now have one of the best sites in the country. It's ready to go, and we are actively marketing that right now. The local community is behind it, and we're looking for a single user that will attract a lot of other good things to go on there with access to Interstate, rail, the Port of Savannah. It's in a perfect location.
How is Georgia competing in the fast-growing electric vehicle industry?
Governor Kemp: The Electric Mobility Innovation Alliance, which we announced in July, is not just about electric cars and vans, it's everything. We want to be in that space and be able to meet the needs of the future supply chain — parts, batteries and so forth. And we want to help our existing workforce in traditional manufacturing be able to transition to EVs. If someone's making a transmission for a combustible engine car that's going to phase out over time, we want to work with that company to see what it can do to make something for the EV market. We want them to know we will continue to support them because they're a Georgia-based business.