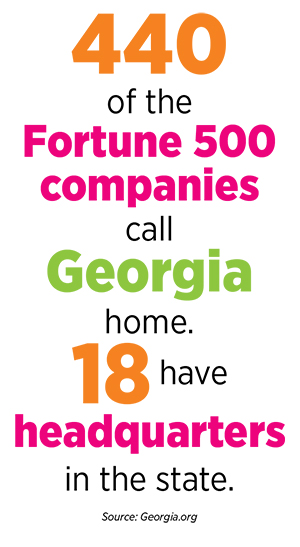 Georgia is home to several homegrown companies with global footprints including Coca-Cola and Delta. Increasingly, companies are uprooting for their birthplaces and adopting Georgia as their new home base to access the state's deep talent pool and thriving business environment as they prepare to grow in the future.  
Georgia ranks eighth in the U.S. for Fortune 500 headquarters, with 18, thanks to such brands as Home Depot, Coca-Cola, Delta Air Lines and UPS. Expand the ranking to the Fortune 1000, and the number almost doubles to 33. If that doesn't make the case that Georgia is a business powerhouse, then consider the publication's ranking of metros with the most Fortune Global 500 Cities where Atlanta ties for 11th place. The only U.S. cities that rank higher are New York and Houston.
Pick an industry sector and you'll find Georgia-based Fortune 500 or 1000 companies well represented. Manufacturing and consumer products? How about Mohawk Industries, Newell Brands and NCR, among others? Gulfstream Aerospace employs more than 13,000 workers in Savannah. Finance, insurance and real estate? The sector includes AFLAC, Equifax, Synovus Financial and the Intercontinental Exchange, which owns the New York Stock Exchange. 
Home builders PulteGroup and Beazer Homes USA are Georgia-based, as is automotive parts wholesaler Genuine Parts.
NCR, Norfolk Southern and Anthem Blue Cross Blue Shield of Georgia picked headquarters locations at Tech Square, a booming development in Atlanta's Midtown district adjacent to Georgia Institute of Technology. But metro Atlanta has lots of options for headquarters sites. Porsche picked a site next to a runway at Hartsfield-Jackson Atlanta International Airport for its North American headquarters and test track. Employees from its German base have multiple daily flight options to the location, as do customers eager to take a Cayman, Spyder or Taycan for a quick spin. Wet track is optional.
TK Elevator, formerly thyssenkrupp Elevator, picked a site near The Battery and the Altanta Braves' Truist Park stadium just north of Atlanta for its new headquarters and business services and administrative center. The project includes a 420-foot-tall elevator Test Tower where customers can experience elevator options on 18 test shafts. The complex will open in 2022.
Georgia has a labor force of more than 5 million with particular strengths in transportation and material moving, production and computer and mathematical occupations. Higher education institutions within 250 miles of Atlanta produce about 1 million new graduates annually, so companies basing themselves in Georgia find more than the workers they require.
AI, EV Companies Pick Georgia
Companies don't need to have household brand names to locate their headquarters in Georgia, of course. In April, GreyOrange, a global leader in AI-enabled software and robotics for fulfillment automation, announced it is investing more than $1 million in relocating its global headquarters to Roswell. This move will create 200 additional jobs in the area. The site includes 110,000 square feet of office and warehousing space that serves as a global fulfillment center for building and shipping autonomous mobile robots. Founded in New Delhi, India, and with operations there as well as in the U.S., Europe, and Japan, GreyOrange leverages artificial intelligence and robotics to optimize fulfillment operations for companies worldwide.
"Atlanta is internationally known as a 'supply chain city' due to the infrastructure, university support, and leading companies headquartered in the metropolitan area," said Chief Operating Officer Jeff Cashman. "Atlanta is the perfect environment to accelerate the evolution and growth of GreyOrange as we continue to innovate intelligent fulfillment concepts for our global customers."
Heliox, a global leader in producing e-mobility charging systems, will establish its North American headquarters in Atlanta. The company's Georgia expansion will create more than 70 clean-energy jobs in the region within the next year. Headquartered in the Netherlands, Heliox is a market leader in fast-charging systems for electric vehicles — from public transport and e-trucks to passenger vehicles, marine, mining, and port equipment vehicles. The company's chargers enable operators to improve their performance while reducing their environmental impact. 
"Atlanta is the perfect launch pad for our North American operations. Locating both the headquarters and the research and development training facility in Atlanta, we will be close to our customers to offer the highest level of support and service. In addition, the local talent available in the city and universities will fuel our rapid growth," said David Aspinwall, President of Heliox North America. "It is an exciting time for the electric vehicle market, and we are excited to grow our technology in the U.S."