Georgia is a hub of innovation built upon a history of collaboration between industry and higher education, and it is only growing stronger by the day.
With a robust network of R&D resources, including innovation centers, four public research universities, and a unique alliance fostering a spirit of collaboration across universities in the state, Georgia's innovation ecosystem is quickly becoming a world-class destination for leading researchers. 
Established in 1990, the Georgia Research Alliance (GRA) is a public-private partnership that supports the recruitment of top scientists to Georgia universities, fueling innovation and economic growth. GRA's Eminent Scholars program recruits the world's best scientists to the state's universities to conduct their research and bring new technologies to the marketplace. The alliance allows the state's universities to attract more federal and private research grants ($688 million in FY2020) while developing new investments and enriching the state's academic standing in the U.S. and around the globe. 
GRA's venture development program is the state's only nonprofit catalyst for startups. Since 2010, the program has led to the launch of 195 university-based companies, brought more than $1.6 billion dollars in equity investment to the state, generated more than $1.16 billion in revenue, and created more than 1,500 new jobs. GRA's partner institutions include the University of Georgia, Augusta University, Emory University, Clark Atlanta University, Georgia Institute of Technology, Georgia State University, Mercer University and Morehouse School of Medicine.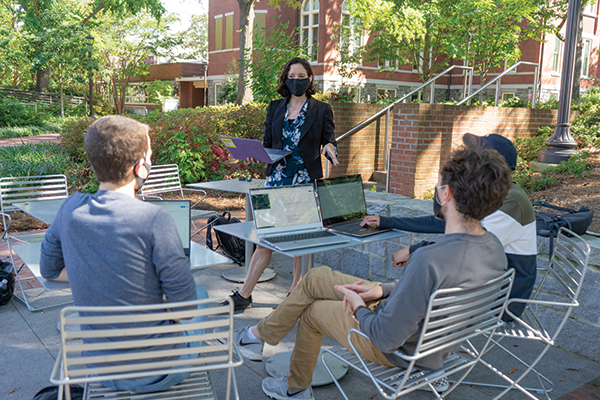 Georgia Tech outdoor classroomPhoto courtesy of Georgia Tech
A key component of the GRA program is The Georgia Core Facilities Partnership which allows university scientists to access the vast collection of high-tech instruments located at 100 campus facilities across the state. 
Throughout the state, Georgia's universities are engaging in critical research to solve the world's most pressing problems. 
UGA leads in Ag and Life Science 
Among the best and most established U.S. colleges of agriculture, the University of Georgia (UGA) College of Agricultural and Environmental Sciences (CAES) has a reputation for being home to world-renowned scientists and exceptional students. Just one of 18 schools that make up the university, CAES has laboratories and facilities on university campuses in Athens, Griffin and Tifton. The college was ranked No. 2 in the U.S. for agricultural sciences by Niche.com and is home to the No. 8 entomology program in the world, according to the Center for World University Rankings. Additionally, the college was named by Universities.com the No. 2 Best Agricultural and Horticulture Plant Breeding College.
CAES  is a national research leader in poultry science, plant breeding and cultivar development, food safety and entomology. Research conducted at the college has resulted in 850 new products reaching the market, over half of which are plant cultivars, vaccines and devices that support agriculture. 
The Regenerative Bioscience Center (RBC) is using its research in animal studies to create solutions for human health. The center connects undergraduate and graduate students with world-class researchers to collaborate and develop new cures for a wide variety of ailments, including diseases for which there are currently no treatments, like heart disease, Parkinson's, Alzheimer's and strokes. 
Georgia Tech Brings Innovations to Market
Consistently ranking among the top national higher education institutions for the volume of research conducted, Georgia Tech has more than $1 billion in sponsored expenditures annually. The Georgia Tech Research Institute (GTRI) works with the federal government, the state of Georgia and industry to solve complex problems and develop practical, actionable solutions. GTRI's core competencies are in engineering, cybersecurity, electromagnetics, autonomous systems and electronic warfare, threat system research and development and testing and evaluation. GTRI has eight laboratories in more than 20 locations around the country and performs more than $782 million in research annually.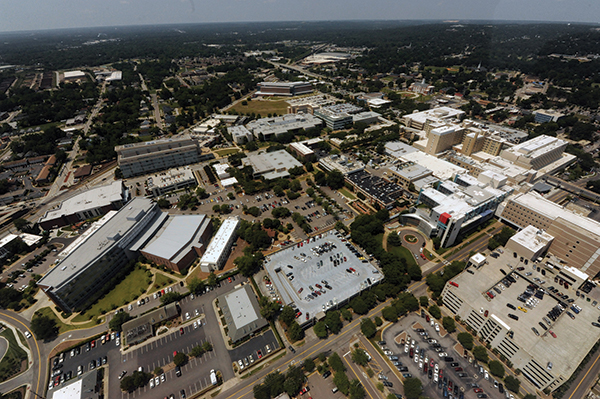 Augusta University Health CenterPhoto courtesy of Augusta University
Scientists at GTRI have been instrumental in pursuing COVID-19 related research. Researchers worked on a variety of innovations, including the development of low-cost ventilators, Coronavirus testing measures, portable U.V. disinfection chambers and much more.  
VentureLab was founded by Georgia Tech in 2001 and has helped launch hundreds of startups that have raised more than $1.5 billion in investment. Additionally, the Advanced Technology Development Center has been fostering entrepreneurship and technology innovations at the university since 1980.  Another highlight is the university's Enterprise Innovation Institute (EI2), the nation's largest and most comprehensive university-based business and industry outreach program.
Georgia Tech actively works with a range of industry partners, matching the needs of companies to the world-class research and state-of-the-art facilities available at the university. 
Health and security in Augusta
Researchers at Augusta University are tackling some of the state's most pressing health concerns, including cancer, cardiometabolic disease and neurological diseases, including strokes. The university also is developing in the emerging areas of regenerative and reparative medicine, personalized medicine and genomics and public and preventative health. 
In FY2021, the university received more than $181.6 million in total sponsored awards. In addition, the university's Office of Innovation and Commercialization is home to the Life Sciences Business Development Center. The 14,000 sq. ft. center includes wet labs, offices, shared equipment and supports companies of all sizes. 
Additionally, Augusta University Health is the state's only public academic health center, providing patient care, leading-edge clinical research and medical training to the next generation of health care providers.  The university's Medical College of Georgia is one of the largest in the country by class size, with some 260 students per class. 
Augusta University is also becoming a leader in cybersecurity, capitalizing on its location in the epicenter of the nation's cybersecurity network. The U.S. Army Cyber Center of Excellence, the National Security Agency, Savannah River National Laboratory and the U.S. Army Cyber Command have a presence in the region. 
Innovation in Atlanta 
Located in the heart of Atlanta, Georgia State University (GSU) was recently ranked the No. 2 most innovative university in the country in the 2022 edition of U.S. News & World Report's Best Colleges. GSU is one of 115 public and private universities in the Carnegie Foundation's elite category of R1: Highest Research Activity. For the past four years, the university has been the highest-ranked institution without an engineering, medical or agricultural school in the National Science Foundation's Higher Education Research and Development survey, a nationally recognized barometer of university research activity. Georgia State University faculty have earned $142 million in research funding in FY2021, the third-highest total in university history. Consistently over the last seven consecutive years, the university has received research awards exceeding $100 million. Over the last decade, the university has seen a 141% increase in research expenditure, making it one of the nation's fastest-growing research institutions.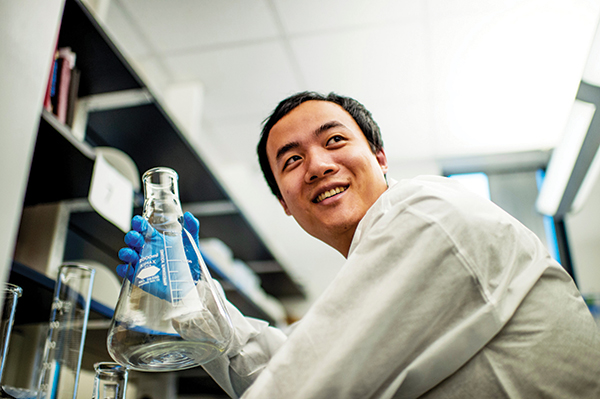 Georgia State University science student
Photo courtesy of Georgia State University
The university is home to one of the few bio-safety level 4 labs in a university setting. The university's biosafety facilities allow faculty to safely research viruses and pathogens to design new vaccines and treatments. 
Additionally, the university is one of just 45 nationally designated National Center of Academic Excellence in Cyber Defense Research and Education. 
Emory Leads in COVID-19 Research
Emory University is a private research university in Atlanta that is home to several groundbreaking, life-saving scientific discoveries. The university is ranked 14th in the nation for National Institute of Health dollars received. It is well-known for its research and treatment of infectious disease, brain health, heart disease, cancer, transplantation, orthopedics, pediatrics, renal disease, ophthalmology and geriatrics. 
In FY2021, the university attracted record-breaking support for its research, receiving $894.7 million. Investigators won grants for developing and evaluating COVID-19 vaccines, tests, and treatments, exploring new frontiers of the mind, addressing climate change, and advancing ideas and solutions to end health disparities and promote racial and social justice.
This is the second straight year in which Emory has topped its previous best. Research support has grown by more than 55 percent over the last five years, and 2020 marked the first time funding crossed $800 million. This year's funding represents a 7.6 percent increase over last year's high of $831.2 million.
Emory is expected to continue to rank first among universities in the state for NIH's COVID-19 research funding. COVID-19 funding made up 12 percent of the year's total research funding and rose by almost a third over the previous year. Aided by researchers at the Emory Vaccine Clinic and its clinical arm, The Hope Clinic, the NIH-funded Infectious Diseases Clinical Research Consortium, with leadership at Emory, has become a pivotal network for evaluating vaccines and treatments for the coronavirus. In addition, Emory has been involved in testing all three vaccines that are currently in use.
Additionally, the university officially opened its new 180,000-sq.-ft. Emory Musculoskeletal Institute in October. The facility is located in Emory's Executive Park health innovation district in Brookhaven. The new six-story building, focusing on innovation, improving the patient experience and research, will continue to provide all musculoskeletal services in one convenient location for patients and serves as the central hub supporting 10 regional offices ranging from LaGrange to Flowery Branch.