Foreign investment is big business in Georgia. Nearly half the projects announced in 2019 were from internationally owned companies. Governor Brian Kemp and the Georgia Department of Economic Development announced in August that Georgia's international partnerships accounted for the creation of nearly $2 billion in foreign direct investment (FDI) in the state in fiscal year 2021. Twenty percent more jobs were created by foreign direct investments than during the previous fiscal year. 
Why does so much FDI find its way to Georgia?
Being home to the world's busiest airport pre-pandemic is one reason. Hartsfield-Jackson International provides nonstop service to more than 70 international destinations in 42 countries in Asia, Europe, Africa and Latin America. In April, Georgia Ports Authority released fiscal-year-to-date numbers (July – March) showing record volumes of 3.9 million 20-foot equivalent container units, an increase of 15%, and detailed a plan that expedites completion of more than 1.4 million additional TEUs of annual capacity. 
Foreign companies invested in Georgia rarely feel far from home. The state is home to 70 international consulates, 42 bi-national chambers of commerce and 25 international trade offices. And they can access a labor pool of more than 120,000 graduates annually from the state's more than 80 colleges, technical schools and universities.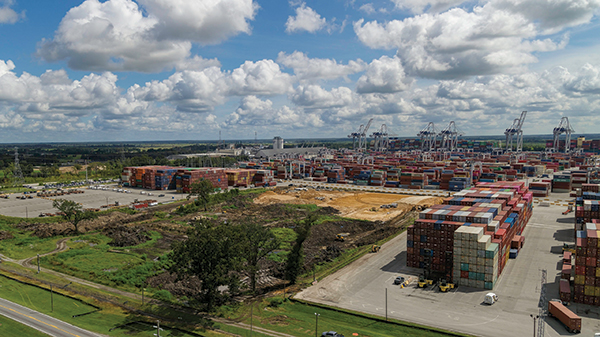 Photo courtesy of GAPorts.com
Nineteen projects from South Korea represent the highest job creation from a single country — more than $1.3 billion in investment and more than 2,700 jobs came from South Korean companies during 2020 alone; Swiss-based projects led in total investment. Businesses from Germany created the second-highest number of jobs during FY21.
South Korea Boosts Georgia's EV Play
SK Innovation, South Korea's largest energy company, is building two EV battery plants at a site about 70 miles northeast of Atlanta. It's part of a $2.6 billion investment in its U.S. battery business that will directly create more than 2,600 permanent jobs in the Jackson County area by 2024. The first SK Battery America plant is scheduled to begin initial operations in 2021 with mass production in 2022. A second plant at the same site is expected to begin mass production in 2023. 
The massive project is attracting additional investment from South Korea. In May, Duckyang, an electric mobility parts supplier of automotive battery modules and energy storage systems to SK Battery America (SKBA), announced it will invest $10 million in opening its first U.S. manufacturing facility in Jackson County. The new facility will create 285 jobs in Braselton, Georgia. Headquartered in Ulsan, Korea, Duckyang supplies cockpit modules to customers around the world including Hyundai, Kia, Renault Samsung Motors, Genesis, and Mobis.
"By entering the U.S. electric vehicle battery market with SKBA, we will have the opportunity to cooperate with many other automotive companies, including Hyundai and Kia Motors, that already have a manufacturing base in the U.S.," said Dong-in Son, CEO of Duckyang Ind. Co. Ltd. "It is expected that we will have business expansion opportunities to supply not only electric vehicle parts but also interior parts, including the cockpit module, door trim panel module, and other flagship parts to global automakers based in the United States."
Going Dutch
Netherlands-based Vanderlande Industries will invest $59 million in expanding its North American headquarters in Cobb County. The expansion will create 500 new jobs in Marietta, bringing the company's total employment to more than 1,250 people in Georgia.
Vanderlande is the global market leader for value-added logistics automation within the airport, parcel, and warehouse markets. The company's systems are active in 600 airports, including 14 of the world's top 20. 
"We are looking forward to moving into our new North American head office in Marietta, Georgia," said Nick Porter, President of Vanderlande's Airports & Parcel Solutions, North America. "Vanderlande continues to enjoy our relationship with the local community, educational institutions, and service providers. Our new campus supports our ability to expand our local teams to meet the growth in our business, and to support our North American customers with the innovative, efficient, and effective solutions they need."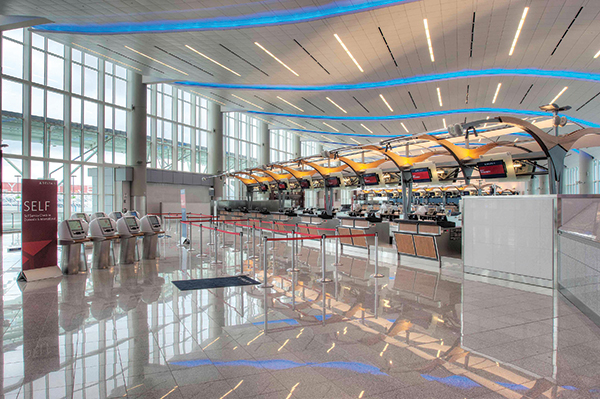 Hartsfield-Jackson Atlanta International Airport serves 150 U.S. destinations and more than 75 international destinations in 50 countries.
Photo courtesy of Hartsfield-Jackson Atlanta International Airport
Aerospace, Automotive, and Ag Products Boost Export Levels to New Heights
Georgia ranked among the Top 10 exporting states in 2020 for the first time. Merchandise exports reached 215 unique countries and territories and experienced the lowest rate of export contraction among all top ten states, despite headwinds from the global pandemic. The Peach State exported $38.8 billion in goods last year; total trade reached $137.7 billion, ranking 7th in the U.S. 
The state's top five export markets were Canada, Germany, China, Mexico, and Singapore. Several markets experienced significant growth, with exports to Germany increasing nearly 50%, followed by China and Hong Kong at 45% and 41%, respectively. Increased exports to China reflect new purchases made under a trade agreement signed by the U.S. and China in January 2020, and the return of market access for U.S. poultry. Approximately two-thirds of Georgia trade involves the 12 strategic markets where the state maintains representation: Brazil, Canada, Chile, China, Colombia, Europe, Israel, Japan, Korea, Mexico, Peru, and the United Kingdom. 
Approximately 90% of Georgia merchandise exports are manufactured goods, and the state's manufacturing exports have grown by more than 30% over the last 10 years alone. Georgia's second-largest manufacturing industry, aerospace products, remain the state's No. 1 export, totaling $9.98 billion in 2020. The Peach State ranks 5th in the U.S. for aerospace exports. Sales to Hong Kong surged more than 140% last year, while Germany remains the top customer for Georgia aviation products.
Georgia's deep water ports and ideal location in the Southeast for original equipment manufacturers helped drive a 13% surge in automotive exports over 2019. The state's automotive industry increased exports nearly 600% to Germany and more than 800% to China. 
The deep roots of Georgia's agriculture industry continued to reap economic benefits in 2020, delivering $4.25 billion in global exports, maintaining its export totals from 2019. Georgia remains a leading state for poultry, cotton, and peanuts, as well as forest products.