While businesses in many states are still grappling with the lingering effects of the pandemic, Georgia is celebrating a record-breaking year for job creation and capital investment. In FY2021, investments increased by 46%, while job creation increased 5% above prior state economic development records, representing $10.97 billion in new investments and 33,439 jobs. 
Though there is much to celebrate, Georgia is still working to support its residents and businesses as the pandemic continues. The team at Georgia Department of Economic Development (GDEcD) has continued its approach to encouraging economic development across the state and supporting companies as they open for business in Georgia. In the following interview, we spoke with GDEcD Commissioner Pat Wilson about some of trends he's seeing across the state as Georgia celebrates a record-breaking year for investments. 
Georgia broke records in terms of investment and job creation this year. What contributed to this winning streak?
PAT WILSON: It's amazing that in the face of a global pandemic we have had a record-breaking year. There are three things that have built this momentum over the last year. 
One of the things that we've seen is strong leadership. The way the Governor and state leaders work with the business community to focus on staying open while protecting lives and livelihoods. I've talked to a number of manufacturers around the state that have been able to remain open and actually gain market share because of other parts of the country that were closed. The last thing they wanted to do was to have to close because of the COVID-19 outbreak. So, the Governor worked with the public health service and the CDC and then the business community to figure out how to allow companies to protect their employees and their customers. In so doing, we were open for business. That allowed us to continue to grow in areas that were heightened because of changes in consumer patterns, from COVID. 
---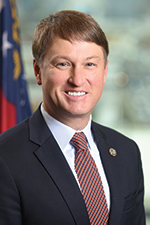 "If you look at the trends we're seeing over the last year, tech continues to be an extremely fast growing sector."
— GDEcD Commissioner Pat Wilson
---
Another piece of that is the fact that we continued to really listen to the business community. We had a collaborative approach to economic development, where it's not the state that comes in with the answer. We're working with communities, we're working with companies and then were also working with our utility partners and the assets across the state to help companies continue to grow. It's a unique way that we as the Department of Economic Development can help companies succeed and prosper. We bring as many people to the table that can help in any individual project. We take a very collaborative approach and we've done it that way for a long time because we've proven that it works. 
The other piece of that is our diversity and talent. Because of our diversity of talent and diversity of skills, that has led to diversification of our industry base. We've seen growth in headquarters, fintech, cybersecurity, food processing, and of course logistics and distribution. We have a very diverse economy, and in a situation like what we've seen with the pandemic, it helps when one sector maybe isn't growing but there are others sectors that are. This diverse economy has really kept Georgia's economy robust throughout this pandemic. So, really having that diverse talent which has led to a diverse overall economic system has helped us maximize our growth across multiple industries. That's what's lead to this long-term, sustained growth when we've faced international headwinds all across the world. 
Even before this banner year, Georgia consistently ranks No. 1 for business. What sets the state apart from others? 
WILSON: Some of the things that set Georgia apart are:
We have a diverse and talented workforce that's being produced out of our university systems and HBCUs. It's the people of Georgia that make this a special place. Companies that are looking to grow, innovate and change and continue to be competitive into the future are trying to find the workforce to assist with that and help them continue to grow and innovate. The people of Georgia make this an amazing place to sell. 
If you look at our business climate — which is consistently ranked as one of the easiest places to do business for a long time — you'll see we are consistent. Our track record of being consistently pro-business dates back multiple generations and through multiple governors and general assemblies. One of the things I think that stands out about the state is that whether we're Democratically controlled or Republican controlled, regardless of the politics of leadership, the state has been very well managed. Whether its maintaining our Triple A bond rating or keeping a very low tax burden on companies, all the way to focusing on growth of our university system and our technical colleges, our leadership has always been very focused on helping businesses succeed and grow into the future.
This state has an unrivaled logistics network, from our rail system to our interstate system, our port and our airport. You have the fastest growing port in the United States and the most efficient port in the United States. Today, that is even more highlighted as an important aspect of our growth considering what's going on along the west coast. Plus, we have the world's largest, most connected and most efficient airport. For a company to be located in Atlanta and be able to literally reach the entire world in one flight — that's a big part of what makes us special and sets us apart. Even just in terms of moving your goods, Georgia has the furthest port west on the East Coast. If you look at our ability to move goods by rail or by road, from the Port of Savannah or the City of Atlanta, we really are a great gateway to 80% of the U.S. population.
If you really want to boil it down, those three things are really what make us special and drives this equation that's creating the No. 1 state for business. 
What industries are growing the fastest in Georgia and why?
WILSON: If you look at the trends we're seeing over the last year, tech continues to be an extremely fast growing sector. Tech is such a broad descriptor — whether that's cybersecurity or fintech, just overall it's full of innovative jobs. All of that is an extremely fast-growing industry. At the bottom of that, it's organic growth that's sprung up around our universities. Tech feeds off of tech and we've created an ecosystem that continues to foster innovation. That really is the catalyst of that growth. 
If you look at headquarters jobs, Atlanta continues to be a major headquarters hub. Just last year we had Papa Johns and Chicken Salad Chick, GreyOrange and Heliox, which is a Dutch company that makes charging stations for electric vehicles. They located their North American headquarters here. We had just a run of great headquarters examples. Again, very similarly they feed off the ecosystem of innovation, change and top talent. Underneath all of the headquarters investments is connectivity. Atlanta offers amazing opportunities to reach all of your investments around the world. 
To get into manufacturing, we continue to see growth in food processing. That's really an industry that's been highlighted by the pandemic and companies want to be locating the processing closer to the production, closer to the farmers. Having the entire supply chain located in a state close to the production is more and more important. We're also seeing that consumers want to know where their food is coming from. There's a real understanding on the consumer level that what I'm buying here in Atlanta was processed in Georgia and came from a farmer. That understanding of the entire supply chain is something that the consumer is looking for. We're seeing a lot of growth in this area as well across Georgia, which is an amazing agriculture producing state with a really broad range of production and commodities coming out of the state. 
Automotive remains extremely hot. For years, we've been focused on the internal combustion engine. Of course, we have Kia here, and Kia is such an amazing driver for the state and all of our supply base — and with our proximity to Mercedes Benz in Alabama and Volkswagen in Tennessee and others in South Carolina — we're in a central location that allows suppliers to locate in the state of Georgia and then supply all of the major OEMs in our surrounding states. That's really given us this base of suppliers — whether they're German or Japanese — of suppliers that want to locate in the state. 
That growth has continued but then there's this segment of that growth that, in the future, is going to be the biggest change in the industry and the biggest long-term growth prospects in the state and that's the electrification of the automobile. With our massive base of jobs from automotive and automotive suppliers we have about 55,000 — 60,000 jobs that are tied to the internal combustion engine. As you look at the aggressive timelines of companies to move into electrification, we're working to attract those companies — whether they're batteries, suppliers, or OEMs — we see a good bit of growth in that sector as well. 
SK Innovation is building a battery facility in East Georgia in Jackson County. That project will be the largest investment in the history of the state before it's over with. They are projecting 2,500 jobs and over $2.6 billion in investment. It's going to be an amazing catalyst of change in Northeast Georgia. But what we're seeing is the suppliers coming in around them. 
"The differentiating factor is that we have a track record for 50 plus years to have the ability to listen to companies, meet their needs and help them grow over the long run."
— GDEcD Commissioner Pat Wilson
The Governor has instructed us to look toward the future and help lower barriers in the state to allow growth in the electric vehicle space. We created the Electric Mobility Innovation Alliance, which is a public-private partnership, to really focus on lowering barriers and providing good public policy to help companies grow. It's something that is going to continue to grow and has provided a lot of opportunity for us even in this COVID era. There's just been a huge amount of momentum here as well. 
Are there any misconceptions about the state that you'd like to clear up?
WILSON: One of the things that is something we are working to fix all the time and that we hear from site selectors, is just a lack of workforce, a lack of people to fill these jobs. That's not a Georgia problem. That's something that everyone is experiencing across the US and more specifically in the South in the high-growth, high-industry states. 
One of the things for site selectors to be aware of is that Georgia has been a model state in addressing these issues. One of the things we offer — and do very well — is helping Georgians upskill to fill open slots and work with these companies. We have a history of working with companies to make sure they have the people they need in order to be prosperous over the long run. 
Our workforce training system is called Quick Start, which was actually founded in 1968. If you think about where Georgia was in 1968, we had a lot of unskilled labor, high unemployment and we had a Governor at the time who was looking at how to turn things around, how to grow in the right direction, and how to offer Georgians the opportunity to get jobs and skills. They talked to the business community about how to fill the openings they had already and worked with our community colleges to create a program which basically creates a curriculum for the company. This has been extremely successful model that is consistently awarded the No. 1 workforce training program by multiple publications. 
The differentiating factor is that we have a track record for 50 plus years to have the ability to listen to companies, meet their needs and help them grow over the long run. As consultants and site selectors continue to work their demographic information and figure out where they're going to locate opportunities, Georgia has the equation to fix the problem.