In fall 2020, I worked with my colleague Daniel Boyer, director of programming and analytics for Conway Data, to do something with INC. 5000 data that even INC. magazine wasn't doing: Examine where all 5,000 of those top-performing companies are based. Georgia, with 199 of those companies, was No. 7 in the nation.
We repeated the exercise in fall 2021 when the new batch of fastest-growing companies in the nation was named. The Peach State was once again in the upper echelon.
The results show Georgia again with the seventh-most INC. 5000 firms at 209, a higher total than in such entrepreneurial states as Colorado, Utah and North Carolina, and with No. 6 Illinois in its sights. (The state is No. 7 in INC. 5000 firms per capita as well.)   
It comes as no surprise that more than 60% of those firms (127 of them) are based in the city of Atlanta proper, including No. 16-ranked Banyan Software; No. 30-ranked Greenlight, a $2.3 billion financial services company with an innovative debit card/app for children; No. 42 Stord, a logistics company; and No. 52, software firm Radix Health.
Toss in the communities that are part of the Atlanta metro area, and the proportion of success for the region of 6 million grows even stronger:
Top-ranked Georgia INC. 5000 company Banyan takes an approach any state commerce department would seek to emulate: "With a permanent capital base, Banyan focuses on a buy and hold for life strategy for growing software companies that serve specialized markets," the company says, noting its operations span "a number of growing verticals including healthcare, education, media, transportation, and financial services."
In other words, a portfolio as strongly diversified as Georgia's.
In April 2021, Greenlight, buoyed by a $260 million capital raise, announced it plans to hire 300 more professionals, after more than tripling YoY revenue, more than doubling the number of parents and kids on its platform and doubling the size of its team within the year prior to the announcement.
"The demand for Greenlight's family finance solution continues to grow," said Johnson Cook, co-founder and president of Greenlight. "With the support of our investors, we look forward to empowering even more parents to raise financially-smart kids."
Meanwhile, the company will continue to rely on its financially- and strategically-smart decision to make its home in Georgia.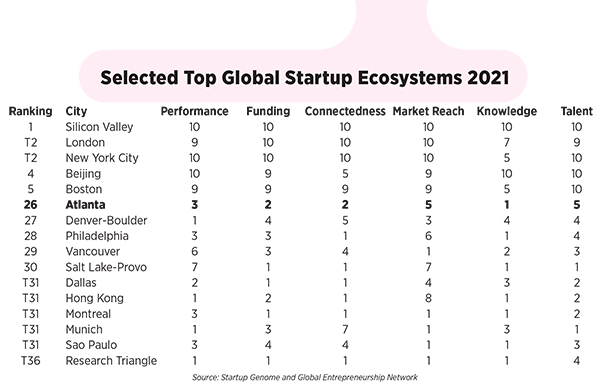 VC Picture Comes Into Focus
Boosted by an ecosystem growing deeper and wider with each passing quarter, Georgia is looking to crack the national top 10 in venture capital deals and deal value.
With a first half of 2021 that attracted more venture capital than all of 2020, momentum is strong in Georgia, which with nearly $2 billion in deals was No. 11 in the nation, up from No. 12 in 2020 with $1.9 billion in deals.
It has the makings of a long-term trend, as the state was No. 8 in 2019 ($2.5 billion), according to figures from PitchBook-NVCA Venture Monitor. From 2017 through June 2021, the state is No. 11 in VC deal value with a total of $9 billion.
In terms of deals, Georgia was 12th in the nation during the first half of 2021 with 117 deals, after placing No. 11 in 2020 (213 deals) and No. 12 in 2019 (206 deals). The state has welcomed 897 deals from January 2017 through June 2021.
The opportunity to crack those Top 10s may be arriving. The 2021 Global Startup Ecosystem Report released by Startup Genome and the Global Entrepreneurship Network in September 2021 awarded 280 regions around the world from 10 points to one point across six metrics: performance, funding, connectedness, market reach, knowledge and talent. With an overall score of 18 (compared to Silicon Valley's 60), Atlanta ranks No. 26 in the world, ahead of such highly praised entrepreneurial capitals as Denver, Vancouver and Hong Kong.
Among other findings, Startup Genome named Atlanta among a cluster of top 40 regions that "need to pick up the pace with investment and policy decisions that support tech entrepreneurs." When those entrepreneurs arrive, they'll find signs of the region's strongest scores in these areas:
Knowledge: Atlanta is one of 15 U.S. cities with a score of 10 in the Research factor, by virtue of the United States' score of 10 on the H-Index, based on the production and publication of life sciences research. However, the metro's score of 2 in Patents shows where there is room for growth.
Talent Quality & Access (8): The percentage of engineers and employees with at least two years of startup experience at time of hiring; and a function of the number and density of top developers on GitHub, English proficiency, and history of exits. "Quality is also a proxy for experienced scaled teams in the ecosystem," says Startup Genome.
Connectedness Infrastructure (6): A life sciences-focused metric that considers the number of accelerators and incubators, research grants and R&D anchors (for example, top research hospitals and corporate R&D labs).
At nearly the same time, the FINOM Innovation in Business Index from the Netherlands-based B2B financial services platform found Atlanta ranked No. 23 for its innovation ecosystem among 100 global cities, even topping such areas as Sydney, 
Evaluated across seven innovation areas and 12 industry sectors, metro Atlanta scored highest in the categories of university R&D; tech ecosystem; government R&D; and venture capital funding, with its strongest industry scores in IT/software development, mobility and health care.  
Hubs of Connection
Among the best resources for corporate leaders looking for entrepreneurial connections is a directory of incubators, accelerators, coworking spaces and makerspaces maintained by the University System of Georgia at www.usg.edu/economic_development/business_incubators_accelerators. The list boasts no fewer than 34 such organizations, nearly half of them at the Atlanta-based Georgia Institute of Technology (which accounts for 15 of them within its Georgia Tech Enterprise Innovation Institute).
Others are found at the University of Georgia in Athens, Georgia Southern University in Statesboro, Georgia State University in downtown Atlanta, the fast-growing Kennesaw State University on the northern outskirts of Atlanta; the statewide Technical College System of Georgia; and top-shelf private schools such as Emory University and Mercer University.
Outside academia you'll find no fewer than 70 incubators, accelerators and similar organizations. Atlanta dominates the scene of course, with leading organizations such as Atlanta Tech Village, Collider, Opportunity Hub and Atlanta Tech Village. But they're elsewhere too, at places like Geekspace Gwinnett and Cornerstone at Novologic in Lawrenceville; the 567 in Macon; Creators' Foundry and Thinc Savannah in Savannah; and Hackyard and Four Athens in Athens.
The directory will be expanding with entry No. 71 at Curiosity Lab at Peachtree Corners, located in the redeveloping 500-acre, former Technology Park of Atlanta corporate park in southwest Gwinnett County. As of late August 2021, technology startups may apply to join the 5G Connected Future incubator program as they work to build and test 5G use cases in areas such as autonomous vehicles, robotics, industrial drones, mixed-reality training and entertainment, remote medical care, personal health and fitness wearables and more.
The 5G Connected Future program, launched earlier this year by T-Mobile Accelerator, Curiosity Lab at Peachtree Corners and the Georgia Institute of Technology, is managed by the Advanced Technology Development Center (ATDC), a Georgia Tech program and the state of Georgia's technology startup incubator. Curiosity Lab, a living lab powered by T-Mobile 5G where more than 8,000 people live or work, features a 25,000-sq.-ft. Innovation Center and three-mile autonomous vehicle test track.
The 5G Connected Future vertical is the fourth of its kind at ATDC and follows other targeted programs in health, retail, and financial technologies. Before the launch of the 5G incubator, ATDC only served Georgia-based companies. Now, with this external funding from T-Mobile Accelerator and Curiosity Lab, ATDC will be able to help develop startups in the 5G-connected space from all over the globe.
"Innovation doesn't take place in a vacuum, which is why entrepreneurs and startups require the knowledge and resources provided by partnerships such as ours," said John Avery, director of ATDC.