As supply chain issues continue to confound logistics along the west coast, Georgia's Port of Savannah is becoming one of the most important links connecting the U.S. and the global marketplace. 
"Georgia's deepwater ports are thriving, and that's good news for a wide range of industries," said Georgia Gov. Brian Kemp. "Thanks to conservative leadership and the fact that we never really shut down Georgia businesses during the pandemic, the Peach State's economy is rebounding quickly. From logistics to manufacturing and retail, the ripple effect of booming trade at the ports of Savannah and Brunswick means business opportunity and job growth for hardworking Georgians."
Couple the fastest-growing port in the country with Hartsfield-Jackson Atlanta International Airport, the world's busiest and most efficient airport, and you have a picture of the world-class assets available in the Peach State.   
One of the key elements encouraging continued success despite global challenges is the state's robust network of cold chain storage and cold chain logistics operations. In addition to the Port of Savannah, which has more refrigerated container capacity than any East of Gulf Coast terminal, Hartsfield-Jackson Atlanta International Airport is home to a 32,000-sq.-ft. Atlanta Perishables Center, which handles more than 700,000 tons of cargo via 14 cargo airlines annually.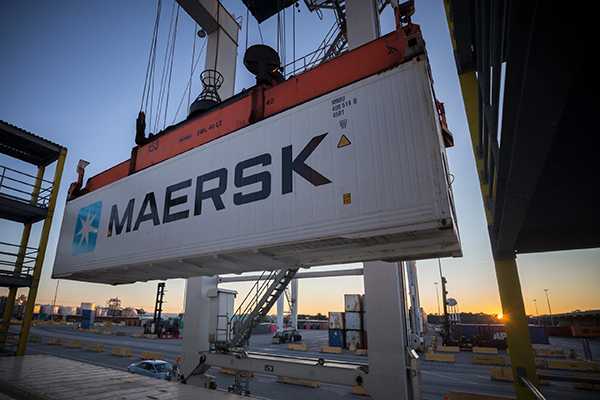 The Port of Savannah offers the nation's most extensive on-terminal infrastructure for the export of perishable cargo, with 2,856 refrigerated container rack slots.
Photo courtesy Americold | Stephen B. Morton
With more than 80 cold chain facilities throughout the state, Georgia has the infrastructure in place to support the movement of perishable and temperature-sensitive products already in place. In addition, the state has more than 19.5 million square feet of cold storage, making it the 8th-largest refrigerated space capacity in the U.S. 
Georgia is home to four of the top five global companies for refrigerated warehousing, two of which are headquartered in the state. The largest cold storage warehousing company in the world, Americold, is based in Atlanta and continues to invest in the state. In 2020, Americold opened its new 15-million-cubic-foot, state-of-the-art cold storage facility adjacent to its PortFresh facility near the Port of Savannah. The new building features 37,000 pallet positions, advanced blast freezing capabilities, and space and infrastructure to support refrigerated-containerized trade. 
"The Port of Savannah is one of the fastest-growing ports in the United States and has seen increased traffic of temperature-controlled trade," said Fred Boehler, President and Chief Executive Officer of Americold Realty Trust. "With this investment, Americold is fulfilling our customers' requests to expand into this growing market, which provides an efficient and cost-effective solution to meet their import and export needs. We believe this development project represents a significant long-term growth opportunity for the company, as we continue to grow our scale and develop our partnership with the Port of Savannah."
In Oct. 2020, Agile Cold Storage announced it would invest over $60 million to build two new facilities in North Georgia to support the poultry industry. The two facilities are located in Bartow and Hall counties and created approximately 170 jobs. Agile Cold Storage is headquartered in Norcross, north of Atlanta. 
"As a Georgia-based company, we are very excited to make these investments and to be able to create these jobs in our home state. When we looked around the Southeast for the ideal location for these two facilities, Georgia really stood out. Georgia is home to a wide variety of food manufacturers, tremendous temperature-controlled logistics partners, and a world-class port in Savannah," said Agile President and CEO Don Schoenl. "We appreciate the state's interest in helping us grow and understand — from our previous experiences with various state agencies — we appreciate how committed they are to providing exceptional training and work environments for our team members." 
The E-commerce Effect
One of the more interesting side effects of the pandemic is the rise in e-commerce investments. In the past year, several companies announced they would develop logistics operations in Georgia. As a result, during FY2021, logistics projects ranked No. 2 in the state for job creation and accounted for 19% of the total jobs created. 
Earlier this year, e-commerce giant Amazon announced its plans to expand into a new fulfillment center in Savannah. The new facility will feature innovative Amazon robotics technology and create 1,000 full-time jobs. Employees at the approximately 640,000-square-foot facility will work alongside Amazon's innovative robotics technology to pick, pack, and ship smaller customer orders, such as books, toys, and small household goods.

Amazon currently employs more than 21,000 employees in Georgia, with continued hiring underway, and has existing operations facilities across the state, including Georgia's first Amazon robotics fulfillment center in Stone Mountain, which opened in 2020. Amazon's investments in Georgia have contributed $3.2 billion to the economy from 2010 to 2019.
Using methodology developed by the U.S. Bureau of Economic Analysis, the company estimates its investments in the state have created an additional 9,400 indirect jobs on top of Amazon's hires.
Additionally, ASOS, one of the world's leading online fashion and beauty retailers, is investing more than $100 million in expanding its e-commerce fulfillment operations in Union City. ASOS will upgrade its Fulton County facility, building automation throughout to streamline processes and meet the needs of the company's growing U.S. customer base. More than 1,000 people are currently employed at the fulfillment center.