Home to 10.7 million people and attracting more than 152 million visitors a year, the Peach State is the pinnacle of southern hospitality, offering something for everyone. From swimming at white-sand beaches to hiking mountain trails, enjoying world-class entertainment in Atlanta or spending a day one green in Augusta, Georgia offers a unique combination of amenities, natural resources and culture that simply cannot be found anywhere else in the world.
Georgians enjoy an affordable cost of living with below-average housing costs and low taxes. Even the metro Atlanta area boasts a cost-of-living index better than most major cities. Additionally, students in Georgia benefit from improved access to higher education — and opportunity — through the HOPE scholarship program and the HOPE Career Grant.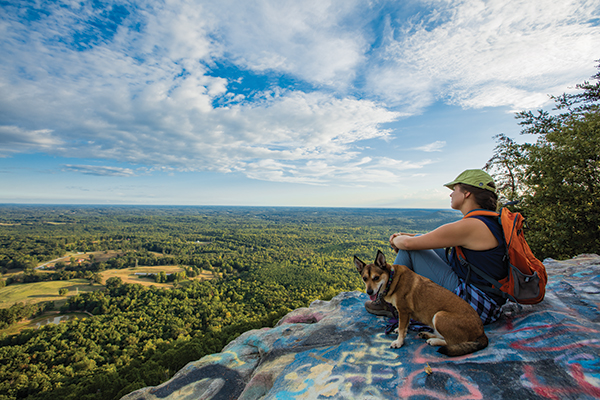 Located near Toccoa, Georgia, Currahee is the last mountain in the Blue Ridge chain. Named by the the Cherokee Indians, Currahee translates to "stand alone."
Photo courtesy Explore Georgia
Outside of numerous benefits like education, opportunity and affordability, Georgia offers an exciting and varied quality of life that can't be found anywhere else.
Great Outdoors
Georgia is a geographically diverse state. From the beaches along Georgia's Atlantic Coast to the Okefenokee Swamp, the state's many large lakes and rivers, anglers, boaters and paddlers find no shortage of places to explore. 
Home to 63 state parks and historic sites, Georgia's natural amenities offer a plethora of outdoor recreation opportunities, including camping, fishing, rock climbing, paddling and more. Every year, thousands of thru-hikers on the Appalachian Trail begin or end their hike at Springer Mountain in North Georgia. 
Gardening enthusiasts will enjoy a stroll through the Atlanta Botanical Gardens or Gibbs Gardens in Ball Ground. In addition, unique locations like Providence Canyon, Stone Mountain and Radium Springs Gardens are sure to inspire a curiosity for nature. 
Historic Legacy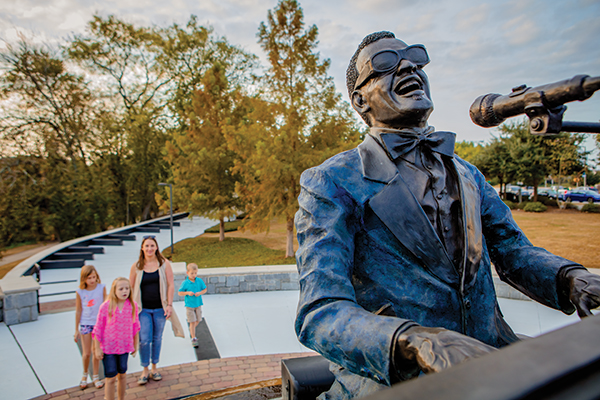 Holding court in the center of Ray Charles Plaza in Albany, Georgia is a life-size sculpture of the pioneering soul musician, seated at a Baby Grand piano which rests on a rotating pedestal.
Photo courtesy Explore Georgia
Georgia has been center stage for the civil rights movement from Civil War battlefields to the National Center for Civil and Human rights. The Dr. Martin Luther King, Jr. Trail takes visitors to more than 30 historic sites across the state where the civil rights leader rallied for change. In addition, sites like the Atlanta History Center and the Georgia State Railroad Museum point back in time to the people and industries that formed the state's foundation. 
Georgia is home to several Native American sites, including Fort Mountain, built between 500 BC and 500 AD, the rock-art site at Track Rock Gap, and multiple mounds located throughout the state. In addition, the small North Georgia town of Dahlonega is the site of the first U.S. gold rush. 
Play Ball!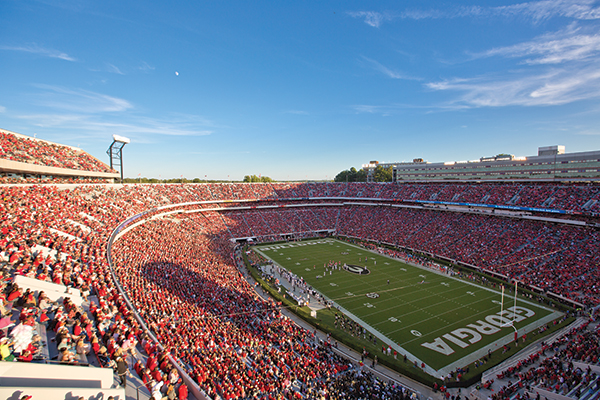 Sanford Stadium is the on-campus playing venue for football at the University of Georgia (UGA) in Athens, Georgia.
Photo courtesy Explore Georgia
Atlanta had the world's attention when it hosted the 1996 Summer Olympics, and Georgia's sports fans haven't passed the torch yet. The state is home to several major sporting events, including The Masters Tournament at Augusta National Golf Club, the NASCAR Cup Series, the Chick-fil-A Peach Bowl, and has been a repeat host for the Final Four and the Super Bowl. 
Arts & Culture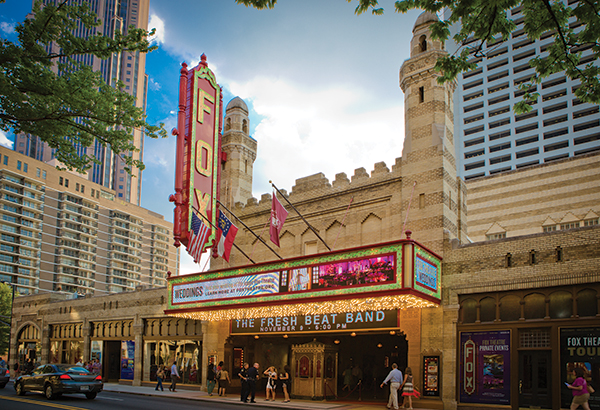 Built in 1928, Atlanta's historic Fox Theatre boasts 4,665 seats and hosts over 150 performances a year.
Photo courtesy Explore Georgia
Georgia's creative spirit is hard to miss. There's always something to celebrate in the Peach State, from folk art festivals to world-class music festivals like Shaky Knees, the Savannah Music Festival, and SweetWater 420 Fest. While more sophisticated palettes find new sights and sounds at the Woodruff Arts Center, home to the world-class Atlanta Symphony Orchestra, High Museum of Art and Alliance Theatre. 
Attractions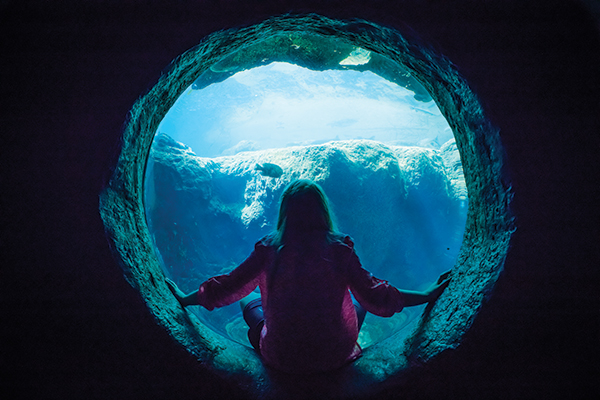 The Flint RiverQuarium is a 54,000 sq ft aquarium opened in 2004 and located on the banks of the Flint River in Albany, Georgia.
Photo courtesy Explore Georgia
Across the state, several attractions lure families to vacation in the state every year. Of course, no trip to Georgia would be complete without a day in Atlanta to explore the sights, including the World of Coca-Cola, LEGOLAND, the College Football Hall of Fame, the Georgia Aquarium, and Six Flags Over Georgia. 
Wine Country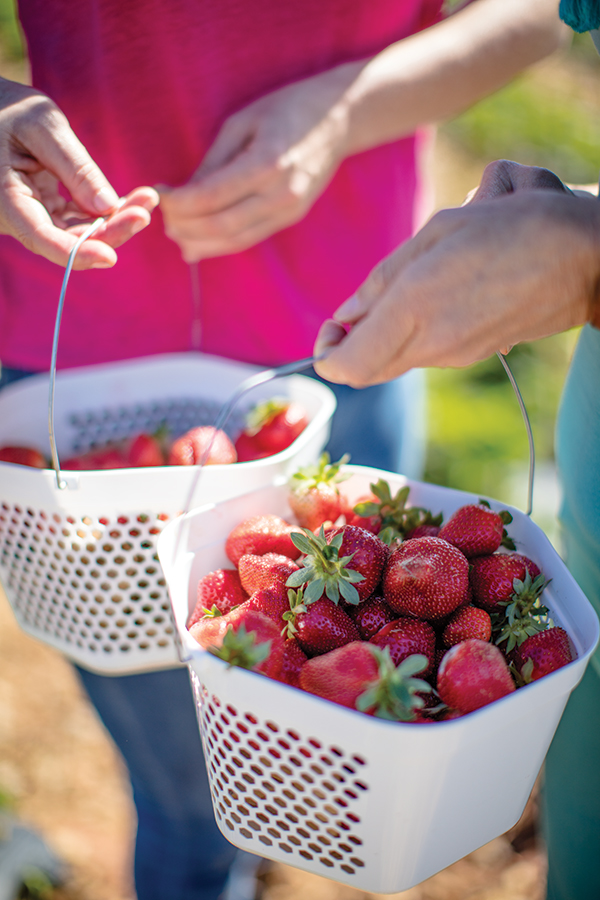 Hamlin Hills Farm in Forsyth, Georgia makes their own jams, jellies, picles, pecans, sauces, soaps, candles, and of course, wines and moonshines.
Photo courtesy Explore Georgia
The Peach State is making a name for itself in the wine industry. The state's cluster of wineries in the North Georgia mountains grows grapes in soil similar to Italy's Piedmont, creating award-winning sips and providing stunning backdrops. In addition, wine tours allow for a safe and enjoyable way to explore the region's many wineries and vineyards. 
Beyond wine, the state is home to a hopping craft beer scene. Breweries like Atlanta Brewing Company, SweetWater Brewing Company, Jekyll Brewing Co., Terrapin Beer Co. and Reformation Brewery have popular taprooms where visitors can taste their brews. 
Big Screen 
Georgia's film industry is booming and has given rise to an industry of film tours taking fans behind the scenes of their favorite movies. The Georgia Film Trail takes movie fans to famous big-screen locations like the front of the Hunger Game's President Snow's mansion, Forest Gump's bus stop, and the zombified studio of the Walking Dead. In addition, several cities, including Senoia, Savannah, Atlanta, Covington, Conyers and Woodbury, offer a variety of guided and self-guided movie tours.