A state synonymous with life science excellence is about to take an even bigger step toward biotech prominence with the launch of an innovation district that could bring $1.65 billion in income by 2035.
Called Rowen, this nearly 2,000-acre "Knowledge Community" along State Highway 316 between Atlanta and Athens is still in the early planning stages, but upon buildout it could be home to 18,500 jobs in advanced research and discovery.
The eastern Gwinnett County project could bring between 80,000 and 100,000 new jobs in total upon completion, according to county commissioners and project leaders. The comprehensive planning process for this unique development began in early 2021 and includes infrastructure design and studies for utilities and regional impact.
Rowen will have more than two miles of frontage on each side of Highway 316, and the companies based there will be focused on agriculture, medicine and the environment. Rowen will be drivable to more than 50 Fortune 1000 headquarters and 50-plus research and educational institutions. It is also located in a tri-market region of Atlanta, Athens and Gainesville that has a collective GDP of $405 billion.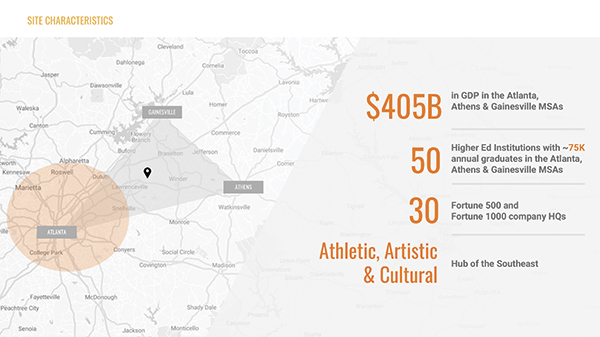 Rowen is poised to join a thriving life sciences hub that last year attracted multiple project locations that totaled nearly $300 million in capital investment and created 350 jobs. These firms joined more than 2,000 life sciences companies that already call Georgia home and employ more than 68,000 people in fields as diverse as biotech, biopharma, medical device manufacturing, research and development, animal sciences and cybersecurity.
Some of the more notable investments of the past year include the following:
RWDC Industries, a biotech firm that develops cost-effective alternatives to single-use plastics, invested $260 million to expand in Athens in Clarke County.
Medical device manufacturer and distributor Medline Industries Inc. invested more than $70 million to build a second distribution center in Georgia, this one in Bryan County.
Path-Tec, a healthcare logistics and supply chain solutions provider, invested more than $5 million to expand its operations in Columbus in West Georgia and create 
350 jobs.
IC Biomedical, a cryogenic freezer producer, opened an advanced manufacturing facility near Cartersville in northwest metro Atlanta.
Takeda, a global biopharma company, increased capacity of life-saving plasma-derived therapies in Georgia.
Georgia has been raking in the investments in life sciences for multiple reasons. A key driver is the fact that Georgia provides support for life science firms with special tax credits. Starting with the PPE tax credit introduced more than a year ago, Gov. Brian Kemp signed legislation that offers economic relief to companies that have created new jobs to manufacture PPE and other critical healthcare supplies. 
In May 2021, Kemp added to this relief by signing the Life Sciences Manufacturing Tax Credit, a bonus that is added to the Job Tax Credit for the creation of jobs dedicated to manufacturing pharmaceuticals, medicines, medical devices and equipment.
RWDC in Athens was one of the largest expansion projects in life sciences in the state over the last two years. RWDC is expanding into an existing 400,000-sq.-ft. facility near the campus of the University of Georgia. Founded in an innovation lab at UGA in 2015, RWDC has emerged as a global leader in developing cost-effective alternatives to disposable plastics. The company continues to invest in domestic operations in Georgia while expanding its international footprint from Singapore.
Medline was another biggie for Georgia. The company's new 1 million-sq.-ft. plant is being built in Belfast Commerce Park in Bryan County. The business park is a Georgia Ready for Accelerated Development (GRAD) site. The completion date for the project is this year.