It's been moving in fits and starts like one of the old locomotives that used to crisscross downtown Atlanta, but momentum is picking up now at Centennial Yards. The $5 billion project that UK-based architects Foster + Partners, working with Perkins + Will, is calling a "transformation of parking lots and former railyards into an experiential and inclusive mixed-use development." The architects revealed master site plans in July 2021 for the area sitting 40 ft. below street level called "the Gulch" that has more or less been an annoyance since the 19th century.
"We believe this project is a unique opportunity to stitch the fabric of this great city together with state-of-the-art buildings, amenities and public spaces that will transform this part of Downtown Atlanta," said Armstrong Yakubu, senior partner, Foster + Partners. "Creating a new 50-acre walkable, mixed-use city center, it is designed to welcome pedestrians, bring neighborhoods together and to be sustainable for generations to come. Furthering the city's wider renewal efforts, the new park adjacent to Five Points Station exemplifies our sustainable focus. We look forward to working with Centennial Yards Company on this rare opportunity to create a truly forward-looking plan for Atlanta."
One of the largest sports- and entertainment-anchored developments in the country, Centennial Yards is surrounded by attractions that include State Farm Arena and Mercedes-Benz Stadium — home to the Atlanta Falcons and Atlanta United — on the east, as well as MARTA rail and bus transit stations connecting the site with the rest of the city. The adjacent Castleberry Hill neighborhood has added thousands of residential units over the past decade. Centennial Yards is slated to add 12 million sq. ft. of ground-up residential, retail, office and entertainment space, with occupancy commencing in late 2023. 
The Centennial Yards Company is a partnership between an affiliate of CIM Group and a group led by Tony Ressler, and serves as the master assembler and developer of Centennial Yards. In May, the company welcomed back an Atlanta economic development veteran — former U.S. Economic Development Administration leader Brian McGowan — to lead the company as president.
"His experience and expertise are uniquely suited for this role, and we are confident he will assist us in attracting top corporations to the development," said Richard Ressler, co-founder and principal of CIM Group, "as well as create an exciting open-air space for dining, shopping and entertainment."
McGowan, fresh from a post as CEO of Greater Seattle Partners, previously served as the president and CEO of Invest Atlanta, EVP of the Metro Atlanta Chamber of Commerce and president and CEO of the Atlanta Beltline.
"I'm thrilled to come back to the city I love and lead a team who is building one of the most impactful urban renewal projects in America," said McGowan. "Centennial Yards already is one of the most important projects in Atlanta's rich history of being an international gateway city and home to many global brands — a spectacular place to show the world our city's unique culture and how Atlanta influences everything. Equally important is that Centennial Yards has begun to create new opportunities for prosperity and inclusion – creating new jobs and housing opportunities for Atlantans."
From Empty Hole to Full Hearts
A former Atlanta quarry has become a shining example of quality-of-life infrastructure. It's just one example of redevelopment sparking new economic development possibilities for companies and for the growing Atlanta talent base for generations to come.
The Atlanta Water Supply Program project in fall 2021 earned a Construction Risk Partners Build America Award presented to contractor PC Construction by the Associated General Contractors of America. "For the first time in its history, Atlanta will have a water contingency plan with the Water Supply Program," the judges stated. "Through the excellent innovative scope and implementation, this project has become a model for similar infrastructure projects around the world."
"Atlanta, our city on a hill, has become a national model for the kind of public-private partnerships that allow everyone the opportunity to achieve success."
— Atlanta Mayor Keisha Lance Bottoms, in her State of the City Address, March 2021
The 2.4-billion-gallon reservoir managed by the City of Atlanta's Department of Watershed Management increases the city's backup supply of water from three days to 30 days. But the water supply is just one part of the picture, as the filled quarry has become the centerpiece of Westside Park, which opened to the public in August 2021. The $44 million, 280-acre park supersedes Chastain Park as the largest green space in the city, and will serve as a catalyst for Westside neighborhoods as it connects Proctor Creek Greenway and the Chattahoochee River Corridor with the much-praised Atlanta Beltline. Attainable housing developments are springing up in the vicinity as if planted there by an optimistic urban landscaper.
I saw the beginnings of the project taking shape way back in September 2016 when a tunnel-boring machine set to begin drilling from the quarry through five miles of rock and earth to the Chattahoochee was ceremonially named "Driller Mike" after Atlanta-born-and-bred rapper, entrepreneur and community activist Michael "Killer Mike" Render, now 45, who showed up for the kickoff ceremony. He went Collier Heights Elementary School nearby and owns a barbershop not far away — an establishment he's since expanded to the SWAG Shop at State Farm Arena, home to the NBA's Atlanta Hawks, even as his Run the Jewels duo with Brooklyn-based El-P churns out stunning hip-hop.
"I'm from about eight intersections that way," he said that day, "so I knew how to get here pretty well. I have won a lot of trophies in my career, including a gold album, but never anything this ... big," he joked. "This is an equitable distribution of water. I drink it out of the tap, so that matters to me. I'm proud of Atlanta because we will always talk from a place of power."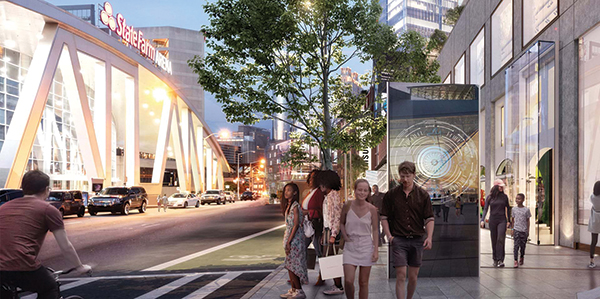 The $5 billion Centennial Yards development will transform "the Gulch" in downtown Atlanta into a 50-acre business, cultural, commercial and residential hot spot.
Rendering courtesy of Foster + Partners
In an interview between selfies with his fans, I asked Render about the quarry's legacy and future.
"Our story has built this country, built it for good and bad," he said of the Black experience in Atlanta and beyond. "But water is a conduit for life. The introduction of water and goodwill here can transform it. We wipe it out, but we don't forget."
One Startup Among Many
On nearly the same date the park opened, another celebration taking place not far away demonstrated the fundamental spirit of discovery and partnership that characterizes a new generation of companies finding Atlanta the perfect place to bloom. Atlanta Emerging Markets Inc. (AEMI), in partnership with Invest Atlanta, announced an investment of $1 million in Carbice Corporation, a startup founded by Georgia Tech professor Baratunde Cola whose thermal management material Carbice Carbon can be found inside electronics ranging from smart phones to satellites, and has even been tested on the International Space Station.
AEMI's funding will support Carbice's purchase of a critical piece of equipment for its newly leased, 20,000-sq.-ft. lab and manufacturing hub in the city of Atlanta. "The new equipment and facility will allow the organization to serve a larger customer base, retain and increase its local talent, and become an influential local employer and technology company in Atlanta," said AEMI. "The corporation currently has 14 employees and plans to increase this number by severalfold by 2024 by tapping into WorkSource Atlanta's pipeline."
An active participant in Invest Atlanta's Students2Startup program, Carbice also plans to partner with local universities and state colleges to create a nanomaterial manufacturing training program to help pre-qualify people for jobs at Carbice with higher pay. AEMI's investment in Carbice aligns with its mission to increase the access to capital for entrepreneurs, that are creating accessible jobs and social impact in historically disinvested neighborhoods.
As noted elsewhere in this guide, Atlanta's startup ecosystem ranks No. 26 in the world — ahead of entrepreneurial capitals Denver, Vancouver and Hong Kong — in the 2021 Global Startup Ecosystem Report released by Startup Genome and the Global Entrepreneurship Network, which studied 280 regions around the world. It's also the No. 1 city for Black entrepreneurs — with the second-most black-owned businesses in the nation after New York.
That's heady company. And it explains why so many companies are headed to Atlanta not just to change planes at Hartsfield-Jackson International, but to unpack their bags and stick around. 
Atlanta boasts 98,000+ students at 6 universities, with nearly 75% of graduates staying on to live and work in Atlanta.
Room to grow in charming Cobb County city
Powder Springs is Cobb County's fastest-growing city, with its 2020 Census population of 16,887 representing a jump of 21.1% over the previous decennial count. 
Though the city is growing, it retains its small-town character, all the while offering a number of amenities to young and old alike. Its new Thurman Springs Park featuring the Hardy Family Automotive Amphitheater in the heart of downtown is among the city's 105 acres of active and passive park land and has been the site of summer concerts, family movie nights, an inaugural seafood festival (returning for its second year in 2022) and more.
Downtown features multiple unique businesses, including a store offering many Georgia-made goods, bike rentals, snacks and more that operates inside what was once an antebellum general store — and with food truck hookups outside. Several restaurants have opened or remain set to open downtown in 2021, with a brewery in the works to pour for patrons in 2022.
These, along with several longtime tenants, represent a renaissance for Powder Springs' downtown, though opportunities to become a part of the commercial growth there and elsewhere within the city remain.
For those who need to travel for business or pleasure, Powder Springs enjoys proximity to Interstates 285 and 20, and is a short drive from Hartsfield-Jackson International Airport and numerous metro Atlanta cities and communities.