It has become fashionable for companies to tout their sustainability street cred.
In Greater Phoenix, they're not bragging about sustainability; they're doing it.
Salt River Project, a $3-billion, 5,300-employee company based in Tempe, has been delivering reliable, low-cost electric power and water to the people of Arizona for more than a century. But the hallmark of its second century is building a sustainable future.
SRP's leaders, which include publicly elected officials, are doing a lot more than paying lip service to sustainability goals. They're raising the bar to levels not seen in the electric power industry ever before and encouraging other companies to do the same.
With the groundbreaking SRP 2035 initiative, SRP is leading by example.
To promote ongoing stewardship of natural resources and ensure a sustainable power and water future for every one of its customers, SRP is pursuing these five 2035 sustainability goals: reduce carbon footprint; ensure water resiliency; modernize the energy grid; promote a sustainable supply chain and reduce waste; and engage with SRP's communities.
The chief architect of these goals, Kelly Barr, says that SRP 2035 is about making decisions through the eyes of future generations, balancing costs and impacts while providing reliable, sustainable water and power — for today and tomorrow.
"If SRP is successful with 2035, there will be significant benefits to the community," says Barr, associate general manager and chief corporate services and sustainability executive for SRP. "Climate change is an international issue but GHG emission reductions can have local impacts. When you take measures to reduce carbon, you also reduce conventional pollutants. The SRP 2035 initiative will ensure that fossil fuel pollutants will be reduced, resulting in cleaner air for everyone who lives here and for the businesses that are trying to attract people and customers here."
That's why SRP moved away from a single goal and toward a bundle of sustainability goals, says Barr. "Intel, Boeing, Arizona State University, the city of Phoenix and the city of Tempe all adopted this approach. We selected five pillars for SRP. We're proud of this structure. It allows every SRP employee to align with at least one of these goals, and it's good for business."
Top Priority: Making the Grid Smarter
Many of these benchmarks will result in radical transformation, Barr says. "We envision a time when most people will drive electric cars, most folks will have rooftop solar, and devices will allow energy to be sent back to the grid."
Chris Campbell, senior director of grid modernization services at SRP, says that grid modernization is "about how we adapt the grid to meet the challenges of the future. Our customer preferences are changing. A lot of this work centers around renewable energy resources, using solar as clean energy and battery storage systems. Electric vehicles will be new sources of load. This means we'll need more capability to manage the grid effectively, particularly as we see power flow across our network going in both directions."
As the penetration of renewable energy resources and electric vehicles grows, the dynamic nature of these resources will place more demand on the grid, says Campbell, and the electric utility provider will need to draw upon multiple solutions.
The Advanced Inverter Pilot by SRP is a good example of what is being done to prepare. It is one of the largest pilots in the country that integrates customer connected solar photovoltaic generation with utility real-time operations to optimize distribution voltage regulation, load shape and overall fleet operations. This will enable SRP to make renewable energy, including solar, more accessible and reliable for residential and business customers.
"Toward that end, we are developing a grid modernization road map," says Campbell. "We will be able to model and plan the network of the future, using advanced process control technology and analytics to help us understand how the grid is performing."
Collaboration Led to SRP's Five Pillars
Barr says the five sustainability pillars were not developed in a vacuum. "We conducted a very robust outreach process," she notes. "We interviewed a diverse set of stakeholders individually about these goals and asked them — are these goals consistent with where SRP should be headed? We are focused on being very responsive to our customers and the communities we serve."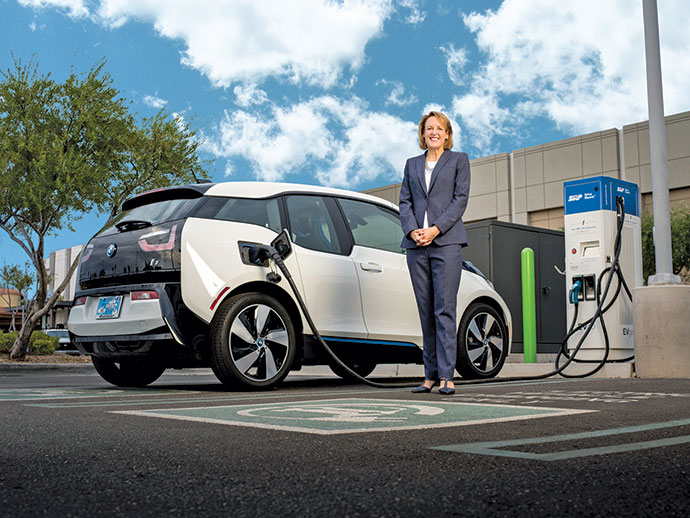 SRP's current Sustainable Portfolio Program — serving 20 percent of its retail energy requirements with sustainable sources by 2020 — served as the impetus for developing the 2035 initiative. "We are ahead of schedule," Barr says. "And we will ramp up SRP 2035 as we complete our current sustainable portfolio. With SRP 2035, we are one of the first utilities in the country to have such a significant and comprehensive bundle of sustainability goals."
She adds that "the utility of the future is very different from the utility of today. Our industry is undergoing such rapid change and the 2035 Goals help SRP to strategically prepare for these exciting opportunities."
---
This Investment Profile was prepared under the auspices of Salt River Project. For more information, contact Maaike Banning of SRP at 602-236-3548 or Maaike.Banning@srpnet.com. On the web, go to www.powertogrowphx.com.