Need a little help convincing the executive team at your company that it's time to move your firm to Greater Phoenix?
If your powers of persuasion aren't swaying enough, let the data make your case for you.
When you compare Greater Phoenix side by side with competing cities like Denver, Dallas, Atlanta, Houston and Austin, the Valley of the Sun comes out smelling like a rose.
According to the C2ER Cost of Living Index, Greater Phoenix wins out on multiple counts. For starters, the health care cost of living index for Greater Phoenix is just 89.0 (where the national average equals 100), while the index is 104.2 for Denver, 108.2 for Dallas and 109.1 for Atlanta.
Transportation costs in Phoenix are also cheaper than those in Denver and Atlanta, with Phoenix scoring 100.1, while Denver gets a score of 104.0 and Dallas nets 107.5.
Median apartment rent is also a bargain in Phoenix compared to the other cities. While Phoenix's median rent of $1,470 a month ties it with Dallas, it's cheaper than the rent in Atlanta ($1,480) and Denver ($1,800).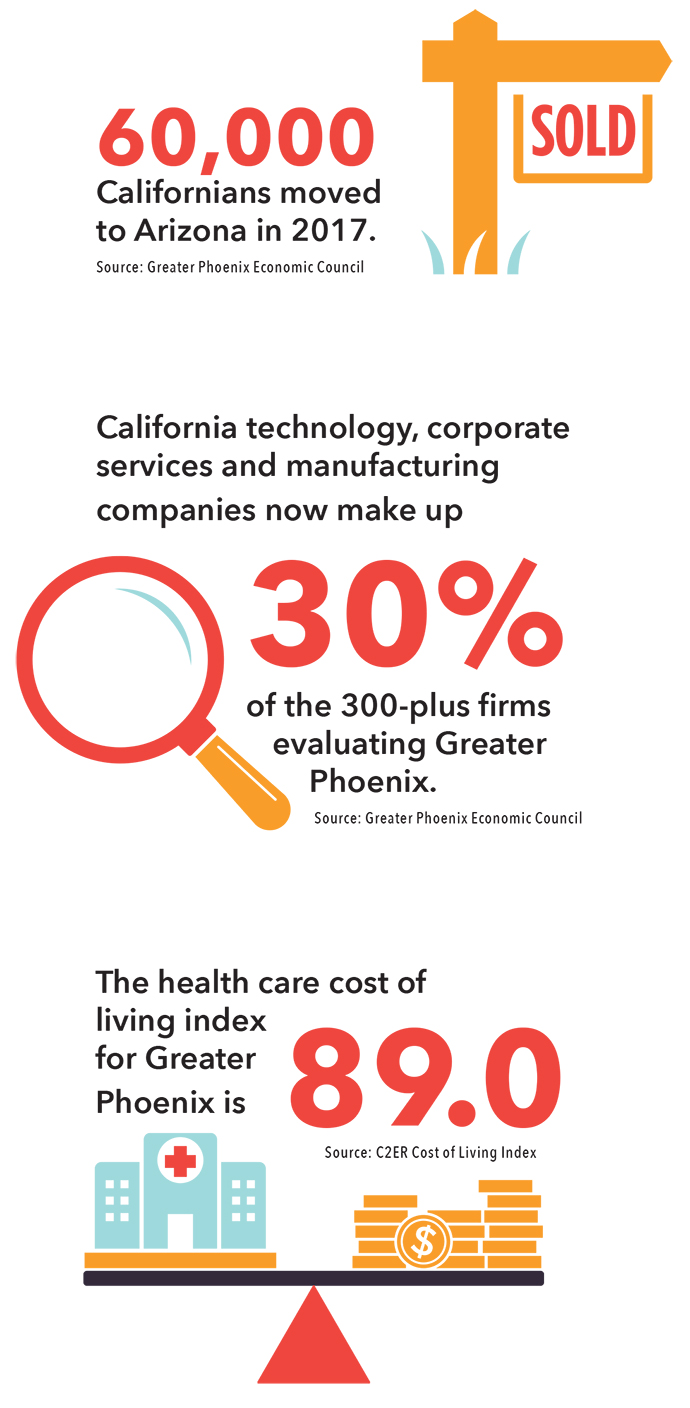 Numbers like these may explain why so many people are choosing to relocate to the Valley of the Sun. According to the U.S. Census Bureau, Greater Phoenix led the nation in average net population gain per year between 2013 and 2017, netting a gain of 42,869 new residents a year. The second-ranked community, the Inland Empire of Southern California, netted 35,022 residents per year, while third-ranked Houston netted 32,821. Dallas came in fourth at 30,639, while Austin finished fifth with 26,733.
Greater Phoenix also bests all comers in small business job growth — a key metric of a booming economy. In January of this year, the Phoenix metro scored the highest among all major U.S. metro areas in small business hiring, with an index of 99.84, topping Dallas, Tampa and Denver, which finished second, third and fourth, respectively. Atlanta came in eighth.
Small businesses are vital to the Phoenix MSA economy, as firms with under 100 workers make up more than 97% of the businesses in Maricopa and Pinal counties. At the state level, Arizona flexed its muscle as well, ranking second only to Tennessee in small business job growth. Arizona's index of 100.8 was just below Tennessee's 101.4 and topped third-place Texas.
With a robust economic performance and a relatively low cost of living, it's no wonder so many Californians and California companies are relocating to Arizona. According to the Greater Phoenix Economic Council, 60,000 Californians moved to Arizona in 2017, and GPEC has helped more than 200 companies, like Yelp, Charles Schwab and Weebly, make the move from California to Arizona.
GPEC launched a campaign last summer to convince even more Golden State residents to make the move. The campaign is called California Struggles, and it included wrapping 24 vehicles with a call to action to visit TimeToGetOut.io, a website that pitches Greater Phoenix as a location of choice for businesses and individuals currently residing in California. Those vehicles roamed the crowded roadways of Silicon Valley for 12 weeks last summer, and in fewer than six weeks, the Twitter account of @CAstruggles reached more than 13,000 followers.
A message to California residents on the website makes the pitch succinctly: "We know it's not an easy decision to move, but when you start to evaluate your situation, you'll see that in Greater Phoenix you can afford a home, have less than a 30-minute commute, enjoy 300-plus days of sunshine per year, and live a life where you stress a bit less."
Perhaps that's why today, California technology, corporate services and manufacturing companies make up 30% of the 300-plus firms evaluating Greater Phoenix, according to GPEC.