What's your first thought when you hear "Idaho"? You'll be excused if you answered "potatoes," Idaho's being world famous.As money-makers, though, spuds finish second to cows. According to the U.S. Department of Agriculture, Idaho's milk products, including cheese, yogurt, butter and cream, yielded some $2.4 billion worth of revenues in 2016, more than twice what potatoes brought in.

Idaho's 600,000 dairy cows produce an average of 40 million pounds of milk per day, according to the Idaho Dairymen's Association.
"In an average year, we'll represent nearly 40-percent of the total agriculture receipts in the state of Idaho," says Rick Naerebout, the Dairymen's Association's CEO. "As the dairy industry goes, so goes the rest of agriculture in Idaho."
Idaho's dairy cows are the highest producing in the nation, each yielding an annual average of more than 4,000 pounds of milk Naerebout credits what he calls "the perfect climate" for raising milk cows, with frigid winter cold to kill diseases and long growing seasons that provide for enough feed. Idaho ranks fourth among the states in dairy production, behind only California, Wisconsin and New York.
About three-fourths
of Idaho's milk comes from the bountiful "Magic Valley," the south-central region of eight counties anchored by picturesque Twin Falls and Burley. The Magic Valley boasts nearly 300 dairy farms and 13 of Idaho's 19 dairy processors, including Glanbia Foods, which processes 12 million pounds of milk per day. According to the University of Idaho's McClure Center for Public Policy Research, the number of dairy processing jobs in the Magic Valley has grown four-fold in 25 years and now accounts for 10-percent of all employment in the region.
---
"The U.S. dairy industry, in places like Idaho in particular, has a great opportunity to supply an increasing proportion of the growing global demand for dairy products."
---
Small wonder, then, that Chobani chose Twin Falls to build the world's largest yogurt factory, which opened in 2012, with an initial $750-million investment that has since ballooned by hundreds more millions. Chobani's latest investment is a $21-million addition to house employees, the company's research and development team and a business startup incubator. Hamdi Ulukaya, Chobani's founder and CEO, calls Twin Falls "the Silicon Valley of Food."
The smallish town of Jerome, a stone's throw from Twin Falls on I-84, is practically swimming in milk, with four major dairy-related expansions in 2018. Idaho Milk Products, which processes more than 1.1 billion pounds of milk a year in Jerome, launched a $26-million expansion to expand its processing capacity by one-third. The company converts raw milk into mild protein concentrate, milk permeate powder and cream.
Also in Jerome, Magic Valley Quality Milk Producers announced a $20-million expansion to branch out into processing, Commercial Creamery broke ground on a $7-million expansion and Jerome Cheese began work on a 14,000-sq.-ft. addition.
While the number of Idaho dairy farms has fallen over the last two decades, the 500 or so that remain are more productive than they've ever been. Following national trends, Idaho's dairy industry is gravitating toward fewer and larger farms, even as all remain family-owned.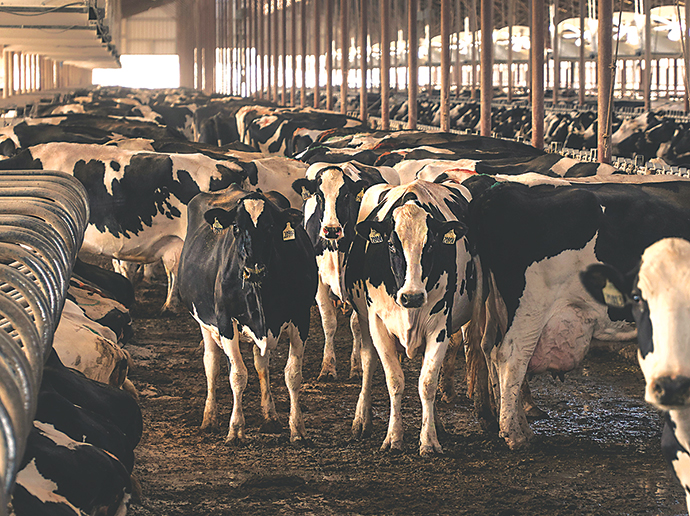 "A lot of our facilities are bigger, to where it's a viable business entity to be able to pass on from one generation to the next," says the Dairymen's Association's Naerebout.
With Magic Valley farms producing more milk than the region's processors need, Idaho exported $336 million worth of dairy exports in 2016, generating more than $735 million in economic activity.
"The U.S. dairy industry, in places like Idaho in particular, has a great opportunity to supply an increasing proportion of the growing global demand for dairy products," says Daragh Maccabee, Idaho Milk Products' CEO.
"As Idaho looks to grow demand for our dairy foods," says Maccabee, "exports will undoubtedly play an increasingly important role."