A rapidly rising technology company that made its fortune delivering innovative supply chain solutions to large public and private organizations around the globe is bringing one of its biggest projects to Southwestern Illinois.
St. Louis-based World Wide Technology is preparing to move into more than 2 million square feet of new space in the Gateway Commerce Center in Edwardsville just across the Mississippi River. The $115-million expansion is expected to create up to 500 new jobs in two new facilities being developed by Earth City-based TriStar Properties.
The deal is widely considered to be one of the largest industrial lease transactions in the history of Southern Illinois and all of metro St. Louis. It's also the latest evidence that the company founded by David Steward in 1990 is only just getting started. One of the largest African American-owned businesses in the U.S., WWT is headed by Steward, who Forbes says is one of five black billionaires in America and 745th on Forbes Billionaires list for 2019.
How fast is WWT growing? Consider this: a decade ago, the technology-driven solutions provider for logistics operations and supply chains registered $2.5 billion in annual revenue. In 2018, the company reported more than $10 billion in total revenue, and the growth is just gearing up. The project will increase WWT's total square footage from 1.6 million sq. ft. to more than 2 million, and in the next five years grow the number of employees at both facilities from the current 1,200 up to 1,700. The firm plans to move into the two new buildings in 2020.
The 300 to 500 new jobs will focus on technical engineering and warehouse logistics, so they will be high-wage positions. WWT's current facilities include spaces for distribution and warehousing, business operations and a best-in-class technology integration lab. WWT uses advanced supply chain logistics to reduce the risk, cost and complexity of customers' IT deployments.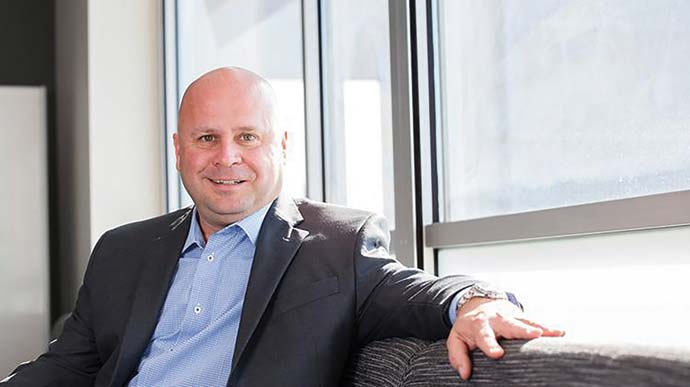 Based in a new headquarters facility in Maryland Heights, WWT employs more than 4,600 people and operates more than 2 million sq. ft. of warehousing, distribution and integration space in more than 20 facilities around the world. By locating in an Illinois Enterprise Zone, WWT is able to take advantage of incentives that give developers up to 100% of new taxes on improvements abated in years one through seven, 70% abated in year eight, 40% abated in year nine, and 10% abated in year 10.
For more insight on the site selection and expansion of WWT in Edwardsville, we turned to Tom Strunk, CFO of WWT (pictured).
Why did you select Gateway Commerce Center in Edwardsville for your current large-scale expansion project?
TOM STRUNK: WWT has been in the Edwardsville area for over a decade, and we've expanded several times. Based on lessons learned over the various expansions, we've determined that being able to redesign the flow of our new facilities and building out would make us more efficient and scalable versus staying in our existing location. The new facilities will take advantage of additional investments being made in our next-generation global platform systems to provide broader technical capabilities to customers and partners. For example, we will be expanding the size of our best-in-class technology integration lab, as well as optimizing the layout for material flow and improving inventory management and automation. The tax incentives on the property were also influential in our decision.
What operations of WWT will be housed there?
STRUNK: The new facilities will house approximately 1,700 employees who support WWT's Global Supply Chain operations. This also includes housing our Integration Technology Center. The facilities use advanced supply chain logistics to prepare IT equipment for shipment to our customers, helping our customers reduce the risk, cost and complexity of their IT deployments. WWT's investment in Edwardsville will further expand our capacity and ability to serve our customers domestically and around the world.
How many new employees will be added and on what timetable?
STRUNK: WWT is frequently recognized as a great employer, and we look forward to hiring 300 to 500 more employees at our Edwardsville facilities over the next five years. The jobs will range from technical engineering roles to a variety of supply chain roles including warehouse and logistics.
How would you describe the workforce that is available to WWT in the region?
STRUNK: WWT is proud to be recognized as a great place to work and this is an attraction for prospective new employees. This said, the labor market is tight at the moment, and competition for skilled labor is at a premium across the region.
Did you look at other potential expansion locations before choosing GCC in Edwardsville?
STRUNK: We explored multiple locations before selecting GCC. However, given our existing investment in the region, GCC made the best sense.
Do you plan to expand again in the future? If so, where?
STRUNK: There are no current plans of additional industrial space. However, it is something we will continue to evaluate as our company grows.
What do you like best about the business climate in the region?
STRUNK: Our roots are in the greater St. Louis metropolitan region including both sides of the river. Our region is a great place to live and work, which is very attractive to our employee base.