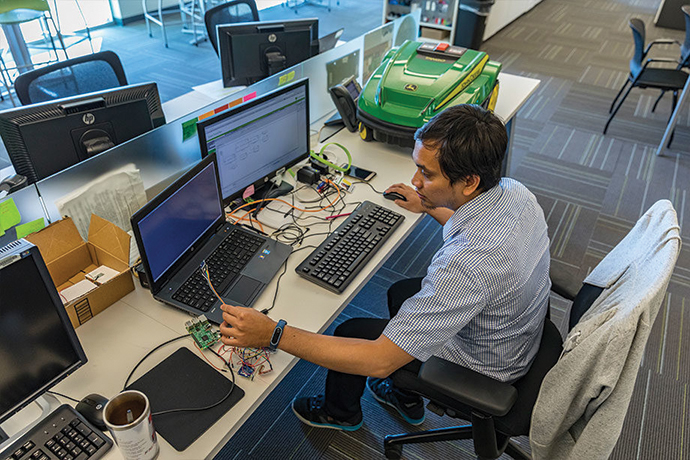 As the digital revolution transforms agriculture, the world's most powerful agribusinesses are planting stakes at the University of Illinois Urbana-Champaign. They're arriving in pursuit of that next big advance in how to grow things, one that is likely to be delivered from an exotic, emerging discipline such as nanotechnology, artificial intelligence or machine learning.
"Over the last five years, the ag sector has really transformed," says Laura Frerichs, executive director of University of Illinois Research Park, the 200-acre, on-campus technology hub that has sprouted research labs from such agribusiness stalwarts as Cargill, ADM, Bayer, John Deere, AGCO and Caterpillar.
"These companies," says Frerichs, "are embracing the need to have better software-driven, precision agriculture. It's a change in the industry that we've been well-prepared to serve. Nearly one-third of our companies now are Ag Tech, so it's our fastest-growing sector."
The marriage of agriculture to digital technologies plays to the strengths of the state of Illinois. As a national leader in corn and soybean production, the state boasts 27 million acres of farmland in production with crop receipts totaling more than $19 billion annually. Lured by Illinois' massive agricultural assets, its central location and capacity for doing business, a dizzying array of food and beverage titans have established global headquarters and research divisions throughout the state.
The chance to be at the center of such a fertile environment attracted Moline-based John Deere to Research Park, where the company operates a Technology Innovation Center focused on advanced technologies that include autonomous systems, mobile intelligence, advanced sensors and internet of things.
"Urbana-Champaign offers us a valuable cross section," says Mark Moran, the Center's director. "We have farm fields literally across the street, and yet we're just two hours from Chicago, which is a huge force in the whole food and beverage ecosystem."
Youth Movement
For Moran, the "cluster effect" of working among Research Park's 120 technology companies is a defining asset, as is access to top-notch academicians and the university's National Center for Supercomputing Applications. But most important of all, Moran says, is the mental and physical amperage delivered by graduate and undergrad students from UI.
"That's why you come to a place like Champaign," he says. "It's that student talent. They can move at a speed that's really amazing."
UI, says Frerichs, educates more engineers than any university in the country. It's one of only two schools in the country, she says, that boasts top-five computer science and crop science departments.
At Research Park, some 850 UI students work among the ag giants like Deere, as well as with medium-size firms and startups. With a full-time staff of 15 employees, Deere's operation is highly reliant on a rotating cast of up to 30 students and student interns at any given time. They include budding engineers, computer scientists and media and finance professionals. In Moran's telling, it's hard to tell who is being schooled by whom.
"In terms of keeping up to date with the absolute latest technology, our students are a phenomenal asset," he says. "It's an entirely different weapon and a much faster cadence. Figuring out how to leverage that student talent is the secret sauce to being here in Research Park. It's what might set you apart from other research centers within your organization."
It's a refrain heard with telling frequency. Cargill, the world's oldest and largest agribusiness, is one of Research Park's newest tenants, having cut the ribbon on an Innovation Center in 2020.
"We are on a constant search for new innovations and new talent, whose fresh thinking can help us bring new technologies to life," says Keith Narr, vice president of Cargill's digital labs team. "With an impressive engineering and computer science program, the University of Illinois is an ideal partner to spur the growth of innovation in our digital business."
Nurtured from the Ground Up
The biggies, the Cargills, Deeres and ADMs represent but part of the story. Enterprise Works, a tech incubator at Research Park, has launched more than 200 startup companies since opening in 2003. Granular, a farm management platform developed at the Park, was acquired in 2017 by Corteva Agriscience for $300 million. The following year, Nutrien purchased agtech startup Agrible for $63 million. In all startups at the Park have raised more than $1 billion for their nascent enterprises.
EarthSense, a startup co-founded in 2017 by UI agricultural engineer Girish Chowdhary, is one of Research Park's current crop of rising stars, having developed a 30-lb robot designed to automate in-field plant trait collection. The robot, called TerraSentia, navigates fields by sending out thousands of laser pulses and collects data related to plant growth and overall health. To date, 80 robots have been deployed, and EarthSense plans to produce more than 100 this year.
"We're enabling how we create the next generation of robotics and artificial intelligence specifically for agriculture, rather than having them happen somewhere else and basically trickle down," says Chowdary's fellow co-founder, Chinmay Soman.
"The Urbana-Champaign ecosystem has been a critical piece of how and why we've made this rapid progress," says Soman. "We have a very strong ability to reach out to our potential customers and get their immediate, honest and insightful feedback and to take that feedback and immediately use it toward a solution that becomes commercially viable."