A state that produces over 170,000 new business starts a year may soon be generating even more after passage of key small business legislation over the summer.
Senate Bill 2531 will help up to 400,000 Illinois small business owners save thousands of dollars each year in federal taxes. Pass-through entities, such as S-corporations and partnerships, will now be allowed to bypass the $10,000 cap on the State and Local Tax (SALT) deduction that was created by the federal Tax Cuts and Jobs Act of 2017.
The legislation comes after Illinois registered yet another banner year for small businesses. In 2020, Illinois recorded the largest percentage increase (44.92%) from the previous year for new business starts in the Midwest and the fourth largest increase in the U.S.
---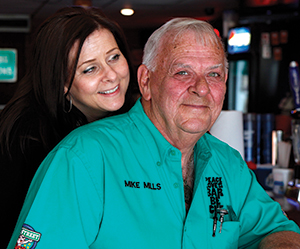 "I met with SBDC, I showed them all my numbers, and asked them if it was a viable business. That was extremely helpful when going to my bank and securing funds for it." 
— Amy Mills, Owner, 17th Street Barbecue, shown with her late father and 17th Street Founder Mike Mills
---
Illinois annually operates one of the largest networks of Small Business Development Centers in the nation. It also has 9 International Trade Centers which assist small businesses with exporting. Last year set new records for SBDCs in Illinois. In 2020, the Illinois SBDC Network recorded the following impacts:
More than 41,000 small businesses served overall — more than double the number served in 2019.
More than 6,700 minority owned businesses receiving services — 28% increase over last year.
More than 8,000 women-owned businesses receiving services — 8% increase over last year.
Over 12,400 businesses located in downstate communities — 40% increase over last year.
Illinois also adopted several innovative methods for helping its many small business owners cope with COVID-19. For example, the Pritzker Administration developed a Community Navigator model to connect Illinois small businesses in vulnerable communities with technical assistance and resources during the pandemic.
In May 2021, Governor Pritzker announced plans to expand the program, providing an additional $9 million in a Community Navigator Notice of Funding, based on the previous year's success. Last year, over $3 million was invested in the community navigator outreach programs and technical assistance services.
The work continues as Illinois prepares to leverage $9 million to help shepherd ARPA funding and ensure that federal stimulus is distributed equitably to support the growth and recovery of all Illinois communities. 
The Sweet Taste of Success
SBDCs have many success stories to share. One of the very best is 17th Street Barbecue in Murphysboro, Illinois. Amy Mills is owner of the small business chain that first opened to the public in 1985 and now has multiple locations.
"My dad used to wake up to the smell of smoke. He could smell it from his crib and that meant that his dad would be outside barbecuing," said Mills of her late father, a barbecue legend who passed away in late 2020. "He was in barbecue his whole life in some form or fashion, along with my grandfather, so it is definitely a family business."
With expansion over the years has come a need for creating more products. That's why the firm recently opened a new sauce factory in Murphysboro. The $1.25 million capital investment also includes a coffee shop with breakfast and lunch options. 
Mills worked on the project for several years. After writing a business plan, she turned to the Illinois Small Business Development Center at Southern Illinois University for help with running the numbers. "I met with SBDC, I showed them all my numbers, and asked them if it was a viable business," she said. "That was extremely helpful when going to my bank and securing funds for it."
Mills now passes the gift along to others through a series of motivational messages called Sunday Sermons. These simple messages have become popular among the barbecue community and their many followers. It's yet another reason why hungry customers keep coming back to Southern Illinois and 17th Street Barbecue.