It would be almost impossible to know the true strength of something if weren't tested. In Illinois, the state's many strengths — diversity, location, talent and infrastructure — prove to be immeasurably valuable to the state's business climate. While much of the world continued to grapple with the effects of COVID-19 in 2020 and 2021, Illinois continued to attract new investments to the state. 
In a recent interview, Acting Director of Illinois Department of Commerce and Economic Opportunity (DCEO) Sylvia Garcia outlined how the state recovered fromthe global pandemic and continued to develop its world-class business climate in the midst of challenge. 
As companies consider North American locations, what would you like them to understand about doing business in Illinois?   
Sylvia Garcia: Illinois is and always has been an economic powerhouse in the United States and in the global economy. Illinoisans have a long legacy of playing to our strengths and leading the nation in the sectors where we thrive — from tech to transportation, agribusiness to energy, manufacturing to health and life sciences. It's our diverse talent and economy here that Illinois continued to shine as an attractive destination for companies around the globe.  
Even in the midst of a global pandemic, Illinois has been focused on securing long-term economic investment to benefit our people, our businesses, and our communities. This includes investments centered around workforce training, infrastructure and quality of life — all of which matter to Illinois companies and those who are looking to do business here. 
Some of the highlights of our 2020 programmatic investments include the following:
Launched new programs to incentivize investment in key economic sectors — including the data center tax credit program, and for life science a first of its kind wet lab capital program 
Doubled down on workforce training — including an expansion of the Apprenticeship Illinois training program, the creation of downstate manufacturing training academies, and creation of new programs in partnership with USDOL to help dislocated workers rejoin the workforce 
Continued deployment of capital investment to lay the foundation for future growth in our state — with over $9 billion deployed since 2019 
Provided unparalleled access to small business emergency relief programs like the $290 million Business Interruption Grant program 
Reactivated our tourism attraction efforts to simultaneously make travelers feel safe and welcome here as we work to put Illinois back on the map as a top global destination. 
Thanks to our continued investments, we are outpacing the East and West coasts on being the most sustainable state for development. We continue to attract major investment from leading companies — with rapid growth in tech and data centers, advancements in manufacturing, and continued expansion in the electric vehicle industry. Overall, Illinois had 330 companies announce their plans to expand here in 2020 — with some exciting developments already on the horizon in 2021.  
How would you describe Illinois' primary advantages to a company considering the state?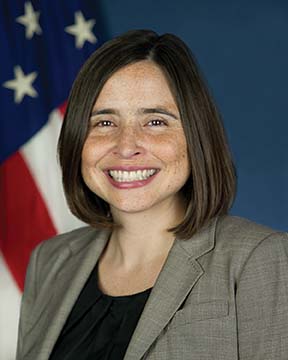 Sylvia Garcia
Garcia: DCEO and the State of Illinois are committed to marketing the unique strengths found only here in Illinois — our talent, our infrastructure, our location and access to global markets, and the diversity of our communities and our economy. Through the Governor's 5-year economic plan, we are committed to harnessing these resources to expand job opportunities, close the equity gap, attract new companies, and expand capital development across the state. In Illinois companies can count on the following core strengths: 
Talent: Among the state's greatest assets is its talent pool of nearly 6.5 million people—about a third of whom hold a bachelor's degree or higher. This highly educated workforce is supported by more than 200 higher education institutions. 
Annually, more engineers graduate from University of Illinois than Caltech, MIT and Stanford combined. 
Transportation and Infrastructure: Conveniently located in the center of the country, Illinois companies benefit from a world-class transportation and logistics network, reliable, low-cost energy, abundant water and natural resources. The state's world-class infrastructure, which includes eight foreign trade zones and five international airports, allows international companies to reach their global customers and operations seamlessly. Illinois' 19 port districts offer many companies direct links to the Atlantic Ocean, Great Lakes, and Gulf of Mexico. Illinois is also the only state in the nation with service from all 7 Class-1 railroads in the country, allowing goods to move in all directions across not just the U.S., but all of North America. In fact, roughly 25 percent of all US freight trains pass through Chicago at some point on their journey. 
Research & Development: Illinois has a history of innovation which continues today thanks to a robust digital infrastructure, R&D at top universities and national laboratories, and venture capital networks. Illinois is home to 12 research universities, with more than $2.7 billion in academic R&D in 2019.  
Leading exports: Illinois is a leading global gateway, with its convenient geographic location and proximity to airports, railways and shipping ports helping companies move their products to over 200 countries around the world. According to rankings by the U.S. Department of Commerce, Illinois is now number four in the nation for exports. With exports valued at more than $58 billion in 2020, Illinois has moved up from its number five spot, replacing Washington as the fourth largest exporter in the country, and maintaining its spot as the largest exporter in the Midwest. 
2020 brought some unprecedented challenges — what lessons did DCEO learn and apply during the pandemic? How will this help the organization and Illinois businesses in the future?  
Garcia:  Thanks to the Pritzker administration's commitment to increased availability of testing, and early and widespread access to vaccines, Illinois has led the way on a metrics based approach to safely reopening the economy. Right from the start of the pandemic, Governor Pritzker directed his administration to prioritize making sure that communities were safe and had resources to drive economic recovery.  DCEO has led these efforts for the state by assembling a comprehensive recovery model that leverages state and federal dollars to significantly expand small business relief, workforce training, childcare, utility assistance and disaster relief. This includes packaging thousands of grants to help businesses and local governments gain access to vital emergency relief dollars. Overall, DCEO has launched over $1 billion in business and community assistance programs, with additional programs in the pipeline to guide our long-term recovery post-pandemic.
Building on the success of these initial emergency relief programs, the Governor and I are now prioritizing the deployment of economic recovery programs to help our businesses and communities build back better over the long-term. The passage of the State's FY 22 budget lays the groundwork for a $1.5 billion economic recovery program put forward by the Governor — with the first programs set to roll forward in summer 2021.
One example of how Illinois has led in its COVID-19 response is through the use of community navigators — a grassroots approach to reaching small business owners in hard to reach communities. Our investment in this approach was not only heralded by the Biden-Harris administration as a best practice approach, but it contributed to close to $90 million in grants provided to businesses owned by people of color as a part of Business Interruption Grants (BIG) program. With an unprecedented amount of emergency federal relief provided through the federal American Rescue Plan Act (ARPA) — Illinois has taken steps to double down on the community navigator approach in 2021.
Through our investments, we're working to reach as many businesses around the state as possible with funding to assist with the economic recovery. The Governor and I are laser focused on supporting a strong recovery for our small businesses which are crucial to Illinois communities who depend upon businesses for jobs, goods and services, economic vitality and quality of life. 
What are you doing to help attract foreign investment?  
Garcia: Foreign Direct Investment is a critical component to the success of the Illinois economy. Illinois is home to over 2,000 foreign-owned businesses which employ over 375,000 Illinoisans.  Some of the top FDI employers are U.K., Japanese, Canadian and German owned firms. 
Through Illinois' strong global network, consisting of 6 regional offices located in Belgium, Canada, China, Israel, Japan and Mexico the team promotes Illinois' location; infrastructure; workforce and quality of life, and highlights Illinois' strength as the 18th largest economy in the world to investors and strategic partners.  Illinois values the strong bonds it has forged around the world over the years and its Office of Trade and Investment (OTI) continues to build relationships between Illinois and our global partners — from governments to industry leaders — all who share a common interest in supporting company expansion into the North American market. 
OTI plans and participates in numerous programs around the world, and its foreign office team offers council and support to companies on theirexpansion plans, in order to make the process seamless, and continues to stay engaged to assure that companies grow and succeed in Illinois.