E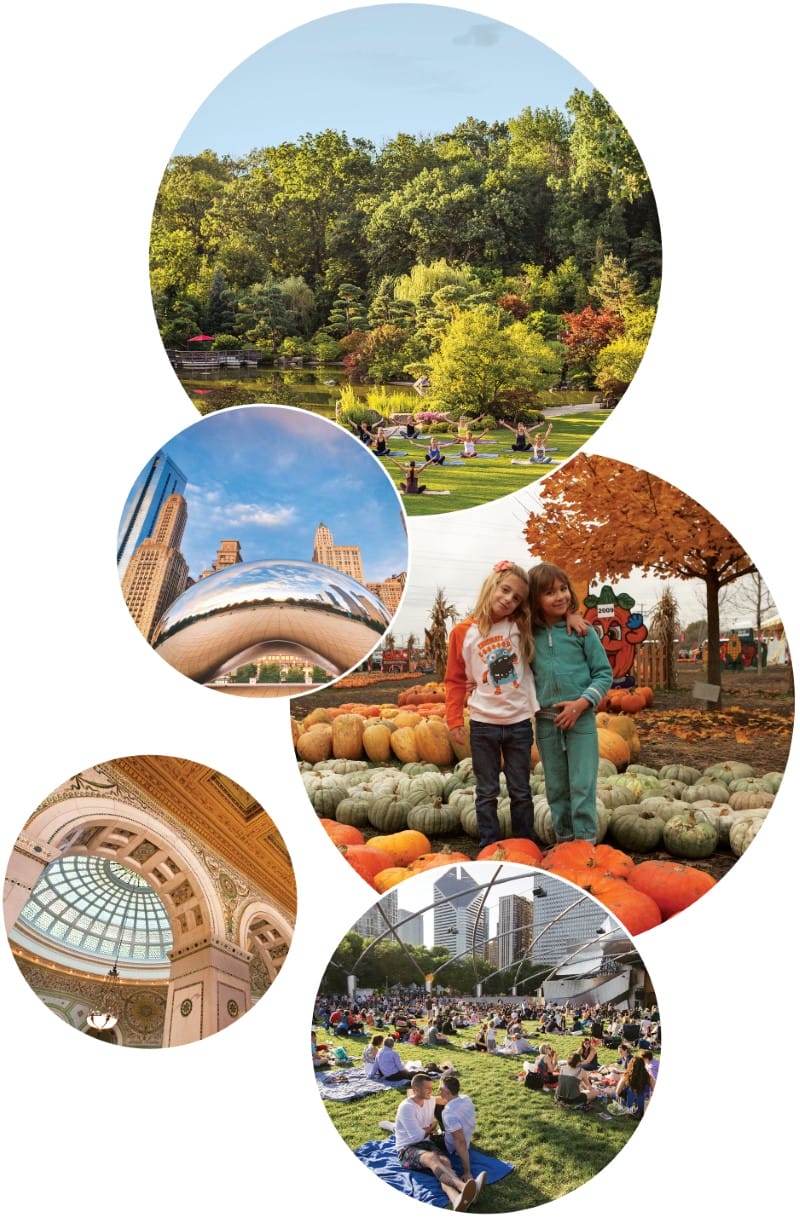 nsconced as it is in the heart of the country, Illinois is the melting pot of American legend. Its people, commerce and culture personify the nation's grand ambitions, vast diversity and enduring traditions. Illinois, in short, is a mirror of America. Here are five reasons why life is good in Illinois.
State of Opportunity
Illinois combines the nation's fifth-largest economy by GDP with the offer of a surprisingly affordable lifestyle. Average household income in Illinois is nearly 10% above the national average, and five cities in Cook County are among the 100 richest in the country. At the start of 2022, the state's minimum wage increased to $12 per hour and will continue to rise each January 1 until it reaches $15 per hour in 2025.
The costs of groceries, housing, transportation, healthcare and utilities all are less in Illinois than the national average, as is the overall cost of living. According to livability.com, Bloomington, DeKalb, Naperville, Belleville and Springfield are Illinois' five most
affordable cities, with Bloomington
ranked among livability's 10 Most
Affordable Cities in the U.S.
Welcoming Arms
A beacon of diversity and respect, Chicago is home to a radiant international community that lends itself to the food, music, dance, film, art and unmistakable zeitgeist of the city. With nearly 20% of the population hailing from outside of the U.S., Chicago's culture becomes a more electrifying melting pot with each passing year. La Villita, Chinatown, Little India, Edgewater, Little Italy and Pilsen are hometown staples for residents that offer acute cultural exchange to visitors.
In a delight to the senses, Illinois regularly gets swept up in multicultural festivals: The Jollof Festival, Bantu Fest, the Asian American Jazz Festival, and that's only Chicago in August. Springfield hosts Black History Hikes alongside oyster festivals, St. Louis has thew Brewed Arts Festival and Donuts Fest. Champaign a drag cookout, Centreville a reggae roots revival, and Centralia a chalk festival. Wherever you go in Illinois, you will find a variety of people and events to engage in.
Great Games
George Halas, Ernie Banks, Dick Butkus, Mike Ditka, Walter Payton, Michael Jordan. To live within shouting distance of Chicago — and that would approximate the broadcast range of the late Harry Caray — is to enjoy the sublime pleasure of having real heroes to root for. And to exalt in a community steeped in legends of rivalry and hard-won glory yet steeled by heartbreak, too often laid low by fate and the awful lords of dark comedy.
Chicago balladeer Steve Goodman imagined staging his funeral at Wrigley Field, famous home of the immortal and immortally star-crossed Cubbies: "Have Keith Moreland drop a routine fly/Give everybody two bags of peanuts and a frosty malt/And I'll be ready to die." But those Windy City heroes. Is it coincidence that the distinct trait among them is uncommon grit, perhaps best personified by Michael Jordan, the Bull who willed his team to six NBA championships, as depicted in the Netflix series, "The Last Dance"? Another riveting sports memoir, 1971's "Brian's Song," remains a boundary-breaking look at the friendship between the Bears' Gayle Sayers and Brian Piccolo, a Black superstar from Kansas and his wise-cracking understudy from Massachusetts. Everyone who watches it cries, even a half-century later.
Good Eats
Whether you prefer the esteemed staple of Chicago's Prime & Provisions on North LaSalle Street (top the Michelin Guide's list of top Chicago steakhouses), or you're one to get excited to try Kasama, the Filipino fusion named one of 11 best restaurants in America (eater.com) — Chicago has it all.
If you're eager to escape the city, you can find the historical winner of the "Superbowl of Swine" at 17th Street Barbeque in Murphysboro or Marion, close to the southern tip of the state. For those looking for an unparalleled, luxurious experience, you can glamp at Camp Aramonia in Tonica, Central Illinois. There, Chicago chef Cleetus Friedman prepares farm to table meals and curated wine tastings along the Vermillion River.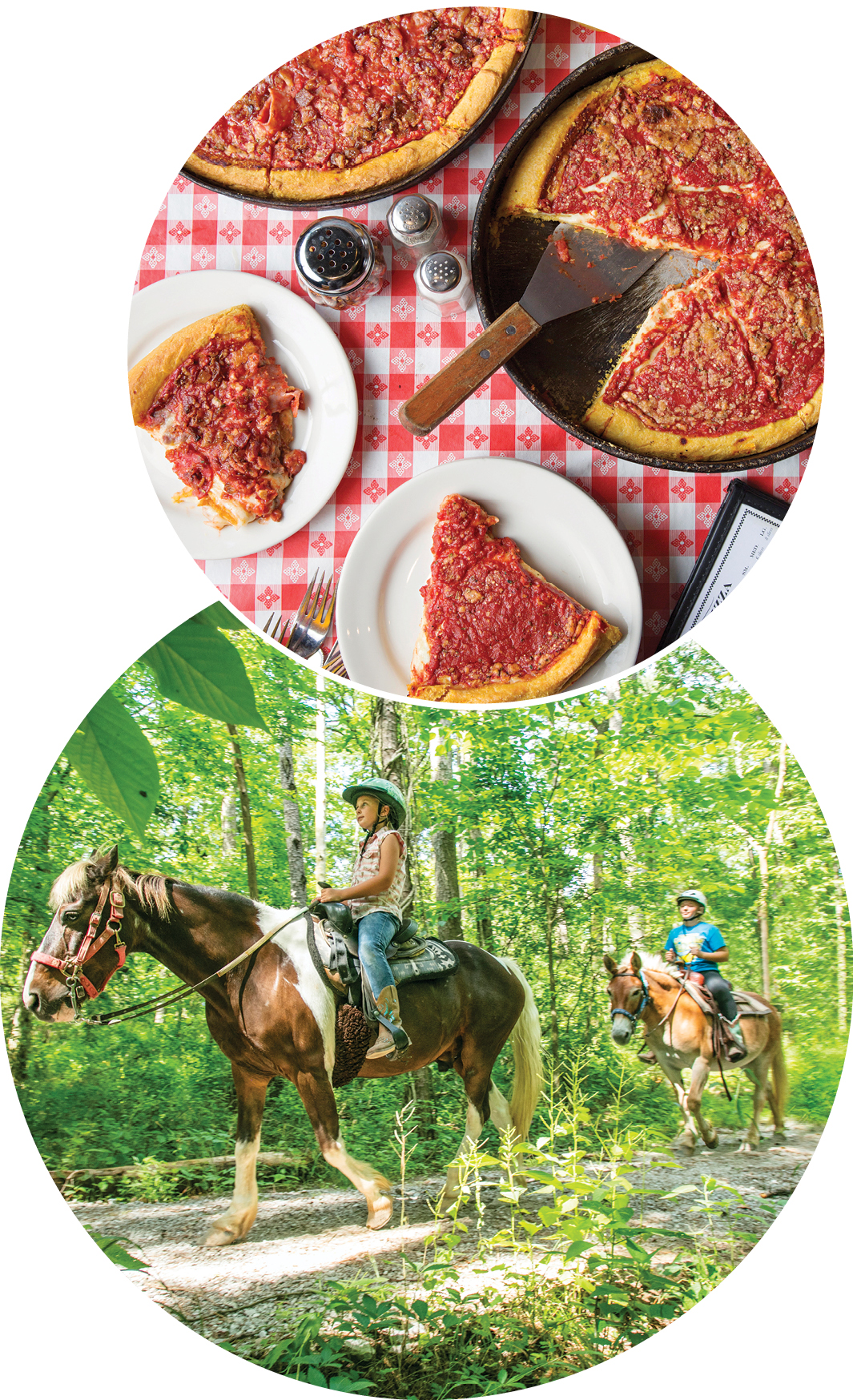 Country Life
Illinois farmland covers 27 million acres, about 75% of the state's total area. The state ranks sixth among states from agriculture revenues, with more than $20 billion in 2020, nearly 5% of the U.S. total according to the USDA. The state's 72,000 farms produce hefty volumes of corn, soybeans, alfalfa, canola, beef and pork.
Some 80% of all the pumpkins produced commercially in the United States are grown within a 90-mile radius of Peoria. The Morton Pumpkin Festival draws more than 75,000 people each September, and Halloween mazes and festivals are a memorable part of autumn life throughout rural Illinois.
Small-town life in Illinois offers quaint Main Streets, historic homes and a Norman Rockwell pace of life. Travel blog Megan & Aram taps Woodstock, where "Groundhog Day" was filmed, as tops among 16 must-see small towns in Illinois, followed by Princeton, St. Charles and Ottawa.