T
o gain a better understanding of the role innovation plays in transforming the Illinois economy, we turned to Dan Seals, CEO of Intersect Illinois, the State's public-private economic development organization. From electric vehicles to IT and AI, he's leading the charge in communicating the state's key assets to expanding businesses.
What is Illinois doing to prepare its workforce and infrastructure for the coming wave of electric vehicles?
DAN SEALS: Electric vehicles really play to our sweet spot — our legacy of manufacturing and innovation in Illinois. The legislation — the Reimagining Electric Vehicles Act — and other factors are serving to draw suppliers here. Many suppliers for the EV sector are here already. On the innovation side, our universities are producing a pipeline of talent — more engineers every year than MIT, Stanford and Caltech combined. People used to fly engineers in from California to Illinois. They don't do that anymore because they don't have to. The talent is already here.
Illinois has long been ranked as a national leader in technology. What are some of the factors that give Illinois an edge on its competition in this sector?
DAN SEALS: We are a top 10 state for IT jobs and GDP based on IT jobs. That is a built-in advantage. We see that bear fruit in a lot of ways. Twelve tech firms had one billion dollars in valuation or greater in Chicago alone last year. Universities play a big role. Our graduates are producing a lot of fascinating things. YouTube, plasma screens, the first search engine — all began in Illinois. Today, we are seeing integration across industries. Legacy companies are investing in startups that are helping to move things forward. A good example is John Deere, based in Moline. They have backed a company called ClearFlame that is making heavy-duty engines that burn cleaner. The Farmers Business Network is helping farmers figure out ways to reduce market hurdles. Having that culture of innovation helps.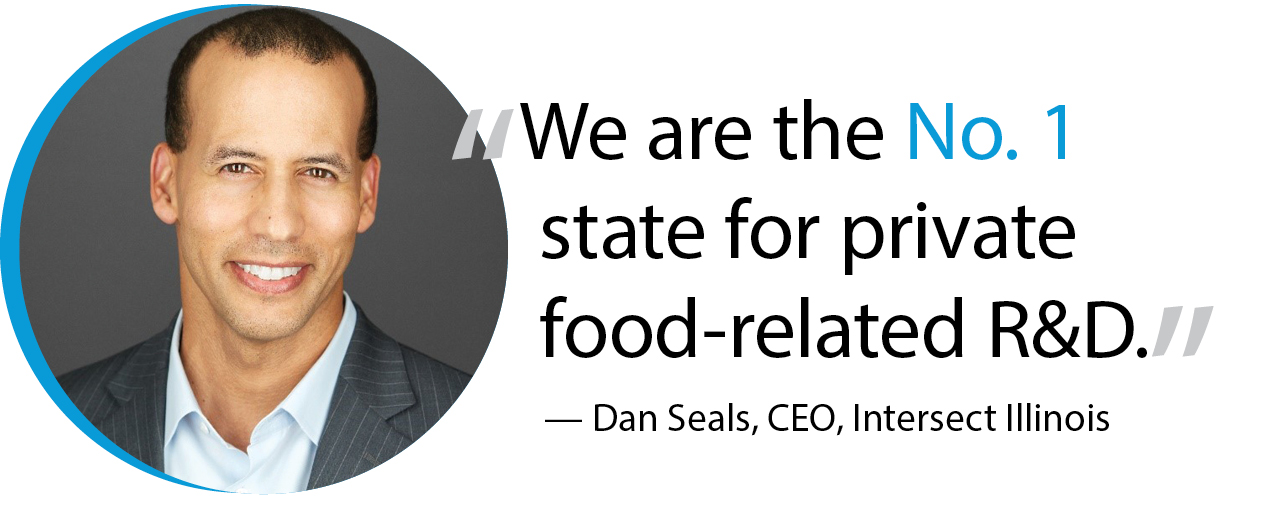 From ADM and Caterpillar to ConAgra and John Deere, Illinois has long been associated with the business of farming. Where is Illinois headed in the next frontier of agribusiness?
DAN SEALS: First, on ag, we are seeing more activity around industrial fermentation and industrial biotech. This is the cutting edge of Illinois. This is an emerging industry. Second, from these basic food crops, we are seeing major advances in food at companies like McDonald's, Kraft and others. We are the No. 1 state for private food-related R&D. These companies are coming up with a lot of novel uses. Case in point is the development of new plant-based proteins. We are seeing different products that are meant to be substitutes for meat products. Another area is the use of plant-based substitutes for other things such as plastics. Natural Fiber Welding in Peoria is using clean technology to increase the performance of plant-based textiles. Another Illinois firm is developing sustainable jet fuel.
---
12.7% of the Illinois' economy comes from manufacturing, ranking the state 4th in the U.S.
Source: Intersect Illinois
---
What are some factors that give Illinois a big advantage in transportation and logistics?
DAN SEALS: We are at the center of the country. If you have to cover the whole country, you will want to have a presence in Illinois. That is why so many international businesses choose Illinois. Illinois stands out because all seven Class I
railroads connect here, and we have the third largest international highway system. We've seen logistics firms move into Illinois in force — Amazon, etc., anyone who has to ship something. Some $7.7 billion has been raised by logistics startups in Illinois. We've seen 336 VC deals in the last decade. Our advantage is also seen in things like cargo airports. Rockford is top 15 in the nation in cargo airports.
What is your state doing to maintain its dominance in advanced manufacturing? Do you have any success stories you can share?
DAN SEALS: We have about 12.7% of our GDP in manufacturing — fourth largest in the U.S. We're constantly investing in manufacturing. Our community colleges create customized programs to prepare a pipeline of talent. We started to pivot our training programs to EVs. An example is Heartland Community College. That is an essential part of what we're doing. You need eight weeks of practical training to start in a job in an EV factory. We have community colleges that have become very nimble. The other thing is that we have legislation in Illinois that produces strong incentives to attract manufacturers. The Microchip Bill was passed to bring more chip production to Illinois. Many semiconductor companies are now looking at Illinois as a place to set up shop.
What are some of the biggest breakthroughs in medicine and medical technology that are emerging from Illinois these days? Which subsectors of healthcare and med-tech do you expect to grow at the fastest rate in Illinois over the next decade?
DAN SEALS: Life sciences is another key focus for us. Pharmaceutical manufacturing and medical equipment manufacturing are 1.8 times the national average here. When life science companies are interested nationwide, they are usually interested in Illinois. It is much more affordable to work here than it is to work on the coasts. A lot of built-in talent is here due to Abbott Labs, Baxter, Cardinal Health, etc. Look at Fulton Market in Chicago's West Loop. It is exploding with life science companies and health-tech companies. IT is combining with healthcare companies to create new health-tech companies. Look at Matter. Great stuff is coming out of that health-tech incubator.
How does energy give Illinois a strategic business advantage?
DAN SEALS: The cost of energy is cheaper here. Other states are asking people to conserve energy. Plants are getting more energy intensive. Our energy costs are among the lowest in the country. You can source from sustainable resources here too. And we have been trying to quantify the value of water. The need for water is increasing every year. We are sitting on the largest freshwater resource on the planet: the Great Lakes. Semiconductor plants need a tremendous amount of water to produce. We have all the pieces that they need. Based on the interest we are receiving now, we expect to have good news to share soon.
---
$7.7 billion has been raised by logistics startups in Illinois.
Source: Intersect Illinois
---
Give me your one-paragraph pitch to a CEO in another state on why they should expand in Illinois.
DAN SEALS: Illinois has the skilled workforce, central location and world-class infrastructure that your business needs to thrive. We have the variety and diversity of living environments where your employees can be happy. We have a fantastic educational system here in Illinois, as well as strong cultural assets. This is a great place to live, work and play.