D
r. Don Hillebrand, director of the Energy Systems Division at Argonne National Laboratory in the western Chicago suburb of Lemont, was named by Automotive News as one of the 100 most influential people bringing about the electrification of the automobile. He worked for 20 years at Chrysler, earning two patents; worked as a research and technology liaison to the European Commission for Daimler; served as a White House science and technology policy advisor in the late 1990s; and in 2013 was elected president and chairman of the board of the Society of Automotive Engineers, the largest mobility-focused engineering society in the world.
When Don Hillebrand talks, people listen.
So I asked him to characterize the electric vehicle manufacturing, research and infrastructure ecosystem in Illinois in comparison to other states or countries.
"Illinois sits in a technological power position in several ways and has the opportunity to take major advantage of its strengths and resources," he told me. "Very few parts of the world bring together the necessary components of an innovation ecosystem, but all of them are resident in Illinois, with a few other geographic advantages on top of that."
Look around the world, he says, and you'll see that "innovation happens in places that possess a few key assets. Research universities, readily available finance and investment sources, a trained workforce, and a few national labs as well. Several world-leading research universities are in Illinois — engineering, economics, science and finance are powerful parts of Illinois intellectual capital. Manufacturing capability is already established, meaning there is a technical workforce ready to go. Industries include a major truck manufacturer, aerospace OEMs, agriculture equipment, and machine tool manufacturing. The existence of two major federal research labs in the Chicago area brings connections to the extensive federal research activities. Only two or three places in the U.S. can compare to this collection of innovation capital: California, and Massachusetts, and possibly Texas. Very few places outside of the United States."
Since EVs have six to 10 times more semiconductors than internal combustion engine vehicles, and around 25% fewer, optional or altered parts, where should Illinois and its automotive companies be focusing for the future in terms of manufacturing and R&D?
"Supply chain, energy storage, power electronics and components," he responds. "The lead time for manufacturing semiconductors can be quite long, but many other components can be tooled and manufactured in shorter time periods. The transportation system is rapidly electrifying. This will start with light-duty vehicles, and quickly expand to medium-and heavy-duty trucks, aviation, drones, grid storage … There will be substantial need for capability in all of these areas across the country."

Projects and Programs Converge
The Brookings Institution's Chetan Hebbale and Johannes Urpelainen in July cited an Argonne study that found a higher fraction of plug-in EVs had their components assembled in the U.S. than non-EV cars did. "One analysis found that the U.S. could create up 150,000 new jobs and would protect existing auto manufacturing jobs from being offshored if the U.S. took the lead in EVs," the authors wrote.
There's every indication that Illinois is putting its best foot forward to develop an EV ecosystem, as all parties row in the same direction to reach Gov. JB Pritzker's goal of putting 1 million electric vehicles on the road by 2030 as outlined in the state's Climate and Equitable Jobs Act (CEJA). Among the highlights:
Montréal-based Lion Electric Co., a manufacturer of all-electric medium and heavy-duty urban vehicles including school buses, took possession in January of the production facility in Joliet where it expects to churn out 20,000 vehicles per year — making it the largest dedicated medium- and heavy-duty EV manufacturing plant in the country — and create up to 1,400 clean energy jobs over the next four years. Output from the plant will help meet national demand for zero-emission electric school buses, paratransit buses and trucks ranging from Class 5 to Class 8. The recently passed Infrastructure Investment and Jobs Act (IIJA) sets aside $5 billion in funding for the adoption of clean school buses to be administered by the EPA, along with $7.5 billion to build out critical charging infrastructure throughout the country. Priority districts can receive up to $375,000 per bus in funding, which can represent up to 100% of an all-electric school bus price, says Lion Electric, while other eligible districts can receive up to $250,000 per bus.
"The billions in clean school bus funding in the Infrastructure Investment and Jobs Act is proof that it is time for the days of polluting diesel school buses to come to an end," said Lion Electric Senior Vice President of Commercial Development Nate Baguio at an open house with stakeholders and elected officials at the Joliet plant in March 2022. The company has more than 550 vehicles on the road already and plans on a whole lot more. "As a dedicated zero-emission school bus manufacturer, Lion is uniquely positioned to have 100% of its school bus products qualify for the entirety of the funding included in the bipartisan package," Baguio continued. "We have heard the call to clean up our nation's school bus fleets from the federal government, and this American factory will be the centerpiece of bringing healthy transportation to our students and communities."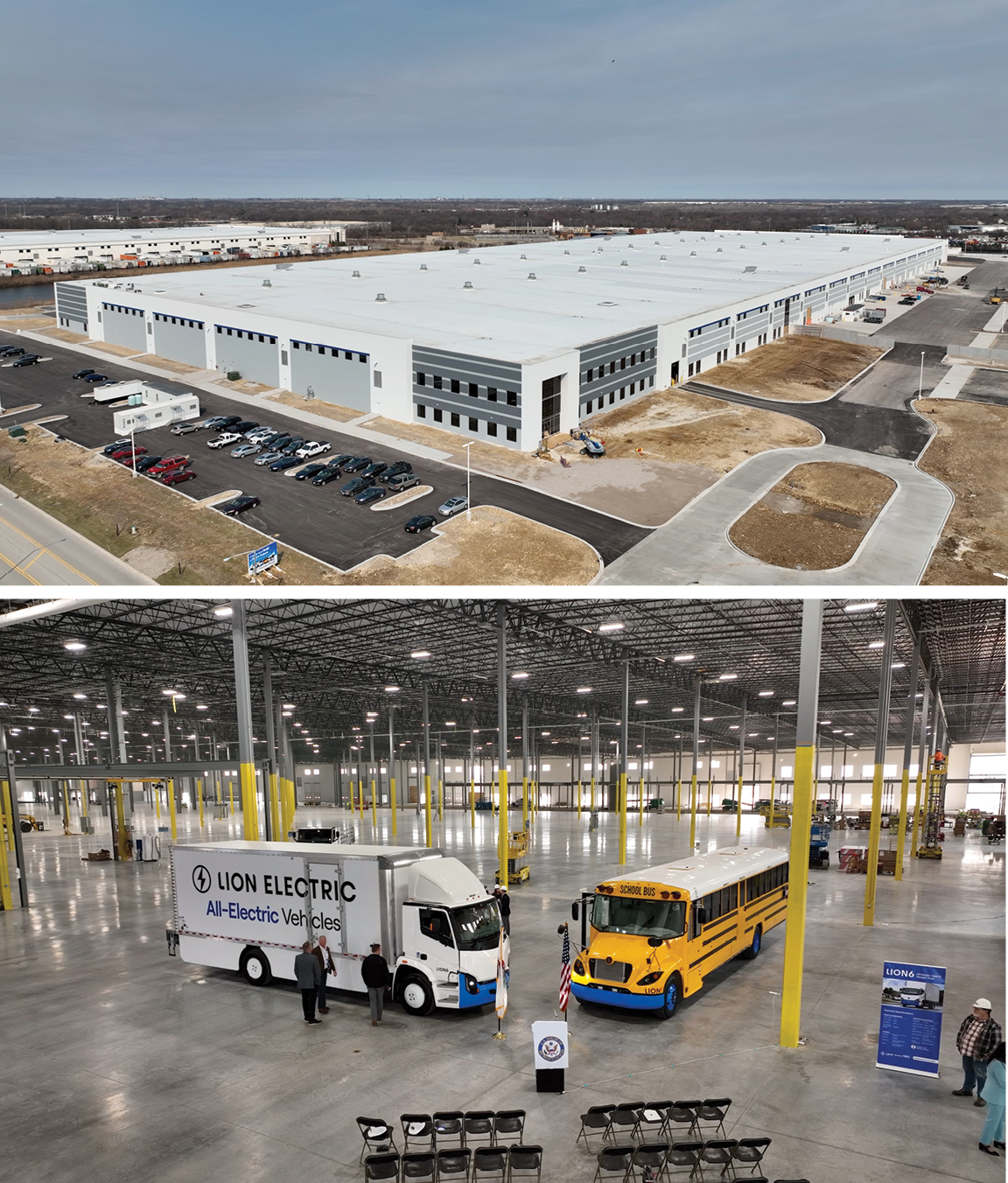 Québec-based Lion Electric is opening a massive new plant to build electric fleet vehicles and buses in Joliet.
Photo courtesy of Lion Electric
Let It BE
How will all these EVs get the juice they need? After 10 public meetings convened by the Illinois Commerce Commission and countless hours listening to their own 4 million customers, ComEd, the northern Illinois utility, in July 2022 proposed committing $100 million a year over the next three years to a beneficial electrification (BE) plan it says will remove barriers to EV adoption for residential and business customers; advance the Climate and Equitable Jobs Act (CEJA) objectives and give priority to equitable deployment of charging infrastructure. Collaboration with hundreds of communities in the region is key.
"Electric vehicles have a role in furthering our mission to improve air quality and reduce lung disease, and ComEd's beneficial electrification plan will help expand access to infrastructure and encourage more robust EV participation for our region," said John Walton, chair of the Chicago Area Clean Cities (CACC) coalition. Earlier in the year, ComEd and the Metropolitan Mayors Caucus (representing 275 communities in Chicagoland and northern Illinois) announced a separate EV Readiness Program that will guide local governments to enact policies and practices that can accelerate safe and effective transportation electrification across the region.
Among the BE program's planks:
$15 million annually in incentives that will reduce upfront costs related to purchase and installation of EVs, in-home charging stations, and non-transportation electrification equipment (such as building heating and cooling, lawn equipment, electric stoves, etc.).
$63 million annually to support new rebates for fleet electrification, with the majority of funding going toward vehicle rebates for public transit, commercial and school fleets.
A dedicated EV charging delivery customer class for commercial and industrial (C&I) customers that would "significantly reduce upfront infrastructure or 'make-ready' costs and would provide members an alternative to the default demand-based rate structures, which, at low utilization rates, can make the cost of charging high for customers."
Among ComEd's collaborators is none other than Lion Electric.
"We are pleased to partner with ComEd to help advance the move toward electrification and drive the expansion of green jobs in the region," said Brian Robb, government relations director at Lion Electric, at ComEd's July announcement of the BE program. "In the last several years, Lion has been working with elected officials, advocacy groups, environmental justice groups and many organizations such as ComEd to demonstrate how electrification can deliver economic growth, benefit a community's health and well-being, and help build a solid charging infrastructure network in the State of Illinois."
In an interview, Philip Roy, ComEd's director of external affairs, observes that the EV ecosystem is still "a nascent space," but CEJA, by requiring large utilities to submit plans, created a path forward for strategies and programs ComEd has been pursuing already for some time, often prodded by its commercial and industrial customers. For example, the utility piloted a fleet electrification assessment a few years ago with a diverse cross-section of customers. The vehicle rebates in particular he sees "helping commercial customer think more boldly about their electrification plans. Anecdotally, we found that most customers are either electrifying their vehicles or interested in going down that path."
Rivian is building electric delivery vehicles as fast as Amazon can snap them up. But Roy notes that ComEd itself managing to buy a few of those Rivians too. As it happens, Amazon unveiled its electric fleet in late July in a number of cities across the U.S., including Chicago's Pullman neighborhood, where it established its first Chicago delivery center in 2020. Amazon aims to deploy 100,000 EVs by 2030.
Roy sees significant overlap between the BE proposal and the state's economic development goals too, noting Gov. Pritzker "has been very clear about his mission to both enable electrification across the state and also make Illinois a hotbed of manufacturing of EVs and that broader ecosystem around electrification. We share those goals … we think what we're doing here, in helping reduce those barriers, will help increase demand for those vehicles, which should increase the production of those vehicles in northern Illinois."