L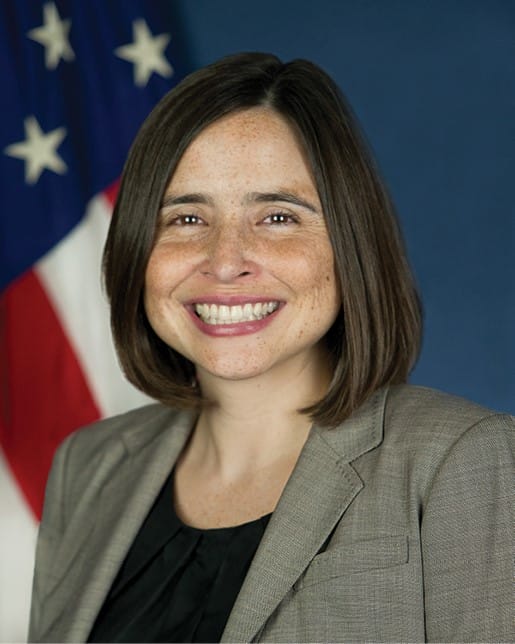 ooking for evidence of a strongly rebounding state economy? Consider this: in 2021, Illinois recorded 480 corporate facility expansion projects, good for third in the country, behind only Texas and Ohio.
Large investments from Amazon, Cardinal Health, Unis Company and Expeditors led the way. The world's largest e-commerce company, Amazon added a 1.16 million-sq.-ft. warehouse in Huntley and a 700,000-sq.-ft. facility in DeKalb. Cardinal took up 635,000 sq. ft. in Decatur, Unis added 574,000 sq. ft in Bolingbrook, and Expeditors grew by 424,000 sq. ft. in Joliet.
At the helm of this expansion wave is Sylvia Garcia, director of the Illinois Department of Commerce and Economic Opportunity. She leads a team of 12 core bureaus and various administrative offices focused on modernizing the state's workforce and supporting the growth of businesses large and small.
Coming out of a deep recession induced by the global COVID-19 pandemic, Illinois faced a challenging time in 2021 as several major industries needed to revamp and rebuild. Illinois government stepped up to the plate by facilitating the start of 200,000 businesses, a new state record. "We are seeing a lot of positives," says Garcia. "We have the lowest unemployment number since the start of the pandemic."
On July 21, the Illinois Department of Employment Security (IDES) released a report showing that the state unemployment rate dropped to 4.5%, the lowest rate recorded in Illinois since March 2020. Nonfarm payrolls increased by 18,800 in June, IDES noted.
"With the statewide unemployment rate at its lowest since the onset of the pandemic, the data released today is a further reflection of continued economic recovery and evidence of a strengthening Illinois labor market," said Deputy Governor Andy Manar. "As continued claims volumes reach record lows, the Pritzker Administration and IDES, working with local partners, are committed to providing employment and training resources to ensure a competitive labor force while assisting employers in finding versatile workers."
Garcia noted that "Illinois had made tremendous strides in the labor market, adding nearly 250,000 jobs over the past year and reaching the lowest unemployment rate since the onset of the pandemic. Illinois remains laser-focused on supporting the state's positive gains by expanding workforce training opportunities, attracting job creators and making resources available for priority industries, such as tourism and hospitality and small businesses."
Among the fastest-growing employment sectors in Illinois this year are leisure and hospitality, manufacturing, construction, and educational and health services.
We recently caught up with Garcia, who elaborated on the economic recovery taking place in the Land of Lincoln.
Which industries are growing at the fastest rate in Illinois right now and why?
SYLVIA GARCIA: We have a diversified economy. We are seeing growth in the food and beverage industry; transportation and logistics; technology and other key sectors. We are particularly seeing a lot of growth in emerging industry sectors such as fintech and quantum. A lot of this has to do with the environment that we are creating in Illinois — one that fosters innovation and entrepreneurship. With Rivian and other electric vehicle makers located here, Illinois is rapidly becoming the North American hub of the EV revolution.
Tell me about the Reimagining Electric Vehicles (REV) incentive program.
SYLVIA GARCIA: We are really excited about REV Illinois. Legislation was passed last fall and signed into law in November 2021. Illinois was the first state to sign a specific program into law to benefit EV manufacturers and create the whole EV supply chain. We are offering competitive incentives to companies. The goal is to have 1 million EVs on the road by 2030. We want these vehicles to be made here in Illinois. We are currently the fourth largest vehicle manufacturing state. We are focused on the training components of that too.
Economic Development for a Growing Economy Tax Credit (EDGE) has been around for a while now. How would you evaluate the achievements of that program?
SYLVIA GARCIA: EDGE is an important incentive that has let us compete with other states. The question is, how can we build on that? We are continually evaluating what works and what does not work. One change we recently made is the creation of the EDGE for startups program, which will start this year. We also rolled out our Prime Site capital grant program in the last year, which provides support to companies as they invest and grow in Illinois.
Workforce development and community investment have long been two hallmarks of DCEO. What accomplishments are you most proud of in these two areas?
SYLVIA GARCIA:Talent is one of our biggest selling features. We have done a lot of things in the last year in this area. The top three are $20 million focused on a job training program for those in the hardest hit communities; the $10 million Illinois Works pre-apprenticeship program; and $15 million for two manufacturing training academies. On community investment, we have our $45 billion capital program called Rebuild Illinois which has supported a number of community investments, including our shovel ready sites program.