A
s the meeting ground between the country's East and West coasts and the commercial nexus of the Midwest, Illinois is one of the great logistics hubs in North America. Illinois has thousands of miles of highways and Interstates. It is the only state that has all seven Class I railroads coming through it.
The Port of Chicago is the fifth-busiest port in the United States. And, of course, there's O'Hare International Airport, anchor of the nation's hottest submarket for logistics and transportation.
In an analysis of top states and metros for logistics facility projects for the five years ending in May 2022, Site Selection Magazine found that Illinois trailed only Texas for major logistics investments with 1,225. The Chicago metro, which extends into Indiana and Wisconsin, blew away all comers with 1,196, more than twice as many as second place Dallas-Fort Worth.
Joliet, 40 miles southwest of Chicago, is home to the 6,400-acre CenterPoint Intermodal Center (CIC), the largest master-planned inland port in North America. CIC handles some 20,000 trucks daily and $75 billion in cargo activity each year. At the junction of Interstates 55 and 80, the park sits at the epicenter of the region's immense transportation network and is anchored by BNSF Logistics Park Chicago and the Union Pacific Joliet International Terminal. In June 2022, Harbor Freight Tools christened a 1.6-million-sq-ft., $150 million distribution hub at CIC that's eventually to employ some 800 workers. CenterPoint is investing $170 million in a toll bridge over the Des Plaines River that's to connect the massive facility to I-80.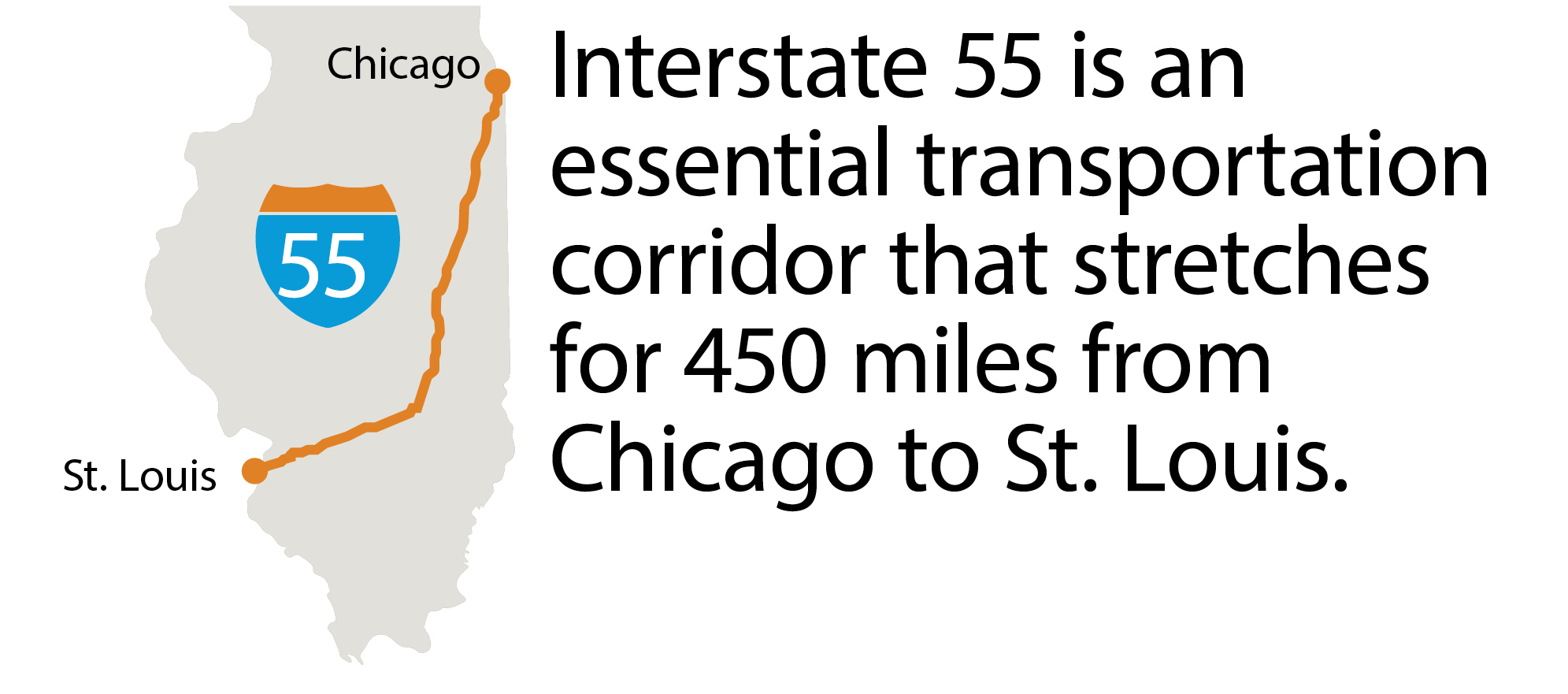 Rolling on the River
The state's ports are getting their fair share of infrastructure investments under Rebuild Illinois, the capital projects program adopted in 2019. Rebuild Illinois is investing $33.2 billion over six years into the state's infrastructure, about $150 million of which is allocated to Illinois' 19 ports, chiefly on the Mississippi and Ohio Rivers. Those ports link 1,100 miles of navigable waterways and generate some $36 billion in economic activity annually.
As announced by Gov. JB Pritzker in January 2022, 12 port projects are receiving $108.3 million, including:
America's Central Port District in Granite City. $21 million total investment with $13 million for sediment reduction in Madison Harbor, increasing operational efficiency and reducing long-term expenses.
Illinois International Port District in Chicago. $13 million at the Port of Chicago for rehabilitation of the Iroquois Landing dock wall at the mouth of the Calumet River and Lake Michigan.
Mid-America Intermodal Port Authority in Quincy. $13.2 million to expand and improve capacity.
Soon to break ground is the Alexander-Cairo port project at the confluence of the Mississippi and Ohio Rivers, a spot by which some 80% U.S. barge traffic passes. Forty billion dollars from Rebuild Illinois is expected to draw some $300 worth of private investment to the development.
Out on the Road
Interstate 55 is an essential transportation corridor that stretches for 450 miles from Chicago to St. Louis. Wayfair, about to open a 1.2-million-sq.ft. distribution center in Romeoville, is joining Amazon, RJW Logistics, Best Buy and Crate & Barrel as big-name retailers with locations along the I-55 Corridor. Lesser known but potent, Illinois Route 3 is a 60-mile manufacturing and logistics corridor that roughly parallels the Mississippi near St. Louis. The Route 3 Corridor is home to more than 6,000 businesses and its manufacturing and logistics sectors generate more than $16 billion in annual revenues and support more than 221,000 jobs. Mary Lamie, executive vice president of Multi Modal Enterprises for Bi-State Development, says the Illinois Department of Transportation has supported the corridor with more than $20 million of funding over the last several years.
"The secret to the success along Route 3," she tells Site Selection, "is the infrastructure that's in place. Intermodal and rail yards provide connectivity, and you're in close proximity to the Mississippi River." There's an "immense demand," says Lamie, for industrial space along Route 3, as well as the potential to develop it.
"We have a series of industrial sites in that region and available locations for growth. There's vacant industrial land that has close proximity to multimodal transportation that is not quite developer ready. We're identifying those sites and trying to take on some of those challenges so we can move them to developer ready."