T
hey locomote by rail. They descend from the sky. They roll in on high, arcing highways and float in by the tons on rivers and lakes.
In short: Everything and everybody passes through Illinois. And for that reason, many companies find reasons to stay.
As Don Hillebrand, director of Argonne National Laboratory's Energy Systems Division, put it to me in describing the state's potential for EVs: "The connection between the Great Lakes basin and the Mississippi water network passes through Chicago. The major highways all pass through Illinois in the routes from the East Coast to the West Coast. Chicago has long served as the major rail junction in the country. Any innovation to the world's transportation system will pass right through Illinois — physically and figuratively."
Every year the American Society for Civil Engineers (ASCE) issues national assessments of the state of America's infrastructure in a report card that typically features a lot critiques. The 2022 edition, however, awards Illinois grades higher than the national average and echoes Hillebrand's characterization:
"The crossroads of our country's rail, air, roadway and waterway systems run through Illinois, which provides our state with a unique competitive economic advantage that should be protected and enhanced," the report card states. "The last few years have shown that investing in our infrastructure has benefits. From the Rebuild Illinois Capital Plan and low interest loans for drinking water and wastewater projects to the recently passed Federal Infrastructure Investment and Jobs Act, infrastructure funding has increased grades for several categories while laying the critical foundation for investment in our future over the next decade."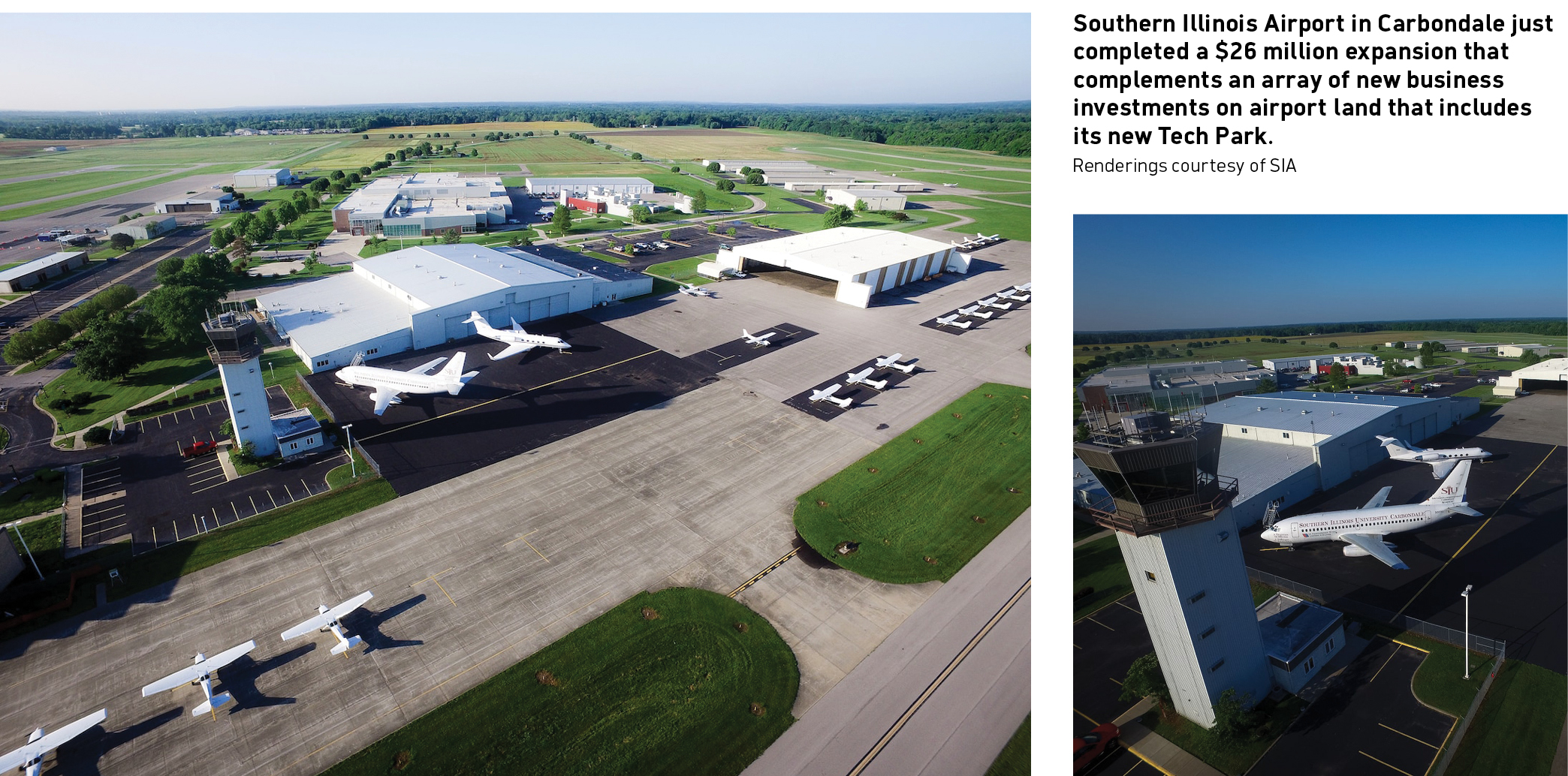 The report lauds improvements to freight bottlenecks over the past 15 years, but as supply chain issues have multiplied across the country in the wake of COVID-19, it calls for prioritizing investments in the Illinois multimodal freight network across rail, ports, inland waterways and the roadway network.
Innovations and modernizations are emerging from every corner of the state across every mode of movement. And improving the quality of that infrastructure is improving the overall quality of the state's economy. Here's a quick rundown of excerpted ASCE findings alongside positive actions, projects and progress in each category. (For more insights and the full ASCE report, visit www.infrastructurereportcard.org/
illinois.)
Roads, Highways and Bridges
ASCE REPORT CARD: "Illinois has the third largest bridge inventory in the nation and a significant backlog of needed maintenance … Fortunately, the future is bright." In addition to a renewed focus on continuous bridge maintenance, the Legislature passed the Rebuild Illinois Capital Plan, which is the largest capital program in the state's history and will provide nearly $5 billion over six years to bridges. In addition, $1.4 billion in bridges-specific funding is now available for Illinois from the federal Infrastructure Investment and Jobs Act. Meanwhile, "roadway conditions are improving in Illinois," says the ASCE. "The percentage of state-maintained highways in excellent condition grew 5.2% in 2020 when compared to 2019, as the state DOT began investing the additional revenue provided by Rebuild Illinois." However, congestion remains a challenge, as a travel time index of 1.29 in 2019, while an improvement, from 1.32 in 2017, meant during peak hours it takes nearly one-third longer to make a given trip.
ACTION: On December 1, 2021, a new I-74 Mississippi River Bridge opened in the Quad Cities with a celebration featuring remarks from Illinois Gov. JB Pritzker and Iowa Gov. Kim Reynolds. A new bike and pedestrian path on the Illinois-bound side was completed in spring 2022. "The I-74 River Bridge is a testament to what is possible when we work together to build a better Midwest," Gov. Pritzker said. "These improvements will support safer and shorter commutes, connect economies across the Mississippi, and spark opportunity across the Quad Cities. I'm proud to celebrate our partnership with the Iowa Department of Transportation and thank them for their leadership."
The approximately $1 billion project in July received a National Award in the Major Span category of the 2022 Prize Bridge Awards presented by the American Institute of Steel Construction and the National Steel Bridge Alliance.
Airports
ASCE REPORT CARD: "Illinois' airports are a gateway for approximately 6 million passengers and 10 billion pounds of air cargo annually," the ASCE reminds us. "To keep these people and cargo moving, airports require significant infrastructure investment. Fortunately, Illinois' largest airport has seen this investment in recent years with the substantial completion of the $6 billion O'Hare Modernization Program. Outside of Chicago, $94 million in funds are expected to be released as part of the Rebuild Illinois Capital plan signed into law in 2019. These funds provide a state/local program that complements existing federal funding for public-use airports."
---
The 19 public port districts and over 350 private waterway terminals in Illinois have a total revenue impact of $6.4 billion while supporting over 48,000 jobs.
Source: Illinois Ports Association
---
ACTION: In Carbondale, a new $26 million expansion was just completed at Southern Illinois Airport, funded in part with $9 million from private companies. Among new businesses locating on SIA property are Crucial MRO, vintage military jet rehabber Code 1 Aviation, trauma patient helicopter transport company Air Methods and Enhanced Aero, an aircraft electronics company founded by graduates of Carbondale's Southern Illinois University.
The 12,000-acre airport — the third busiest in Illinois after Chicago's O'Hare International and Midway Airport — has also seen the expansions of existing companies such as Yates Awning, GRNE Solar and Marijuana Growers ISEO, and in the name of conviviality has also welcomed craft brewer and restaurant St. Nicholas Brewing Company.
Even with the business growth, SIA still has more than 265 acres available for development by aviation and non-aviation businesses within its newly designated TechPark, a collaborative effort of the Southern Illinois Airport Authority, Jackson Growth Alliance, City of Carbondale, City of Murphysboro, Southern Illinois University and Jackson-Union Port Authority.
Rail
ASCE REPORT CARD: "Illinois is at the heart of the North American rail network, and nowhere else in the country do all seven Class I railroads converge and operate," says the ASCE. "The nearly 7,000 miles of Class I track play a key role in moving goods and people throughout the continent. However, parts of the Illinois rail system are well over 100 years old, and substantial investments are needed to accommodate growing freight traffic, which is forecasted to double from 2017 to 2025. Chicago remains extremely congested, with an estimated 500 freight trains and 760 passenger trains passing through the region every day.
ACTION: "The CREATE program, an innovative public-private-partnership, aims to improve rail network speeds and eliminate rail-rail and rail-highway chokepoints in the Chicago region," the report card continues. "CREATE includes more than 70 projects at a capital cost of $4.6 billion that will generate an estimated $31.5 billion in economic benefits when completed. As of 2021, 31 out of 70 projects have been completed. More recently, St. Louis has grown into the nation's third busiest rail and multimodal hub. To ease congestion, that region has developed a list of 21 priority capital freight projects estimated at $2.75 billion."
Among them is the $222 million public-private partnership project to replace the Merchants Bridge linking Missouri and Illinois in downtown St. Louis. The bridge is part of one of the nation's primary east-west rail corridors serving the nation's second largest rail hub by car interchange volume and third largest by gross tonnage. The project is one of 25 championed by the St. Louis Regional Freightway, a Bi-State Development enterprise formed to create a regional freight district and comprehensive authority for freight operations and opportunities within eight counties in Illinois and Missouri.
Waterways
ASCE REPORT CARD: Illinois has 1,118 miles of navigable inland waterways passing through or bordering the state. "With 29 river locks, 350 active ports, and the nation's only all-water connection between the Great Lakes and the Mississippi River system, Illinois' inland waterways network is key to the future of marine and intermodal freight movement throughout the Midwest," the ASCE reports, referring to Illinois as "the freight epicenter of the nation. Nearly all Illinois ports have sites available for industrial development within their jurisdiction as they provide access for multimodal transportation."
ACTION: The Rebuild Illinois bill appropriated $150 million to IDOT for the Illinois Port Facilities Capital Investment Grant Program, following a previous $40 million commitment toward a new port in Cairo, the state's southernmost point. Among the 12 projects receiving funding are:
A $21 million total investment with $13 million for sediment reduction at America's Central Port District in Granite City.
A $13 million investment in dock wall rehabilitation at the mouth of the Calumet River and Lake Michigan at the Port of Chicago, the largest cargo port on the Great Lakes and part of the Illinois International Port District in Chicago. The district owns nearly 2,000 acres of industrial and recreational land on Chicago's southeast side, in what is known as the Calumet Industrial Corridor, a nationally prominent manufacturing and freight center that enables cargo shipments to come through via the Saint Lawrence Seaway and Mississippi River.
A total of $13.2 million to improve capacity and operations at an existing dock and build a second dock at Mid‐America Intermodal Port Authority in Quincy. The port is the nation's only three-state port compact, encompassing 26 counties in Illinois, Iowa and Missouri. It offers opportunities connected to BNSF and Norfolk Southern lines and has highway access that includes Illinois Highway 172, part of the newly designated Route 110/Chicago-Kansas City Expressway.