O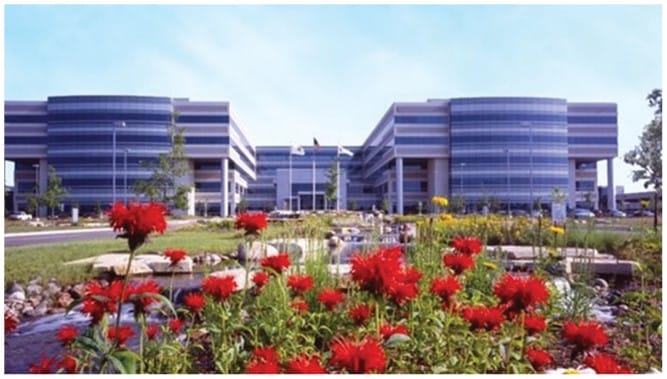 ver 700,000 people are estimated to work in Illinois' life sciences industry at just under 14,000 companies. This places the state as the seventh largest life science employment base in the country. Those numbers are on the rise, thanks to 11 research universities supplying talent to biotech, pharmaceutical, ag-tech, medical device and other companies in Illinois that deliver an economic output of more than $98 billion each year. From Abbott (Abbott Park) and Augmedics (Arlington Heights) to Vyaire Medical (Mettawa) and Visible Genomics (Oakbrook Terrace), life sciences companies large and small keep Illinois in the top tier of states attracting talent and capital in this sector.
Chicagoland is a life sciences industry magnet that's home to Northwestern, Rosalind Franklin University and the University of Chicago, among other research institutions, as well as biopharma giants AbbVie and Pfizer and dozens of other companies. Proximity to the Windy City is just as beneficial.
In July, Endotronix, Inc., a digital health and medical technology company specializing in the treatment of heart failure, announced it will relocate and expand its headquarters in Naperville as it prepares to launch its Cordella™ Heart Failure System and Pulmonary Artery (PA) Sensor, pending pre-market approval by the FDA. The company says its new building will increase manufacturing and operating capacity, allowing for a 30% workforce expansion. The company has been based in the Chicago area since 2013. It will lease more than 80,000 sq. ft. that will include a state-of-the-art cleanroom, manufacturing, quality, and administrative space.
"This is an exciting time for Endotronix," said Harry Rowland, CEO, in a news release. "As we approach full enrollment in our PROACTIVE-HF clinical trial, we are looking ahead toward scaling our manufacturing and operations in anticipation of commercialization of our proactive digital heart failure system. Naperville offers an ideal location to plant our roots, offering a skilled workforce, affordable quality of life for our employees, desirable proximity to Chicago, and strong sense of community."
Room to Grow
Life sciences startups may find a strong sense of community in a space under development by real estate developer Trammell Crow, and Portal Innovations, a venture development organization specializing in the sector. In February, Portal launched the second phase of its operations with the opening of 35,000 sq. ft. of premier wet and dry lab and office space at 400 North Aberdeen in Fulton Labs. The new facility will allow Portal to grow and scale its investment in early-stage biotech companies in Chicago. It already invests in and supports life sciences companies in 11,000 sq. ft. of wet and dry lab space at another Chicago location.
"I am thrilled to expand our operations in Fulton Labs during a very exciting time for breakthroughs in biotech," said Patrick Flavin, president of Portal's Chicago operation in a statement. "Portal's expansion of lab and office space will accelerate our ability to invest in, house, and support the promising life sciences companies that are emerging from the region's top tier research institutions."
Meanwhile, ground broke in October on the first building at Lincoln Yards, a 53-acre development by Sterling Bay on a previous industrial site on the Chicago River. Known as ALLY, the 320,000-sq.-ft. building is designed specifically for life sciences companies, with 280,000 sq. ft. of medical research labs, office space and employee amenities.
Sterling Bay CEO Andy Gloor put its significance to the region's life sciences ecosystem this way in statement: "ALLY at 1229 W. Concord Place — and the forthcoming innovation district at Lincoln Yards — will meet the needs of today's most exciting and rapidly expanding life sciences companies, create a new home for scientific research in Chicago and help the city continue to build its reputation as a major player in this critically important sector."