L
ast December, an intriguing email landed unexpectedly in the inbox of Tony Iriti, executive director of the Jefferson County Development Corporation in Mount Vernon, Illinois. The sender was Matt Love, controller of Texas-based Manner Polymers. Love was leading his company's search for a new manufacturing location, its first outside the Lone Star State, and he wanted to take a look at Mount Vernon. Thus began a whirlwind journey that Iriti — a veteran of nearly four decades in the field — has come to call "the consummate case study for economic development."
That's not because it was easy, but the reverse. To out-compete prospective locations in close to a half-dozen other states and thus deliver the $54 million investment with its 60 well-paying jobs to Jefferson County would come to require the active support of officials across three levels of government, assorted economic development boards plus local and regional utilities and other private partners. Just for good measure, Gov. JB Pritzker would sweep in at a crucial moment to help seal the deal for southern Illinois.
"Throughout the entire process," Love says, "city and state officials were great about quickly addressing challenges and coming up with an equitable solution to make the site work for us."
Iriti, after his initial contacts with Matt Love, was quick to engage Intersect Illinois, the statewide hub for economic development, which took the lead in directing the site selection process and worked closely with DCEO which crafted a $9 million incentive package.
"The state of Illinois," Love says, "was very aggressive with their incentives compared to other states we were looking at. That was a major factor."
But, in retrospect, it may have been the easy part. Iriti's initial challenge was to identify a site covering several dozen acres near the mainline of Union Pacific Railroad, which delivers Manner's raw materials. A local landowner agreed to sell to Manner after meeting with CEO Raj Bhargava during a formal site visit. Iriti had assembled Mount Vernon's city manager, chief engineer and other municipal officials, as well as representatives of local power suppliers and a Mount Vernon-based logistics company.
"When you can demonstrate that degree of collaboration," says Iriti, "it helps show that you'll do whatever it takes to help them and to get them over the hump."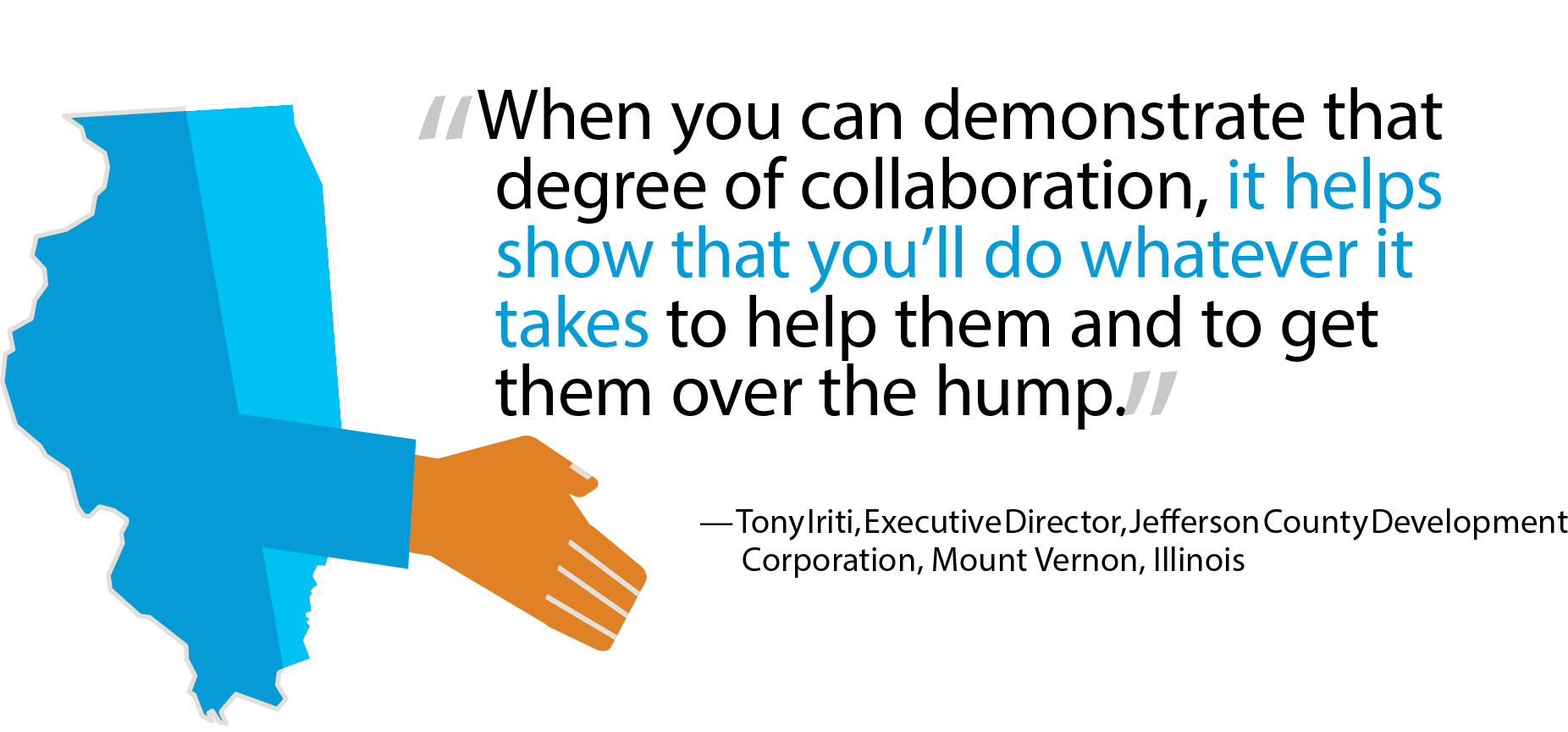 Bhargava raised a potential dealbreaker. He had questions about the cost of power in unregulated Illinois. Here, Mount Vernon's Affordable Gas & Electric stepped up. Already committed to meeting a portion of the plant's needs renewably, Manner decided that going 100% solar could be the solution to its concerns. Now planning to devote most of its property to an on-site solar farm, the company expects to break even on its green energy investment of up to $11 million within four years.
And yet there was one more hurdle. Manner would require a 1,000-ft. rail spur to connect its facility to Union Pacific's Mount Vernon mainline.
"When it came down to it," says Love, "the project would not work if we did not get help on the rail spur compared to other locations."
In another example of collaboration, the Governor's Office and the Department of Commerce and Economic Opportunity came together with partners to help secure a rail spur that would connect the mainline to the new facility.  
At the ceremony announcing Manner's investment, Pritzker hailed this multi-level collaboration that helped bring the project to Illinois.
"Thanks to the coordination of state and local officials creating policies to help grow our economy, companies like Manner Polymers are making their way to the Land of Lincoln to take part in our growing manufacturing ecosystem and clean energy revolution."
Says Iriti: "We started out with nothing. Our competitors were offering free land and rail spurs and cheaper power. We didn't have that, and we worked our way through it together. That's why," he says, "I truly believe this was a case study in collaboration."
New Collaboration
Launched by Gov. Pritzker in March, Innovate Illinois is a statewide push to take that collaborative spirit to a whole new level, with a potential prize of federal funding in the many millions of dollars for advanced technology and green energy sectors. The Innovate Illinois coalition is a public-private partnership tasked with coordinating the state's efforts to secure funding through the CHIPS and Science Act, the Inflation Reduction Act and the Infrastructure and Jobs Act. 
"With the formation of Innovate Illinois," said Pritzker, "we are launching a first of its kind effort to bring federal dollars to Illinois and strengthen the state's long-term economic vitality for generations to come. We are uniquely positioned," the governor said, "to leverage our innovation hubs, public and private universities, and national laboratories to provide 21st century opportunities for our state's workers, scientists, and businesses."
Some of Illinois' most preeminent institutions are all in. They include World Business Chicago, Intersect Illinois and the state Department of Commerce and Economic Opportunity, backed by business leaders and the academic heft of the University of Illinois system, the University of Chicago, Northwestern University and the state's community colleges. Another key partner is P33, a privately funded non-profit focused on driving inclusive technology and innovation.
"Illinois has always distinguished itself by leading on many of the most cutting-edge, challenging challenges of our time," said Brad Henderson, CEO of P33. "With this coalition, we believe Illinois will extend its leadership in critical areas like quantum computing, energy storage and biotechnology in ways that will include the full diversity of leaders and contributors in our state."