T
he top seven foreign-owned companies doing business in Illinois employ nearly 61,000 people. That's more than the population of Des Plaines, a Chicago suburb and the state's 20th largest city. But it's a fraction of the more than 375,000 workers in the state employed at more than 2,000 international companies. Of those, 37% work in the manufacturing sector.
Many international companies in Illinois, of course, are in Chicago — the state's and the Midwest's top commercial hub. Think ArcelorMittal (based in Luxembourg), Veolia Environmental Services (France) and ABN AMRO (Netherlands). But they're also in Elgin (Böhler-Uddeholm, based in Austria), Waukegan and Buffalo Grove (Yaskawa America, Japan) and Tinley Park (Straive, Singapore), among dozens of other Illinois communities.
According to Global Business Alliance, which tracks foreign direct investment into the U.S., Illinois' FDI employment rose 17% from 2015 to 2020 while the state's overall private-sector investment fell 5% during that time. Why the jump in investment from companies based outside the U.S.? Perhaps it's their proximity to more than 80 consulates that can help relocating employees, or Illinois' fifth-place rank in exports, or the connectivity afforded by O'Hare International Airport and its 66 global destinations. Global travel data provider OAG named O'Hare the most connected airport in the world in 2022. 
Electric vehicle manufacturing executives no doubt landed at O'Hare in their analysis of Illinois locations for their production facilities.
Southern Illinois Wins Italian Investment
Cable producer Prysmian Group, headquartered in Milan, Italy, announced a new Reimagining Energy and Vehicles in Illinois (REV Illinois) incentive agreement and broke ground on an expansion of its facility in Du Quoin in southern Illinois. The 100,000-sq.-ft. expansion will enable the company to increase cable manufacturing for the renewable energy and electric vehicle sectors. The $63.8 million investment will create 80 new jobs.
REV Illinois is an incentives program to bolster Illinois manufacturing in the clean jobs economy, created to attract companies all along the supply chain in the electric vehicle and renewables sectors, according to the Illinois Department of Commerce and Economic Opportunity. It supports the state's plan to achieve 100% clean energy by 2050, including putting one million EVs on the road by 2030.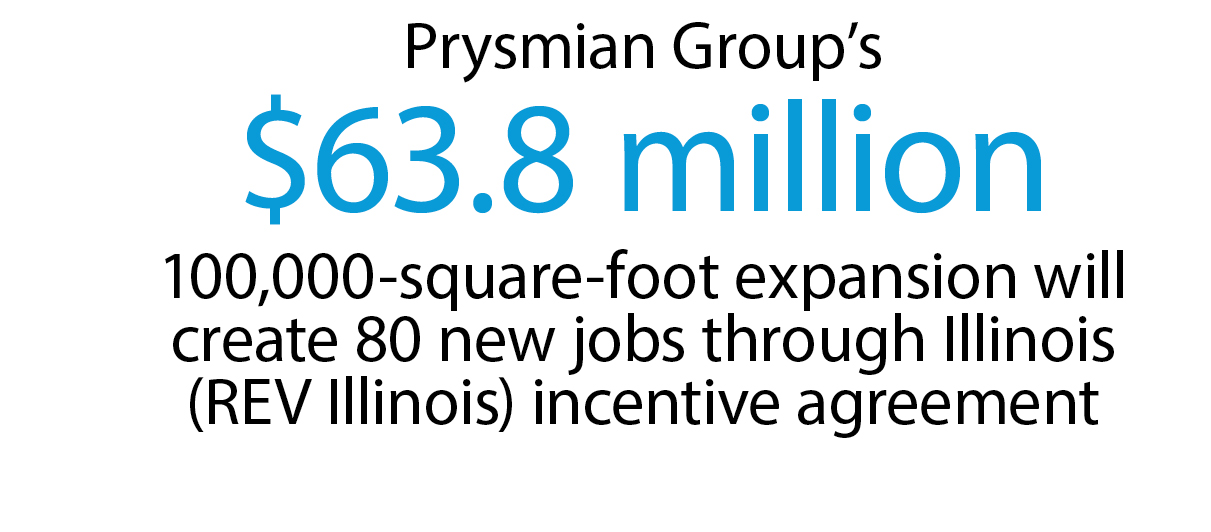 "This expansion will produce cutting-edge, high-quality, sustainable products that will help enhance the grid by increasing reliability, preventing blackouts and reducing overall maintenance costs," said Andrea Pirondini, CEO of Prysmian Group North America at the announcement. "Ultimately, we will ensure we have the capacity needed, when it is needed, in order to ensure we can build an electrical grid that's built for the future. As we work to help harden the grid across the U.S., Du Quoin will play a large role in that."
Prysmian Group elected to expand their facility in Illinois after considering expansion of their Mexico facility, according to a company release: The comprehensive REV Illinois incentive package encourages forward-thinking manufacturers to invest in renewable energy, while aligning with the state's initiative to increase production and usage of EVs. Prysmian Group was eligible through REV due to manufacturing renewable energy components.
Even More EV Investment
The Lion Electric Company, based in Quebec, opened its 900,000-sq.-ft.plant in Joliet, which it says is the largest all-electric U.S. plant dedicated to medium and heavy-duty commercial vehicle production. It is expected to have a manufacturing capacity of 2,500 all-electric school buses at the end of 2023. At full scale, the plant has an estimated production capacity of 20,000 vehicles per year in a combination of both buses and trucks, which the company estimates should require around 1,400 skilled workers. 
Lion Electric says it chose Illinois for the state's resources, its central proximity to customers and the domestic supply base, and for its vision that aligns with the state's common goals for a more sustainable future. "We are at the forefront of a manufacturing rebirth in the United States, and together with Governor JB Pritzker and his team, industry stakeholders and EV advocates, we are creating the next era of transportation in the Midwest, with a critical need to reduce carbon emissions, strengthen the region's economic vitality, and support sustainability," said Marc Bédard, CEO-Founder of Lion Electric. 
Among those making remarks at the opening ceremony was ComEd CEO Gil C. Quiniones. "ComEd is thrilled to power Lion Electric's first-ever U.S. manufacturing plant, where new, locally built EVs will play a critical role in helping our customers move toward fewer emissions and cleaner futures," he said. "As a partner on their plans to grow in Joliet from day one, ComEd shares Lion's commitment to expanding access to electric transportation options that will help lower pollution, enhance air quality and stimulate new jobs and economic growth for the communities of Illinois."